Do you believe in miraculous healings? Have you known someone who has been healed because of prayer? Have you experienced it?
Like many people today, I thought that miraculous healings only happened to people in the time of Jesus. I didn't put much stock in such healings happening today. In addition, I didn't realize how shallow my perception of healing was.
I was the classic skeptic. Now, humbly, I would now like to share my own story of healing from God, a healing I consider miraculous.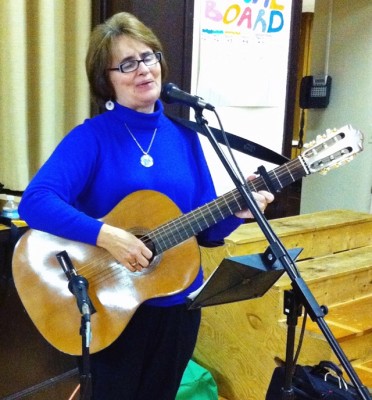 Some of you may know that I was a professional singer and songwriter, focusing on songs about my faith. For many years I recorded CDs and appeared on EWTN and CatholicTV. I was blessed with the opportunity to perform at World Youth Day 2002 in Toronto. I served for thirty-seven years in various capacities of music ministry in my home parish.
I poured my heart and soul into my music. Only my faith and my family meant more.
Four years ago, only a few months after my mother died I noticed that my voice was becoming weak. It always seemed to fail when I was performing in front of a crowd. Sometimes the clear, strong sound I was accustomed to would sail out of my throat; at other times this weak and wobbly noise would come out instead. I never knew when it would happen and I cringed at the sound of it.
My voice had been rock-solid; now it was erratic. Once totally at home in front of people, I became terrified of singing in public.
I had to put a halt to my music career. I stopped doing live performances and resigned from music ministry at my parish. It was a difficult loss to accept and the grieving process was not unlike mourning the death of my mother.
Four years later I can claim a healing. It was completely unexpected and not something I asked for.
It began with having my throat blessed by the priest after mass in honor of the feast of St. Blaise. St. Blaise is the patron saint of ailments of the throat; legend has it that he cured a boy who got a fishbone caught in his throat. The priest takes two candles crossed together and places them on the throat while reciting a short prayer.
The line was long since the priest did the blessings by himself. It gave me time to reflect. Did I want a healing? Did I believe I could be healed? I nearly stepped out of line but something told me to stay. After my throat was blessed I left the church in tears.
I had no idea what would come of it. It turned out to be far more than I ever expected.
Consider this scripture where Jesus says "Give, and it will be given to you. A good measure, pressed down, shaken together and running over, will be poured into your lap. For with the measure you use, it will be measured to you." Luke 6:38 (NIV).
Consider too the story of the handful of loaves and fishes feeding five thousand from Matthew 14:13-21.
These two scripture passages set the stage for the healing I was about to receive because, on an impulse, I left myself open to God.
Stay tuned for part two, coming up one week from today.
Copyright 2014, Susan Bailey
About the Author