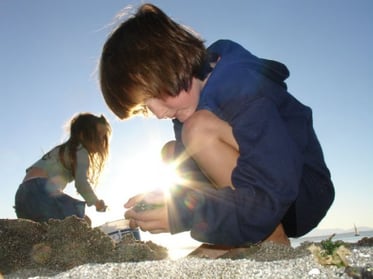 Each year, as summer vacation descends upon my family, I get a bit nervous about the next three months. I'm the type of mom who appreciates the routine and predictability that the school year offers—early mornings, early bedtimes and a chunk of time in-between to stay caught up on my responsibilities, while my children focus their attention on learning in their classrooms.
For some, the relaxed nature of summer is an opportunity to not be too busy. The slower pace is a welcomed distraction and a nice break. But for others, like me, summer is filled with worry that routine, order and predictability will simply unravel before their eyes.
Now, please don't get me wrong! It is nice to have breaks and enjoy needed rest. However, a three-month-long break causes all that I count on to get lost in the looseness of summer. There are days when I simply feel outnumbered by six children asking to do a million different things at once. And there are days when I feel completely overruled by going to bed and sleeping in late, losing ground on good study habits that took nine months to form, and hearing those inevitable words, "I'm bored," more and more as summer progresses.
I love my children and am so blessed to be a mom, which is why feeling anxious about the summer also makes me feel extremely guilty. Why do I fear having my six children home with me for three months? How can I worry more about the state of my home than the state of my family? Why am I not welcoming the lazy, hazy days of summer? Why am I so anxious about a lack of routine? What is wrong with me?
Late this spring, as I again found myself struggling with the anxiety, wrestling with the guilt and feeling overwhelmed by both, I began searching for a solution. How could I reduce the anxiety? How could I maintain a predictable (but looser) routine? And most importantly, how could I enjoy the extra time I have with my children during the summer months?
After much prayer, some research and plenty of conversations with my husband, I adopted a four-step approach to summer with the hope of decreasing my anxiety and increasing my enjoyment of summer:
Mom First
"O Lord, in the morning you hear my voice; in the morning I plead my case to you, and watch" (Psalm 5:3)
Mom-time is hard to get, no matter what season it is. It is hard to find the balance between giving to our families and receiving the refreshment we need in order to give well.
Knowing this difficult balance, I put mom first at the top of my four-step approach, and it begins at the very start of my day.
Even though I don't have to rise early to get my children to school, I decided to maintain an early wake-up time in the summer. My whole day looks different in the summer, but my time to rise and shine remains the same. By doing this, I find peace in keeping part of my schedule intact.
And upon rising, I pray. I begin my day by sitting on the front porch with Jesus and a cup of coffee. This time with the Lord sets me up to receive the day (and my children) with greater peace, patience and flexibility. And I have realized that this prayer time actually is an unexpected blessing that has sprung out of a more relaxed summer schedule!
In addition, I have incorporated quiet time into our looser summer routine, one hour right after lunch. Quiet time gives me an hour to read, write a note or knit, and it also gives my children a short break from one another, which results in a more peaceful afternoon.
Share the Load
"Two are better than one, because they have a good reward for their toil. For if they fall, one will lift up the other …" (Ecclesiastes 4:9)
With summer, my housekeeping routine gets completely thrown upside down. Worrying about how I am going to keep the house clean, cook meals and get to the grocery store with six children running around, tracking in dirt everyday, is a big part of my summer-induced anxiety.
I know I can't keep up with housekeeping completely on my own, especially when all eight of us are home everyday. So, it is important for my children to know that they need to share the load.
Before summer even began, I asked them if they preferred one, big cleaning day per week or doing a few chores each day. They unanimously voted for the latter.
I decided to use a free household planner that I found at The Confident Mom blog (http://www.theconfidentmom.com/services/classes-products/household-planner-sales-page/) for our daily chores.
Each day, after we're dressed and have eaten breakfast, the kids and I look on the day's short list of chores, and we sign up for one or two of them. We work in the morning, and usually in less than one hour, we are done with most of the tasks. We save a couple chores (like a 15-minute quick tidy, setting the table and washing the dishes) for around dinnertime.
Because I got my children's input on how they wanted to do chores this summer, they are willing to work a little bit each day, so we can have a little fun each day as well. And because we are getting a little bit done each day, I am able to let go of what doesn't get done, because I know it will get done in a day or two.
Plan
"… but all things should be done decently and in order" (1 Corinthians 14:40)
Another part of my summer anxiety involves what to do with my six children of varying ages. From experience, I know I need to maintain a balance of activity and downtime. Finding the right balance is crucial to avoid boredom and fighting, two things that can really disturb the peace and harmony of family life.
I researched summer programs offered through the parks, schools and community centers. With my calendar in front of me and my budget in mind, I signed up my children for a handful of inexpensive summer enrichment activities, including VBS and (free) soccer camp for all five of my school-aged children. My oldest daughter is in a play, which requires daily rehearsals in June, but I picked a weekly basketball class for my six-year-old boy to provide him with more free time to run around the backyard with his buddies. Knowing that my older children need (and can handle) more structured activities, while my younger kids are content with going to the playground and running through the sprinklers, factored into how much each child is doing. Not every week is planned with summer camps, but they also have enough to look forward to.
In addition to official summer programs, I also hosted a summer brainstorming session with my children. We made a long list of fun ideas we would like to do this summer. Many of the ideas the children suggested were already on my mind, such as having picnics, going to the beach and zoo, and making tie-dye shirts, but it was fun for them to come up with part of our family's summer plan. We will use this "summer bucket list" to pick and choose family-fun activities on our down days. Some of the ideas might require a whole day, like a trip to a museum, but others will only need a short amount of time to make a fun snack and play a game.
Go with the Flow
"So, do not worry about tomorrow, for tomorrow will bring worries of its own. Today's trouble is enough for today" (Matthew 6:34)
As much as I am a mom who likes to have a plan, to be able to look at my calendar and know what's happening on any given day or week, I also have come to appreciate that summer is indeed a more relaxed season. Summer allows for family bike rides, picnics and splashing at the splash pad. It allows for reading books in the tree house, sipping lemonade on the front porch and playing hopscotch on the driveway.
My orderly, systematic persona is trying to let go of the desire for structure and organization that comes so naturally with the school year. And I am trying to adopt an attitude that goes with the flow. It's like loosening the grip on routine and replacing it with rhythm.
So, for example, if it's on the calendar to make a craft, but the kids are having a blast playing kickball with the neighbors, it's OK to go with the flow and let them play kickball! The craft can wait until another day. I know this may seem obvious, but I often have to give my strict, structured self permission to relax! And if you're like me, then I encourage you to give yourself permission, too!
"For everything there is a season, and a time for every matter under heaven" (Ecclesiastes 3:1).
There is, indeed, a season for everything. God created it to be that way. Through His grace, may we, moms, enjoy each season of our lives with those we love most, our families.
Do you prefer the structure of the school year or the relaxed nature of summer? How do you balance getting things done with having fun?
Copyright 2014 Sarah Damm
About the Author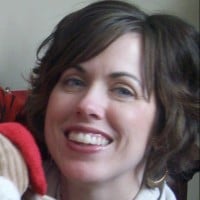 Sarah Damm is a Catholic wife and mother of six children, living in Minnesota. She spends her days running errands, helping with homework, and keeping up with laundry and the family schedule. Sarah loves her faith, coffee, and good books. You can find out more about her at SarahDamm.com.