"Enjoy it while it lasts," she says.
"Oh absolutely," I respond.
But inside I'm saying, "Mmhmm, sure."
It's hard to trust the veteran moms when they tell me to enjoy, well, everything, while it lasts because there are a lot of things as a new mom that I feel desperate to get past. Enjoy the night feedings? Enjoy the constant demands and interruptions? Enjoy the feeling that I don't have a clue what I'm doing 90% of the time? Sure, absolutely.
Today, I've been enjoying many of the antics of my nearly nine month old as I try to put in a few hours of work, finish some laundry, pack for a weekend trip, and write this post…
Yes, sometimes it's very hard to enjoy all the moments. And those veteran moms know it too. But what they know that I'm still learning is that these moments need to be cherished because when they are gone I will crave them in the depths of my soul and will long as never before for tiny sticky fingers, loud babbles and belly laughs, and the constant affection of my sweet baby.
They also know that I will miss terribly the things I've had a hard time enjoying today. They know that one day I will sleep soundly through the night, but I will wake up to empty rooms and wish they were filled again; my house will be quiet but I will wait by the phone to hear her voice; I will eat a warm meal right from the oven and in peace, nonetheless, but wish she was here with me, sharing life. The veteran moms know, even when I don't, that these are the best days of my life.
There's another temptation that offers a different challenge: to enjoy these moments while they last without succumbing to anxiety about how quickly the time flies, how fast they grow and change, how one day it will be over and I won't be able to get it back. It's a temptation to grasp. In a way, it keeps us from really beholding. And that's not what the veteran moms mean either, is it?
It can be easy to be stuck in the back-and-forth between trying to enjoy the moment and trying not to fear the finitude of it all, because I only experience life one moment at a time. It's impossible to get everything out of every moment, and sometimes that makes me anxious: will I look back on these days with nostalgia because I've enjoyed them fully, or will I look back with regret because I've missed out? Either way I won't be able to have them again.
So the question is, what do I do with this? How do I live this vocation of "mom" that is at once finite and infinite, built of the moments of a thousand days in a thousand messes and interruptions, days that, indeed, will end, but that impact eternity.
I don't know. At least, I don't know yet. But I know this: the love that requires we be poured out as a living sacrifice is rooted in Love that is infinite. And Love offers me this vocation as a way to eternal life.
Jesus, teach me to enjoy it while it lasts, and let it bring me to the life that does not pass away.
Copyright 2014, Megan Swaim
About the Author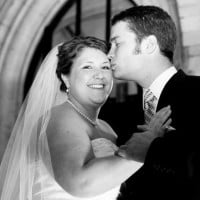 Megan Swaim is an Indiana girl on an east coast adventure. A former high school youth minister, she now gets to minister full-time to her three young daughters and her husband Josh. Megan spends her days homeschooling at the kitchen table, drinking iced coffee, and exploring coastal Virginia.