Welcome to this summer's Lawn Chair Catechism! We're reading Joe Paprocki's best-selling book, A Well-Built Faith: A Catholic's Guide to Knowing and Sharing What We Believe. We're taking it one chapter at a time all summer long.

Our belief in the Cross and Resurrection of Jesus is our source of hope.
Fear is a natural human emotion. It often seems as though we have many things to fear. Perhaps this is why one of the most com- monly used phrases in the Bible is the phrase, "Do not fear" or varia- tions such as "do not be afraid," "fear not," "be not afraid." A search of the Revised Standard Version of the Bible reveals how many times these phrases appear in the Bible.
Do not fear: 44
Do not be afraid: 29
Be not afraid: 7
Peace be with you: 5
See that you are not alarmed: 1
Do not be troubled: 1
Fear not: 44
Have no fear: 8
Be at peace: 7
Do not be alarmed: 2
Be not frightened: 1
Be not fearful: 1
That's a total of 150 times! This should give us a clue that we are on to something, that the role of fear in the story of our sal- vation is very important. The ultimate human fear, of course, is our fear of death. We all know it's going to happen to us some day but we still have great fear. Yet the central message of our faith is that Jesus Christ has conquered death! Let's take a closer look at what this means for us.
Trophies, of course, are symbols of victory. For Christians, then, the Cross of Jesus can be thought of as God's trophy given to us. It is through the Cross of Jesus that death is conquered. Display a crucifix. Say: This certainly does not look like a trophy. In fact, it appears to be a symbol of defeat. What is it that caused this to be transformed from a symbol of defeat to a symbol of victory?
The Resurrection.
Questions for Reflection and Discussion:
What is a fear that you have overcome? How did that happen? Why do you think people are afraid of death?
How does the Resurrection of Jesus Christ take away our greatest fear?
Look at the words of the song "We Shall Overcome" on page 34 of A Well-Built Faith or here. How is this song related to the death and Resurrection of Jesus?
What does it mean to compare the Cross of Jesus to a trophy?
How can faith in the Resurrection of Jesus Christ help us to battle despair?
Feel free to comment on your own thoughts from this week's reading, your impressions and reflections, and/or your answers to these questions. You can also share your blog post by linking up below.
Next week, we'll cover Chapter 6: Union Workers: The Church, Mary, the Saints, and Eternity. For the complete reading schedule and information about this summer's Lawn Chair Catechism, visit the Lawn Chair Catechism page.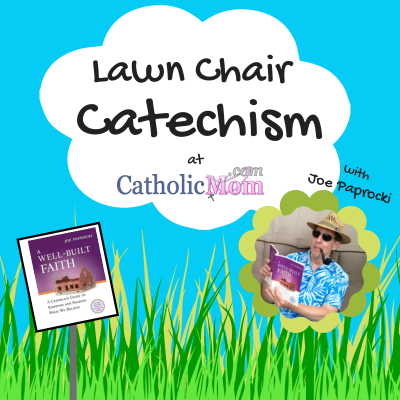 [inlinkz_linkup id=419402 mode=1]
Copyright 2014 Sarah Reinhard
About the Author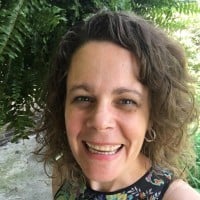 When she's not chasing kids, chugging coffee, or juggling work, Sarah Reinhard's usually trying to stay up read just one…more…chapter. She writes and works in the midst of rural farm life with little ones underfoot. She is part of the team for the award-winning Catholic Mom's Prayer Companion, as well as the author of a number of books. You can join her for a weekday take on Catholic life by subscribing to Three Shots and follow her writing at Snoring Scholar.