Welcome to this summer's Lawn Chair Catechism! We're reading Joe Paprocki's best-selling book, A Well-Built Faith: A Catholic's Guide to Knowing and Sharing What We Believe. We're taking it one chapter at a time all summer long.

We normally associate the word melting with ice or candle wax. This image of melting and reforming has also been applied to the human heart: "My heart has become like wax, it melts away within me" (Psalm 22:15).
The Sacraments of Initiation— Baptism, Confirmation, and Eucharist—serve to reform us and reshape into followers of Christ just as though we are a melting candle.
As Paprocki says,
What we celebrate is not a once-and-done event, however. What we celebrate is a life-long dynamic of God inviting us to die to sin and our response of embracing his saving grace. Each day that we live in Christ, we are born anew. Our baptism is not an event of past memory. It is a renewable source of energy. It is a chronic condition from which we seek no cure. It is a bond that continues to be forged in the fire of the Holy Spirit each day of our lives.
Confirmation, he continues, "deepens our baptismal life and empowers us to go forth, strengthened by our relationship with the Holy Spirit, to participate in the mission of the Church."
And the Eucharist is, according to Paprocki, "an embrace. Not a momentary embrace, but a lifelong one. Through our reception of the Eucharist, we are embraced by God, who heals and satisfies our inner ache."
We're told that "from the moment we enter the church building for Mass, we are being invited and challenged to realize that God alone sustains us."
So what difference does it make that we celebrate the sacraments of initiation? "It means that we can be reformed into followers of Jesus Christ. We are forged into union with Jesus and the Church. ... The sacraments of initiation lay down for us the pattern of reforming our lives that we will follow the rest of our lives: dying to sin and, by the power of the Holy Spirit, rising to new life in Jesus Christ who sustains us. In the sacraments of initiation, our hearts melt like wax and are reformed and reshaped to conform to Jesus."
Questions for Reflection and Discussion:
What does it mean to be initiated into something? When was a time that you experienced initiation into a group?
What does it mean that our Initiation into the Church is not a once-and-done deal?
Why do you think the Church celebrates Initiation on Holy Saturday at the Easter Vigil?
How do the gifts and fruits of the Holy Spirit affect our lives?
What does it mean to say that the Eucharist is the "source and summit" of our lives as Christians?
What significance is there to the fact that the word Mass comes from the Latin word for sent or dismissed?
Feel free to comment on your own thoughts from this week's reading, your impressions and reflections, and/or your answers to these questions. You can also share your blog post by linking up below.
Next week, we'll cover Chapter 10: Steamrollers: Sacraments of Healing. For the complete reading schedule and information about this summer's Lawn Chair Catechism, visit the Lawn Chair Catechism page.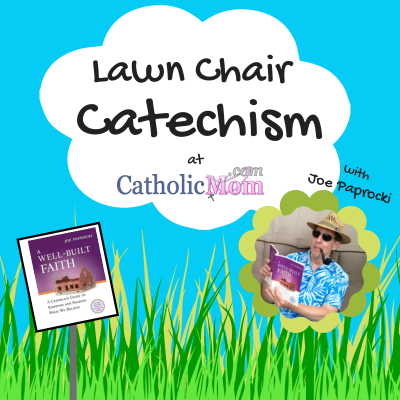 [inlinkz_linkup id=429148 mode=1]
Copyright 2014 Sarah Reinhard
About the Author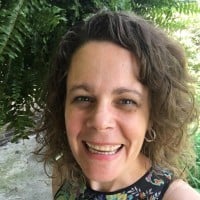 When she's not chasing kids, chugging coffee, or juggling work, Sarah Reinhard's usually trying to stay up read just one…more…chapter. She writes and works in the midst of rural farm life with little ones underfoot. She is part of the team for the award-winning Catholic Mom's Prayer Companion, as well as the author of a number of books. You can join her for a weekday take on Catholic life by subscribing to Three Shots and follow her writing at Snoring Scholar.