"This is a book about you," writes Sister Mary Lea Hill on page 1 of Prayer and You: Wit and Wisdom from a Crabby Mystic (Pauline Books and Media, 2014).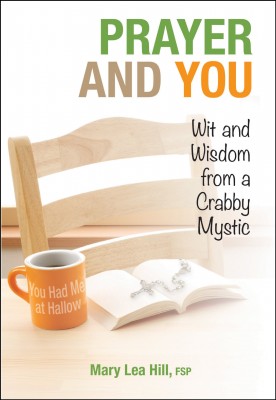 "I'm willing to bet that many people pick [this book] up because it says right on the cover that it's for you. You, however, may have picked it up because it's about prayer--there is no argument here. Truthfully, prayer is about you."
Well enough, and maybe not enough to convince you that this book will make you look at prayer differently and, more remarkably, make you pray differently.
I was hooked in from Chapter 1, titled "Can a Swear Be a Prayer?" Language is something that has long fascinated me, and my ability to use words in ways that are, ahem, inappropriate is well-known, much documented, and potentially embarrassing for anyone with Catholic in their bio.
We all have our struggles, right?
I suspect Sister Mary Lea and I would get along, because her level of crabby has salt on top. She writes,
Can a swear be a prayer? Here I have to draw a line, but not where you may be thinking. My line, of course, cuts off those expressions that are rude, crude, and uncouth. However, what will we say of the superabundant OMGs that fill the air around us? If an indulgence was attached to every OMG in the world of texting, for example, grace would superabound.

Historically, many favorite Catholic prayers begin with those same three words, O my God! They are certainly said with the same intention of a "real" prayer, but what about the random everyday use?
Each chapter can be read in five minutes or less and begins with the subheading "Prayer" and concludes with a paragraph or two "And you." There's the theory and discussion ("Prayer") and the call to action ("And you"), but they're neither stuffy nor stilted.
This book is a gem. It's maybe the most accessible book on prayer I have ever read, and not only did I learn a lot, but I think my prayer life improved.
Step away from whatever preconceived notions you may have and prepare yourself to be delighted and challenged in equal measure. Sister Lea Hill raises the bar on prayer books for normal people.
You're going to need two copies: one that you dog-ear, highlight, and put into practice, and one that you share with everyone in your life.
This gets my highest recommendation.
Order Prayer and You and support CatholicMom.com with your purchase!
Be sure to check out our Book Notes archive.
Copyright 2014, Sarah Reinhard
About the Author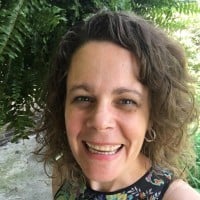 When she's not chasing kids, chugging coffee, or juggling work, Sarah Reinhard's usually trying to stay up read just one…more…chapter. She writes and works in the midst of rural farm life with little ones underfoot. She is part of the team for the award-winning Catholic Mom's Prayer Companion, as well as the author of a number of books. You can join her for a weekday take on Catholic life by subscribing to Three Shots and follow her writing at Snoring Scholar.