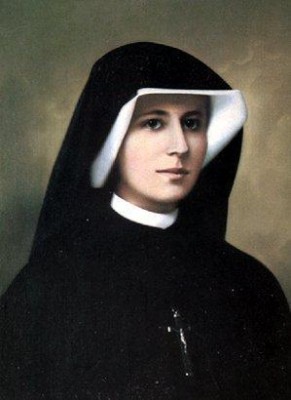 "I have a problem with Curious George," a friend announced to me at a party. "I'm not sure about reading those books to my children." Krista is the mother of three young boys. Her comment surprised me. My children had loved the popular book series.
The little monkey known as Curious George is the beloved character of the popular Curious George children's book series. George's owner, the man with the yellow hat gives instruction to George in every book. And every time, the monkey's curiosity gets the better of him causing catastrophes. But by the end, the problem somehow ends up turning out well for a happy ending.
"What don't you like about Curious George?" I asked Krista.
"He's such a bad little monkey," she said. "But when everything turns out, he's seen as a hero." She had a good point. Her observation immediately reminded me of a lesson from The Diary of Sister Faustina Kowalska that explained why ill-gotten happy endings have no merit.
St. Faustina
On February 22, 1931, Our Lord Jesus Christ began appearing to St. Faustina, a simple nun in Poland, bringing with him a message of mercy for all mankind. During one of the visions with Jesus, St. Faustina brought up a priest who was being obedient to God's wishes, but his attempts were not accomplishing his goal. "Why are you letting him fail?" she asked.
Jesus explained that failure in man's eyes is not always failure in God's eyes. "Write that by day and by night My gaze is fixed upon him, and I permit these adversities in order to increase his merit. I do not reward for good results but for the patience and hardship undergone for My sake." (86).
In the Curious George books, all's well that ends well, is the theme. But as revealed by Jesus to St. Faustina, the true lesson is that all is well when it is done well regardless of the ending. Jesus does not ask for a successful ending, but for the desire to do the will of God. The final results of our efforts are up to him.
A Street Ministry
This lesson was driven home to me several years ago by, ironically, a nun named Sr. Faustine from the Community of St. John in New Jersey. During a talk she gave, she explained that her prison ministry of counseling and supporting inmates. But it left her wanting to do more. Gang members that did business on the streets of her neighborhood were ending up in prison. One night, Sr. Faustine left her convent to walk the streets. Approaching a gathering of young men, she asked, "How can I help you?" They were taken aback by the diminutive nun from France wearing a gray habit.
The men looked at one another and than back at her. "What do you mean?" Sr. Faustine explained her prison ministry and expressed dismay that many of them were going to end up in prison. She wanted to know what she could do to help them so that they would not end up there. Sr. Faustine spoke to them of Jesus, his mercy and love and his desire that they not hurt others or hurt themselves. Then she returned to her convent for the evening. Later that night, one of the young men showed up outside the convent and called to her from a window.
"What do you want?" Sr. Faustine asked, a bit alarmed, wondering what she had started.
"I want to hear more," he said.
And thus began her friendship with the leader of a dangerous gang. During her talk Sr. Faustine shared conversations she had with this totally uncatechized man and the slow process of teaching him the values behind God's laws. Just as a lump of clay does not become a magnificent sculpture overnight, Sr. Faustine explained that a conversion is often a gradual process in which knowledge and grace move a soul closer to Christ. She explained that she had to meet her gang leader friend where he was at in order to lead him closer to Christ.
After the talk, I asked Sr. Faustine if she was ever frustrated trying to get through to people who were so far from the truth. ""No, not at all," she answered. "I don't have to convince anyone. My job is just to say, it's God's job to do." Sr. Faustine's explanation reflected the message Jesus had given to Saint Faustina. She said she concerned herself with the task God had given her because the effort is ours and the result is God's.
Where is Curious George in all of this? If George was a boy instead of a monkey, good endings would not erase bad behavior. Wrongdoing remains as much regardless of how it turns out.
But let's forget about George for a minute. What about the man in the yellow hat who hasn't figured out that you can't trust a monkey to behave when left alone? Now there's a lesson in what happens when you don't learn from past mistakes. Hmm, maybe "St Thomas Aquinas versus the Man in the Yellow Hat" will be next.
Copyright 2014 Patti Maguire Armstrong
About the Author