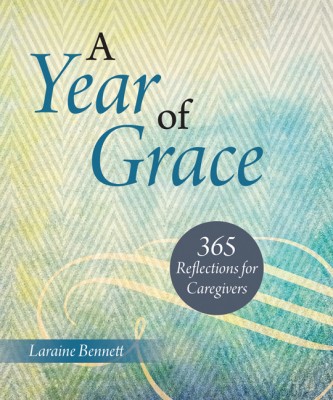 Today, I'm pleased to share my recent conversation with Laraine Bennett, author of the wonderful new book A Year of Grace: 365 Reflections for Caregivers. If you are looking for a beautiful, inspirational gift for a loved one who cares for others or simply a way to kickstart your prayer each day, Laraine's book is perfect. Since every mother is indeed a caregiver, I know that you will be encouraged and supported by Laraine's prayerful reflections. LMH
Q: Laraine, congratulations on the publication of your new book A Year of Grace: 365 Reflections for Caregivers. Would you please begin by introducing yourself and your family to our readers?
Thank you, Lisa! I am very grateful to have this opportunity to say hello to your readers. I am a wife, mom, and grandmother, and the co-author (with my husband, Art) of three popular books on temperament: The Temperament God Gave You, The Temperament God Gave Your Spouse, and The Temperament God Gave Your Kids, as well as a book on emotions, The Emotions God Gave You. (All these can be found on Amazon.) We live in Virginia, and are blessed to have recently welcomed our newest grandchild, Micah, into the world. Please keep Micah in your prayers; at only twelve days old, he had his first open heart surgery, and is still in the cardiac intensive care unit.
Q: This is a very personal book. Please share what motivated you to write it and what readers will discover in the book.
My mom, who was a very independent, artistic, intelligent woman, had been living alone in Nevada after my dad died, when she suffered a massive stroke. This stroke completely incapacitated her; she could no longer talk, walk, eat, read (the stroke affected her eyesight), or do anything she used to be able to do. She was confined to bed in a rehab facility thousands of miles away from where I was. It was devastating to see this once vibrant woman, a published author and illustrator, someone who always had three books going at any one time (fiction, non-fiction, and the Bible) reduced to such a helpless state. I began praying the novena to Saint Joseph to get a medical flight to bring her across country. Finally, on Saint Joseph's feast day, we flew together to Virginia. As we began our new routine, with my mom in a 24 hour nursing care unit, and me visiting her every day, I looked around to see if there was any book of meditations or reflections specifically geared for caregivers and those they care for. When I couldn't find anything like that I thought, well, perhaps I should write one! And so, each day I would write my own reflections. It helped me see everything in a different light.
Q: In what ways was the writing of this book a healing mechanism for you during the loss of your mother?
Actually, I was writing the book while my mom was alive. I wanted something that would speak to the real life situation that caregivers face every day—an often lonely and exhausting task, caregivers have little time for lengthy devotionals or prayer time, and their work is often hidden, receiving little respect. I hope that my reflections will be uplifting for both caregiver and cared for. I tried to read books to my mom, since she had lost that ability, and I started out with one of her all-time favorite books, Kristin Lavransdaater, but it was way too long, and she would fall asleep after I read only a page or two. So I shifted to short reflections from the Magnificat or just a paragraph from Mother Angelica, whom my mom always loved to watch on TV, and who at the same time was suffering an incapacitating stroke. But I found most helpful reading the Psalms, who have experienced every type of suffering and every range of emotion that we experience. Reflecting on the psalms, the Old Testament, and the life of Christ helped both of us immensely.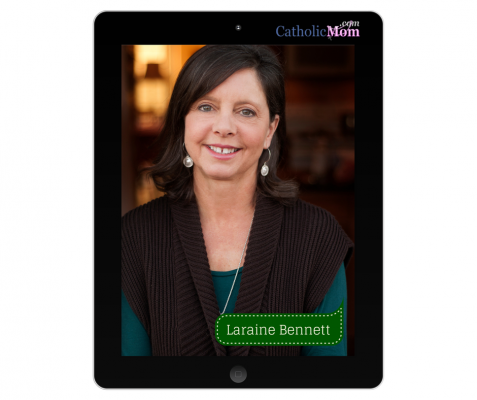 Q: As a writer, I have to ask about the daunting task of writing a book with 365 reflections! How did you structure the book and your writing process?
I faced a similar situation that many caregivers of elderly parents face: how to fit everything in! We are the "sandwich" generation—caring for our own families at the same time as caring for an elderly parent. How was I going to manage my mom's finances, visit her every day, meet with her care team, get my own work done, get dinner on the table, and (every once in a while) clean the house?? I decided to imitate Flannery O'Connor and (after coffee) sit down and write for three hours per day, no matter what. It doesn't matter whether you are satisfied with the result, you just have to do it. You can edit later.
Q: The book draws upon the liturgical calendar of the Catholic Church. Why is this such a blessing for caregivers?
Lisa, I wanted to reflect on how the great feasts of our liturgical year can be uplifting and encouraging for caregivers; also, I tried to make sure I included many of the saints whose lives might be an inspiration for caregivers. Saint John was the caregiver for the Blessed Mother, Saint Camillus de Lellis was a male nurse, for example. And Saint Anna Schaeffer grew in holiness through her "bed-Cross."
Q: What do you hope that caregivers will take from their experience of reading this book?
I learned many lessons while I was taking care of my mom. I began to understand what Saint Paul meant when he said "We always carry around in our body the death of Jesus, so that the life of Jesus may also be revealed in our body" (2 Cor 4:10). The suffering my mom was enduring seemed almost pointless, nearly incomprehensible, until I looked at it through the Saint Paul's eyes. My mom was truly manifesting the life of Christ in her physical suffering. I also discovered the benefits of slowing down. We are always rushing around, getting things done; our society values our productivity and our efficiency. The folks in bed (carrying their Bed-Cross), who cannot move or talk or do anything, are nonetheless precious to God and to the world. God loves them and they are contributing to the life of the world. Their suffering is a mysterious prayer earning countless graces. At the end of her life, my mom taught me the importance of being (not doing): being with, being present.
Q: Are there any additional thoughts or comments you would like to share with our readers?
I wanted to speak to the reality of caregivers' situation: their work is hidden, they are often lonely, exhausted, unappreciated, and frustrated. Yet their work is hugely important. They are bringing the love of Christ to the ones for whom they care. They are a light in the world, and a balm of refreshing love. God will give them the grace they need to continue their work. I didn't want to sugar-coat the reality of the situation, but I did want to encourage and offer hope and humor. I hope caregivers and cared for alike will find this book refreshing and encouraging. Also, I would like to encourage caregivers to join my Facebook page; I am hoping to create a community of caregivers who can encourage each other. Here is the link: https://www.facebook.com/ReflectionsforCaregivers
---
We're happy to share a sample reflection from A Year of Grace: 365 Reflections for Caregivers:
July 12
Blessing the Song of the World
"You are called, with all the saints, to bless in the power of Christ's priesthood the song of the world, and to perfect it." (Gerald Vann, O.P., The Seven Sweet Blessings of Christ)
A blind opera singer comes to perform for the elderly at the nursing home. His voice is powerful yet gentle, too, bringing tears to our eyes. At the end, I wheel my mom up to him, to thank him. He can't see her, and she can't speak, but she holds her hand out to him, and I guide his hand to hers. Two souls, each suffering in their own way, each with a blessing to give.
---
About Laraine Bennett:
Laraine Bennett has a master's degree in philosophy and is currently a freelance writer for several online publications. Together with her husband Art, she has co-authored three popular books on temperament (The Temperament God Gave You, The Temperament God Gave Your Spouse, and The Temperament God Gave Your Kids) as well as a book on emotions, The Emotions God Gave You. Her latest book, A Year of Grace: 365 Reflections for Caregivers was inspired by her mom. The Bennetts have lived in California and Germany, and currently reside in Northern Virginia; they have been married for thirty-six years and have four adult children and two beloved grand babies.
Order A Year of Grace: 365 Reflections for Caregivers and support CatholicMom.com with your purchase
Copyright 2014 Lisa M. Hendey
About the Author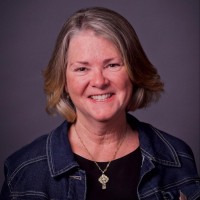 Lisa M. Hendey is the founder of CatholicMom.com, a bestselling author and an international speaker. A frequent radio and television guest, Hendey travels internationally giving workshops on faith, family, and communications. Visit Lisa at LisaHendey.com or on social media @LisaHendey for information on her speaking schedule or to invite her to visit your group, parish, school or organization. Visit Lisa's author page on Amazon.com.