Have you reached that point of the summer yet where your kids are bored and looking for something to do? Invite them to take a trip to another time or place.
"That sounds pricey," you say? Not so! Just have them open a book.
But which book? If you've been to a bookstore lately (yes, these still exist), you'll notice that there are thousands upon thousands of books in the Children's Section. If you look through Amazon's website, you'll find what seems like a million more books.
With this many choices, it's easy to get overwhelmed and frustrated. So with this article, I'd like to recommend you some recent and not so recent books to get you through the summer lull.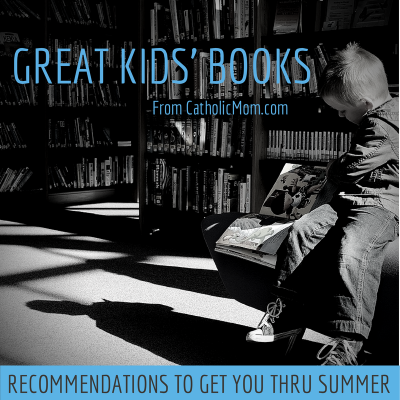 In the Religious Section
Neumann Press has recently been revived thanks to TAN books, and with it come a lot of reprinted books from the 1950s and 1960s.
Two series that I have had the pleasure of reading include the Saints and Friendly Beasts series and Angel Food for Boys and Girls. In the Saints and Friendly Beasts series, your children will learn about St. Martin de Porres, St. Germaine, and St. Brigid. Not only do they get a life story, but they also get to see where the series got its name from in their interactions with animals.
Angel Food for Boys and Girls are folksy "modern-day" parables for kids written and told from the perspective of Fr. Gerald Brennan. In his stories, your children learn about sin, doing what is right, building a relationship with God and Mary. Besides the stories, which I love, there is a great index in the back, which connect the stories to the Baltimore Catechism. This is especially useful for homeschooling moms and catechists.
Another great homeschooling source I love is Bethlehem Books. I have only had the pleasure of reviewing two of their books, Hittite Warrior and God King, but both have been superb!
One could best describe them as historical fiction as they use real people and/or real places to make history come alive, and that is why they are part of the Living History Library series. I enjoy them as much as the kids do, and if I had known about them when I was younger, I might have not hated history so much the ENTIRE time I was in school.
Looking for something a little more up-to-date? Ignatius Press has released some hardcover graphic novels that teach your children about the Pope and John Paul II.
Our Holy Father, the Pope teaches them who the Pope is and highlights a few important ones like St. Peter and Leo the Great. John Paul II: The Journey of a Saint is a biography of this great man in comic book format. Using this format is appealing to me because I have always loved comics, but it also helps bring this great Saint back to life, especially for younger children who weren't alive for his papacy.
Other great graphic novels on saints are available from Pauline Books and Media and include ones on St. Francis of Assisi, St. Ignatius of Loyola, St. Joan of Arc, and St. Bernadette!
Speaking of Pauline Books and Media, have you read their Gospel Time Trekkers series? Sr. Maria Grace Dateno wrote 6 books, which focused on three siblings who were graced the ability to go back in time to the age of Jesus and visit places like Bethlehem, Capernaum, etc. Their goal is to meet Jesus. (Wouldn't that be everyone's goal if they were gifted to go back to that day and age?) Through the books, the children not only learn about Jesus, the Bible, and ancient cultures, but they also learn about loving their family and mature throughout the books.
In the Secular Section
No wimpy kid diaries or moody children named Judy below! Let's start with fairy tales! There are tons of fairy tales books out there and tons of editions of those fairy tales. You can find them free for Kindle, but sometimes there's no substitute for a good quality hardcover book.
Hesperus Press has already released Andrew Lang's Blue and Red Fairy Book with Green and Yellow coming out late this year to early next year! If you've never read these, you're in for a treat, because he collected a TON of fairy tales from all over the world. In fact, he is responsible for a great number of tales appearing in English for the first time.
Do you have budding engineers and architects? Candlewick Press has a book called The Story of Buildings, which shows the "guts" of important landmarks, like the Taj Mahal or Sydney Opera House.
Houghton Mifflin Harcourt has also revised and re-released, in FULL COLOR, two of David Macaulay's works – Cathedral and Castle. In these stories, your children will see the planning and construction of a fictional cathedral and castle. This includes all the people, tools, material, and time involved in these massive projects.
If your kids are having a hard time getting into reading the "Classics," they come in graphic novel format at Papercutz, in the series Classics Illustrated and Classics Illustrated Deluxe. I am currently making my way through The Wind in the Willows and Tales from the Brothers Grimm.
If you REALLY want to start them early, there is also BabyLit. Author Jennifer Adams puts the "Classics" in boardbook format to teach your children basic concepts. For example, Romeo and Juliet is a counting primer, and Alice in Wonderland is a colors primer. The books are a little pricey, but if you follow them on their Facebook account, they post Groupon deals!
So what are your kids reading this summer?
Comment below!
Be sure to check out our Book Notes archive.
Copyright 2014, Stuart Dunn
About the Author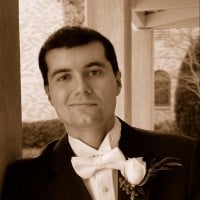 Stuart Dunn was born and raised in Mobile, AL and received a Bachelor of Arts in Psychology and a Master of Business Administration from the University of South Alabama. Stuart reviews all things Catholic including adult books, children's books, Bible Study series, Catholic Courses, CDs, and DVDs in addition to board games at his blog Stuart's Study at StuartsStudy.blogspot.com.