Little gymnasts flipping over pews, a trail of goldfish in your wake, unsuspecting parishioners jarred by an unidentified flying toy or a tug on the hair as they are trying their best to be reverent. Is this what Jesus meant when He said "let the children come"?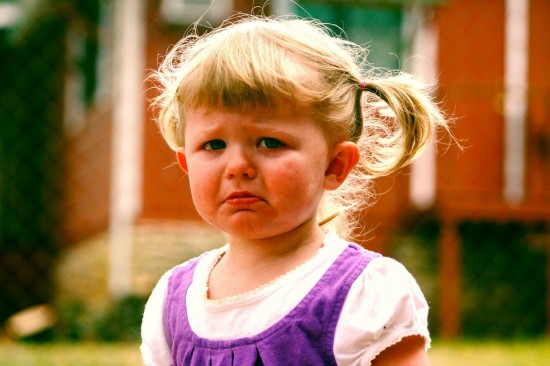 Mass with children is the easiest way to make the one hour of what is supposed to be the holiest hour of the week seem like at least three hours of embarrassment, apologies, and unending discipline. What is the solution for the family who begins to dread the Lord's day?
The Mass is truly heaven on earth, in which the glorious heavenly court celebrates the presence of Jesus among His earthly Church. There are angels, heavenly choirs, the souls of salvation, and the Triune God...but I don't see any of that! Maybe if my kids could see the angels, hear the music, or say "Look, there's grandpa!"
But alas, the limitations of our human condition cause a separation between heaven and earth, making all of that impossible. And therefore, it is REALLY hard to feel the heavenly truth that is occurring before us in the middle of boredom and meltdowns.
Is this what we can expect from heaven? Not so much. In heaven we are given eyes to see all that we cannot see (except by faith) here on earth. Our immortal soul is able to behold God face to face (beatific vision) and we are in a state of perfect happiness.
Perfect happiness is certainly not the state we often find ourselves in as we sit with children in the church pew, hoping for a cartoon intermission with a song and dance number, or distribution of Oreo cookies at the very least. Jesus said to "let the little children come to Him" and that "the kingdom of heaven belongs to such as these."
Yikes! Can you imagine if we all started behaving like our children in church? There would be chaos as people trampled each other to run up the aisle to the altar, bang on stained glass windows, and dunk themselves in the holy water. Forget the cry room, that would be stuffed to the gills. And you better believe that every song book would be torn, chewed, and colored on.
Thankfully, Jesus didn't say to act like our children, He said to be like our children in their innocence, purity, and unquestioning faith. Our children can teach us to come to Jesus in our hearts as we teach them to come to Jesus through worship.
Mass isn't for our entertainment and we do not come to be worshiped. We come first and foremost because God commanded it. In the same way that we teach our children not to lie, steal, or cheat...even though these actions may be enticing, entertaining, or even dare I say fun. Life often teaches the hard lesson that 'good guys finish last', and for this reason it is imperative to teach our children that last okay, because last is first in the kingdom of heaven.
Many good things seem boring, unimportant, and painstakingly useless. Fighting on the bathroom floor with tiny teeth and a Thomas the Train toothbrush. Making songs about spinach, and overdramatizing the repetitive process of dirt disappearing under the mouth of the vacuum.
So do we make the push to throw out the toothbrushes, veggies, and vacuum cleaners? No. Because on a MUCH less significant scale, they are good for us.
But God is not only a God of rules, although He gives us rules for our own good, and might I add to stop our grumbling about not knowing how to worship or please Him. God's justice is only outdone by His mercy and He wants us above anything else to love Him. He wants us to come to Him as children, because He loves us as children...His children.
Love involves great sacrifice, as we are reminded every time we gaze upon the crucifix. The Mass is a celebration of that great sacrifice and the reverence is much deeper than anything we will experience this side of heaven. It is much more than a good time with song and dance numbers every time we fall into boredom, and the Body and Blood of Jesus that we are able to receive are infinitely greater than Oreo cookies.
It is hard to teach love, and let's face it, it's hard to understand love even as adults. Many of us come from families that are broken, with only a remnant that are still faithful and practicing. Likewise, many of our friends have watched their children stray from the faith.
This is nothing new. In fact, it is demonstrated over and over again in Scripture, beginning with Cain and Abel. And, as much as we would like all of our children to go the way of the Lord, we must accept that they were given free will by the One who loves them most of all, and has instilled in them a holy longing for an eternal destiny with Him.
Pray always for your children and in the meantime, here are some practical ways to keep the faith even through the fits and fantastical rebellions of your own Sunday car rides:
1. Make Sunday Special - Dress the Part.
When I was a little girl, I loved going to Mass. I loved the fact that I got to wear my fancy white Mass dresses, complete with ribbon adorned wavy brim hats and white lace gloves! No, I am not from the 18th century and just barely South of the Mason Dixon Line, so I recognize that these articles of clothing were not common or necessary, but I was a little girl in her glory on Sunday mornings.
2. Bring Church to Their Level.
My lace-gloved hands were not empty as we entered church on Sundays, oh no! I had received a First Communion Purse, which I cherished, and was only allowed to carry on Sundays. In it was a children's Mass book with gold-rimmed pages for me to follow along with the congregation. I no longer depended on mom and dad to tell me what to say or where I was supposed to be in the missal. I proudly asserted my independence as I sat a little taller, doing it on my own. The main point is to give your child an independent part in participating in church. This may be a religious coloring book, board book, or doll (see below) when they are very little, singing at the top of their lungs when they learn to read music, a children's Mass book, or beginning to serve at Mass after they have made their communion. Parents must come to Mass prepared in order to allow their children to have a peaceful experience that does not involve scattered and screaming family members piling into the van with wet hair and missing shoes.
3. Step Up and Be the Change.
It's easy to sit back and grumble if your parish is not doing enough to incorporate children of any age through activities, education, and participation. However, only you can make a change for your family, and it is your responsibility as spiritual guide for your children to do so. Therefore, you are left with two options. Your family can find a parish that incorporates programs that you deem are vital for the spiritual progress of your children and make this your home parish, even if it involves a sacrifice of time and distance. Or, you can brainstorm with your Pastor about starting appropriate programs in the parish you currently belong. The best place to start for young children would be the incorporation of a children's Liturgy of the Word or Montessori Atrium (place of prayer, prepared especially for children to contemplate the life of Jesus and the liturgy of the Church with the use of many sensorial materials). St. Thomas Aquinas rightly taught that "all our knowledge has its origin in the senses." The Church concretely teaches us in this way through the Sacraments.
4. Celebrate! All of Sunday is the Lord's Day.
The Lord commands us to rest and worship Him on one of the seven days of the week. How dare He command us to rest, I mean who is this tyrant of a god? All jokes aside, I think the commandment to rest might be one of the hardest for us. Remember that your children are watching, absorbing, and will most likely cherish and mimic in their adulthood the memories they have stored of the precious family moments they remember. Sunday is about God, Family, and Community. Make the day special by having a big brunch with everyone's favorites. Choose a fun activity or family project. Make Sunday movie night, complete with snacks you make together. I know one family that has been going out for pizza every Sunday after Mass to the same pizza place for years. It started with one couple and their three kids, and now it has increased to three generations and many family friends. They have an informal reservation of half the restaurant every Sunday afternoon, and the staff and patrons are always happy to see the fun Italian family!
* * *
A great teaching tool for your little ones is a figure of their very own patron saint to accompany them to the heavenly banquet (as will happen in reality some day).
Erin of Saintly Silver is a Catholic artist who sews each saint doll from scratch as soon as the order comes in. She even made a custom saint doll for my son, who has an Old Testament name.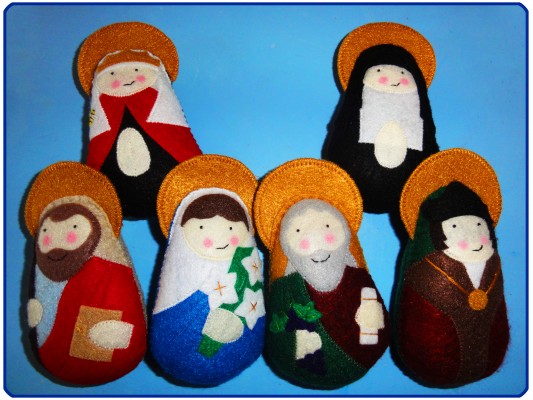 These cute and creative works of art are personalized with a Scripture verse or quote from that particular saint sewn in fabric onto the back of the figure. The durable felt figures can tag along with your little saint-in-training throughout their Sunday and the best part is that they are each roughly only $20! Make your child's saint part of the Sunday specialness by adding it to their "Sunday only" church bag.
We'll be hosting a giveaway that will include one of these great figures starting on Saturday, July 19, 2014! Be sure to stop back for your (many) chances to enter to win.
Copyright 2014, Kimberly Cook
About the Author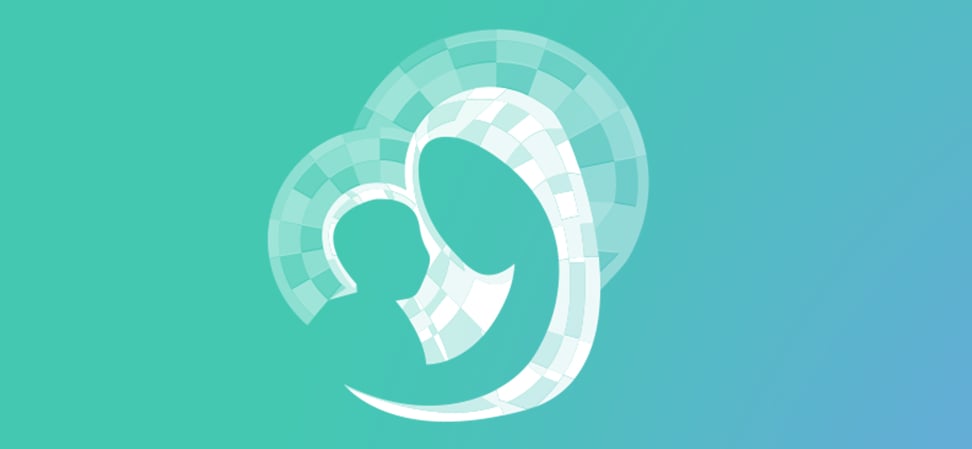 We welcome guest contributors who graciously volunteer their writing for our readers. Please support our guest writers by visiting their sites, purchasing their work, and leaving comments to thank them for sharing their gifts here on CatholicMom.com. To inquire about serving as a guest contributor, contact editor@CatholicMom.com.