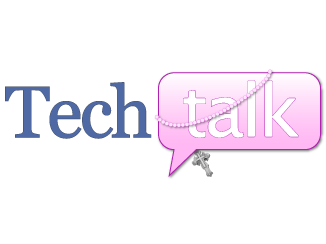 On July 10, 2014, The Pontifical Council for Social Communications launched an updated version of the Pope App, it was also presented on that day to Pope Francis. Zenit reported that after being shown the updated features on the app, "the Pope expressed gratitude for all the media services the council makes available."
In my initial review of the Pope App on October 18, 2013, I reported that, though overall the app provided incredible access to the Pope and Vatican news, a few features were not as functional as expected. Despite those issues (and some I still found in this updated version), I absolutely LOVED this app then and still do now. These updates have not only made it easier to navigate, but provide even more access to the Pope's words and the great work his is doing.
The Pope App Features:
Home:
The HOME page carries informative current news stories coming out of the Vatican and of the Pope's dealings throughout the world. The user can scroll through various stories each with thumbnail photo creating a very easy to scan and select HOME page. Each story, if selected, can be "Added to Favorites" or shared on any social media outlet as well as email. Some of the news pieces have embedded Audio, particularly those contributed from Vatican Radio.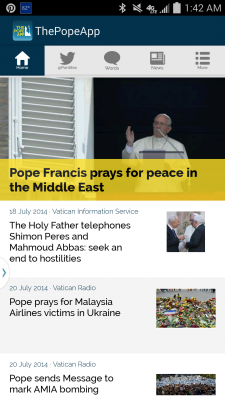 @Pontifex
This page contains a selection of Pope Francis' recent (not necessarily the very latest) tweets. Each tweet provided can be shared on Facebook, Twitter, Google+, or emailed.
While it is fantastic way to find, read and share the Pope's recent tweets, I was disappointed there was no option to link to the @Pontifex live Twitter feed directly from this screen. To link to @Pontifex on Twitter, the user proceeds to the More drop down menu selections. Using +Vaticano option, from there you can select Pontifical Twitter Account.
Although, this feature may not always include his daily or even the latest Tweet, there are still ample gems that can be read, pondered, and of course shared.
Words
First, I encountered difficulty bringing up the content for this feature – perhaps my data signal was not strong enough for the great about of content they stream, though, because it worked immediately when I switched to Wi-Fi.
Second, once the information appeared, it took me a few minutes to decipher what exactly I was looking at. The dates are written in the European format of Day, Month, Year (*in case you are curious -- the confusion time was less than 5 minutes, which was still probably 4.75 minutes longer than it should have been).
Now the nitty-gritty of this section of the App, simply put, it rocks! Here you will find links to all of the Pope's Homilies, Angelus, Messages and Speeches, as well as reports on his travels.
News
Current news from Vatican Radio and the Vatican Information Services; and L'Osservatore Romano (additional news stories can be found in the MORE dropdown menu).
More
Live - includes a live stream of the Pope's events or a constant live view of St. Peter's Square* if nothing is broadcasting (complete with angelically chirping birds). *See Image below – it is rather breathtaking some days!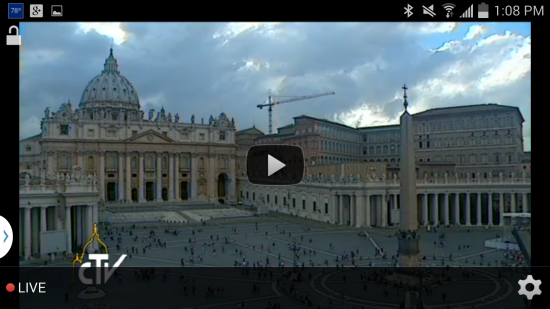 This component also includes:
Images; Video; Webcams located at Saint John Paul II's Tomb, Dome of Saint Peter's, Governorate, Saint Peter's Basilica and Castel Gandolfo.
The user may mark articles and content as favorites, and those are collected in MORE under the My Favorites link. You will also find News.va Favorites as well.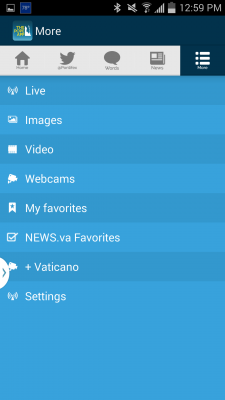 Lastly found in the MORE category the +Vaticano selection, which in addition to the link to the Pope's Twitter feed, provides web links to Vatican.va; News.va; Agencia Fides, L'Osservatore Romano, Press Office, Vatican Radio, and the Vatican Radio App.
Read more of our Tech Talk columns.
Copyright 2014 Allison Gingras
About the Author