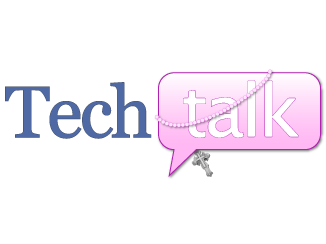 I cannot deny both Catholic News Service and Catholic News Agency provide excellent Catholic "happenings" coverage, however, after trying both of their mobile apps on my Android device, one clearly outshines the other.
Let me be clear, this review is strictly about mobile app functionality. The hands-down winner for me with the easiest to navigate Catholic News App **drumroll ** was the CNA app.
Since fellow CatholicMom.com Techie, Barb Szyszkiewicz, did such a great job reviewing the CNS Mobile App, it seems silly to provide a duplicate review, so instead, I'll just focus on the features of the CNA App.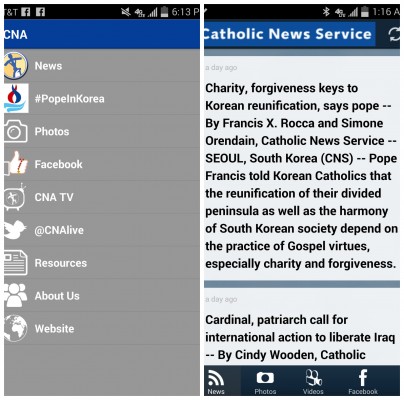 Immediately at the opening screen, the CNA app seized my attention – you had me at hello. Neatly and clearly listed features make this App super appealing especially to my busy often scattered mind. The CNA App also has a few more options than CNS.
Aside from News (which I assumed I'd find), there was also a link to more current affairs – in this case the Pope's recent trip to Korea, and photos. I absolutely loved the MEMES available on the CNA Wall Photos – which can be shared through all Social Media outlets including Facebook, Google+, and Instagram.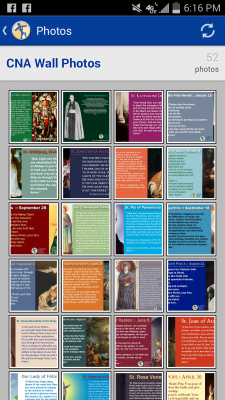 Speaking of Social Media, this app can link you directly not only to the Catholic News Agency's Facebook page – where you can "like" and "comment" right from the app but also "follow" and read tweets from both CNA (@cnalive) and Pope Francis (@Pontifex).
Maybe my enthusiasm for this app was fueled by discovering that @cnalive (CNA's Twitter Account) actually FOLLOWS me!! ((@ReconciledToYou) …and 22.8 Thousand other Twitter accounts (hee hee).)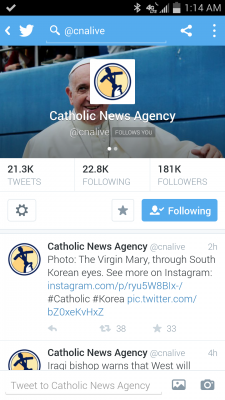 Lastly, the Catholic News Agency mobile Android app provides the user valuable faith resources like the Daily Readings and the Saint of the Day, as well as access to additional news following links to CNA TV and their website.
Read more of our Tech Talk columns.
Copyright 2014 Allison Gingras
About the Author