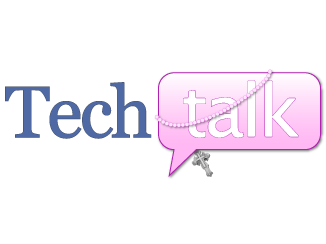 You know what scares me? The thought of going back in time and being single.
Seriously.
When I was single and "free," I wasn't Catholic. (So, arguably, I wasn't free at all.) And when I became Catholic, I was pretty committed to the guy I married.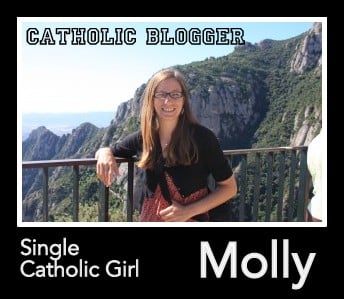 So I look with a special sort of admiration (and with a special place in my prayers) to those young men and women who are out there "fighting the fight." Among those I admire is Molly of Single Catholic Girl.
Go over and click around. Not only is the site a beauty to behold, but it reveals a tender heart and a deep faith that can do nothing less than inspire your mother's heart. I not only want all the young women in my life to take Molly's lead, but I find myself changed by my exposure to her.
This is a young adulthood I did not have. I regret that, but there's not a whole lot I can do except offer that back to God to use and redeem...AND I can point ALL OF YOU to Molly.
Oh, and I can share the interview too, huh? :)
Tell us about your blog in five words or less.
My site is Catholic, happy, fun, encouraging, and connecting.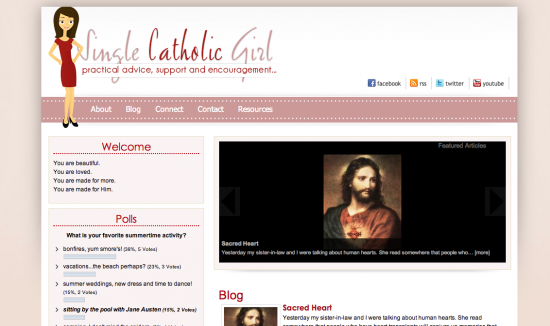 Why did you start blogging?
I was working as a campus minister and realized that many young women in
the church are looking for guidance after graduation. How do I find a job?
Where do I live? Should I online date? Etc. etc. I know that there are
countless women out there with the same questions I had and similar
struggles. My hope is to encourage other women in their journey while
sharing some insight into making it as a single girl in this crazy world.
Why do you keep blogging? What's your inspiration to continue?
The feedback and emails that I receive are an encouragement and are a
testimony that this site is really needed. I would like to spend more time
on it, especially reaching out to others.
When you think of the New Evangelization as a Catholic blogger, what excites you? What makes you want to continue?
I love evangelization! My site is geared more towards those who are
already walking with Christ; however, it does offer guidance along that
walk. Plus, you never know who else you might be reaching.
What's the most rewarding aspect of your blogging?
The emails I receive from women across the country sharing their stories
and asking questions.
In your spare time, what are we likely to find you doing?
I love to be outside, hiking, out on the water, running, skiing, really
anything as long as I am in nature! I also enjoy traveling and exploring
new places.
Want more Catholic Blogger interviews? Here you go.
Read more of our Tech Talk columns.
Copyright 2013 Sarah Reinhard
About the Author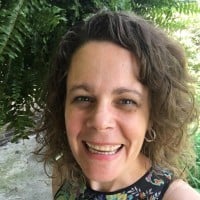 When she's not chasing kids, chugging coffee, or juggling work, Sarah Reinhard's usually trying to stay up read just one…more…chapter. She writes and works in the midst of rural farm life with little ones underfoot. She is part of the team for the award-winning Catholic Mom's Prayer Companion, as well as the author of a number of books. You can join her for a weekday take on Catholic life by subscribing to Three Shots and follow her writing at Snoring Scholar.