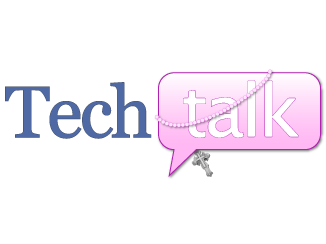 When traveling, as Catholics, we know that Sunday's obligation is not excused. This means that we need to find a local parish where we can attend Mass while away from home. In the old days, before internet, it was left to chance: once you got to your vacation destination, you'd check to see where the closest parish was in the phone book or the hotel guide, and you'd call for Mass times that weekend. With the advent of the internet (and parish websites), you could check the schedule online first, but you'd still need to look a bit to be sure you could find churches in nearby towns, especially if you tended to travel to more remote areas.
MassTimes.org came along, and there was finally a single website where you could type in the city you were traveling to, and the Mass Times site would pull up the local churches and times for Mass, Confession, and Adoration! What a life-saver! You could even click through to the parish website to double-check that the times were still correct!
With the advent of the iPhone, MassTimes put out an app that did all of this, including bookmarking your favorite parishes to visit while at your favorite vacation site. (Or, just to bookmark the parish you wanted to attend in a new city.)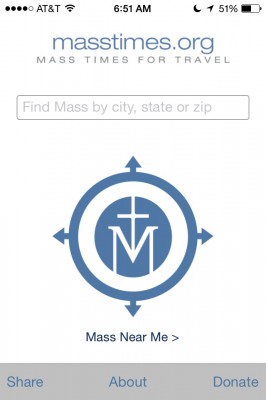 MassTimes has a new and improved app, though, with faster response, and a cleaner user interface. If you're already in a new town and trying to figure out where the nearest parish is for Confession, just hit the button on the home-screen and a list appears.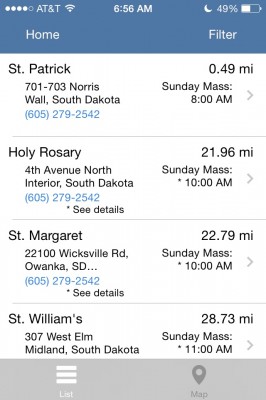 When you select a parish, the address and times for Mass come up, as well as a list of Confession times and (if applicable) Adoration.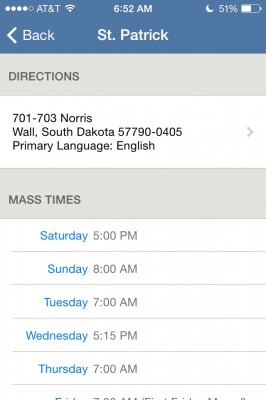 Touching the address brings you to the Maps app for directions.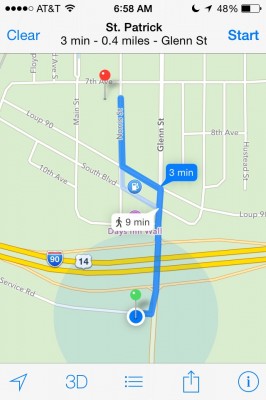 There's also an option on the parish list page to see all the local churches on the map as pins rather than a list. (Not a big option in Wall, SD, so behold: Indianapolis!)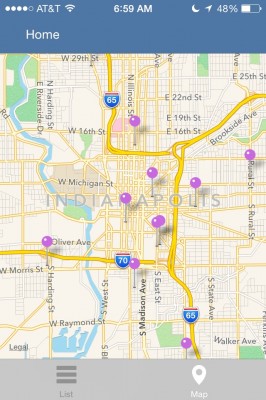 There's a "Share" button on the home page that allows you to tell friends about the app via Facebook, Twitter, Message, or Mail, as well as an "About" button that brings you to a page that includes a way to email Support. Also, since MassTimes.org is a free service of the Diocese of Lansing and John Paul the Great Catholic University, there is also a "Donate" button to help support the website and app. Clicking through the app will bring you online to the MassTimes.org website donations page.
MassTimes is one of the most important apps I use when I travel. I've been deeply grateful to their service for a very long time. It helps our family plan getting to Mass, especially when we are traveling with family who may not be Catholic. On our trip to South Dakota, we were doing a lot of driving, leaving on Sunday mornings for long drives; we wanted to be sure we got to Mass on Saturday evening. Even though a lot of parishes have Saturday Vigil Mass at 5 or 5:30, we were happy we double-checked on it; the parish we attended had a 4:30 Mass!
I do recommend looking at the church website as well, since sometimes things change and it takes a bit to update MassTimes. I still love the updated app, though I miss the ability to bookmark the churches ahead of time. I imagine I could bookmark the parishes in Maps (or export the addresses to Google Maps) to get around the issue.
If you travel a lot, bring the MassTimes app with you! As one of our former pastors used to say, "You may be on vacation, but Jesus is not!"
Read more of our Tech Talk columns.
Copyright 2014 Christine Johnson
About the Author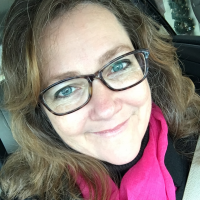 Christine Johnson has been married to Nathan since 1993 and is the mother of two homeschool graduates. She and Nathan live in the Blue Ridge Mountains of Southwest Virginia, where she tries to fit in as a transplanted Yank. She blogs at Domestic Vocation about her life as a wife, mother, and Lay Dominican.