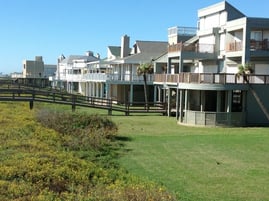 The house, the car, the money, the luxuries, the challenging job, the power trip, the pleasure in everything bought; all of these are within a pleasure driven life. This lifestyle is seen as the American Dream through a warped lens.
I believe originally the "American Dream" was to have freedom in a country where you would be able to work hard enough to buy a house, get married to someone you choose to marry, have children with them and support them by making a decent fair wage. It has turned into having it all - pleasure at all times without thinking twice about who you step on to climb that ladder; "it's only business", as if we can leave our morals at the door of our workplace. It has turned into having the most money so we can buy our happiness and have what we want whenever we want it.
The opposite goes against the grain of our culture. It is called a kingdom driven life. It is defined by living your life in pursuit of true joy with God in heaven one day. It is attained with a selfless nature, taking care of others first. Living for God by loving others. Finding fulfillment in the joy of moments serving and unconditionally loving all of God's creations.
It is having a job that challenges you to be the most moral person by giving all of you to others. It gives the power to God's will in your life and not your own. It has no need for materialism, greed, selfishness, or winning.
Living this lifestyle is not what America condones. It is the lifestyle that Christians are asked by Christ to lead. Christ was the greatest role model ever for this lifestyle. Jesus ended up crucified for it. We will be persecuted if we follow this path but if we give all that we have to do God's will we will know God in this life and in the next better than we ever thought possible.
There is a void in each of our lives. We search, struggle and constantly try to fill that opening with things, events, ideas and sometimes people. The only way to fill that void is to follow God's will for you. Listen to where and what God is calling you to in your life. Follow God in every way and you will find a contentment you never thought possible (although you will never fully rest because God has plans for your life). In the afterlife God will reward you with sweet sleep.
Which life do you lead? Which life would you like to lead? The choice is yours not America's. Pray about it and discern your calling.
Copyright 2014 Lori Hadorn-Disselkamp
About the Author

Lori Hadorn-Disselkamp - mom of 4 teens/wife for 20+ years. Lori has been writing at her own website Faith Filled Mom. She writes about the journey of faith we live daily and the ability to recognize God. She is a retreat director at Sacred Heart Academy HS. She just earned her MA in Pastoral Ministry as well as a certification in spiritual direction.