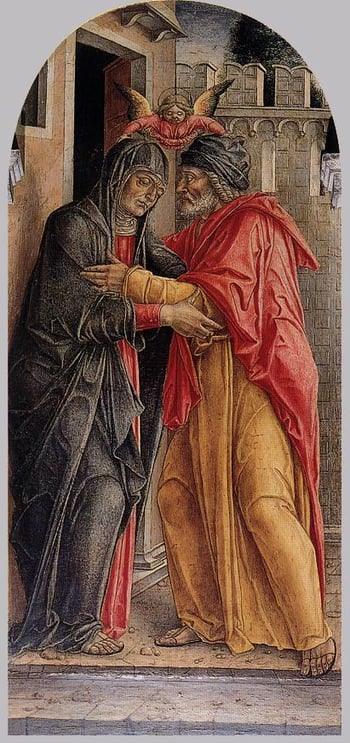 Today's feast day takes me back to 1987 when I was a newly-habited novice with the Dominican Sisters of St. Cecilia. Along with just receiving my beautiful, white Dominican habit, I also received my religious name, Sr. Anne Joachim.
Towards the end of my first year, in the convent, my postulant year, I was to submit to Mother three possible names. As a postulant, I was simply referred as Sr. Kelly. Postulants wore simple black skirts and shirts with a Dominican cross pinned to the white peter pan collar. Now, I was donned in the habit of St. Dominic, only with a white veil. There was a time when I did not think I would see this day.
Since eighth grade I had considered, on and off, a religious vocation. Senior year, I looked into convents as well as colleges. Then, in my second year in college, the Nashville Dominicans came to the all-girls Catholic high school down the street from where I lived. When I saw them at church one Sunday, I was immediately enamored. The long, white, flowing habit from which hung a 15 decade rosary and the joy which exuded from these sisters attracted me.
They, however, were a teaching order. I was not interested in teaching. With a minor in Spanish, I was considering missionary work. Knowing that I really enjoyed the sisters, my father pulled me aside one day and pointed out to me how our own country was the true missionary land. People from the third world countries were starving to hear the Word, but the girls in our country had so many "blessings" that they could not see God through all their stuff. The real challenge, he declared, was to stay here and re-evangelize the people of our own country.
Challenge accepted! Memorial Day weekend, instead of going to the beach with friends, I went to the Motherhouse to ask Mother's permission to enter. On August 16th, I entered the convent. By August 17th I was so homesick, I cried myself to sleep.
Though there were many aspects of convent life that I loved - praying Divine Office, wearing religious garb, studying the faith - there were many practices I found difficult - waking up every morning at 5:00, meditating at 5:30 without falling back to sleep, wearing shoes from 5:00AM to 10:00 PM! Some times, it's the little things. Some times, it's the big things. I really missed my family - my parents, brother, sister, my grandparents, aunts, uncles and cousins. I hadn't seen any of them since I entered, and I wouldn't see them again until our Christmas visit.
I began to consider going home with my family when they would come at the end of December. Before making a final decision, though, I decided to write my spiritual advisor at home, explain my feelings and thoughts, and get his advice. I sent my letter in the mail and waited for his response. In the meantime, I prayed. I asked the Lord to grant Father wisdom and compassion and me strength and peace. I told Him I would do whatever Father suggested.
The long-awaited response came two weeks later. Stay, he said. Give it to the end of the year. He called my homesickness a blessing, saying that it showed that I was greatly loved and had a great capacity for love. He pointed out that if I came home too soon, later in life, I would wonder if I truly gave it my all.
I had my answer. I would stay, at least until June. But how? I needed strength; I needed peace; I needed prayers. To ask my parents for them would be upsetting, so I turned to Saints Anne and Joachim. I asked them to be my parents away from my parents. I figured they knew what it was like to be separated from their precious Daughter since tradition tells us Mary was a temple virgin. They must have missed her. Nonetheless, they knew the greater good and chose God's will over their desire. They would help me do the same.
The strength the live out my vocation in peace and joy came. By the year's end, I was excited about receiving my habit and a new religious name. I couldn't wait to live my year of cloister, studying the vows and life I was going to promise to live for the glory of God.
Although I had submitted three names to Mother for consideration, there was really only one name for me, Sr. Anne Joachim.
So, what does all this have to do with today's feast day. Well, I tried talking Mother into allowing me to chose September 8 as my feast day. In the convent, birthdays are not celebrated; feast days are. St. Anne and St. Joachim's feast day is July 26. It made the most sense for this to be my new day to celebrate. However, I asked that September 8, the Feast of the Nativity of our Lady be considered for my feast day. After all, in bringing me to this point, St. Anne and St. Joachim must have felt as if they had spiritually given birth to another daughter.
It's ok. I don't mind that Mother had me celebrating on their own special day. As a matter of fact, I still claim July 26 as my feast day (after all, I still have an affinity towards my patrons and my middle name is Ann). Nonetheless, this day is special to me, too, and not just because it is the birthday celebration of our Lady. I still feel a special bond with her earthly parents. The awe and wonder they must have felt on this day! In my own way, I have experienced it, too. Several times over, as a matter of fact!
I know I am their spiritual daughter. Though it was not God's will, ultimately, that I remain in the convent (I left after my temporary vows 5 years later), St. Anne and St. Joachim helped me to find peace and joy in placing God's will over my own.
I no longer bear their name, but I bear the effects of their prayers. I am confident that they continue to pray for me and help me in my state of life now as a wife and a mother to find peace and joy in the midst of my true vocation.
And I am sure they do not mind being Heavenly grandparents to my nine children.
Thank you, my dear, sweet Lady, for sharing your parents with me! Happy Birthday!
Copyright 2014 Kelly Guest
Image credit: Bartolomeo Vivarini [Public domain], via Wikimedia Commons
About the Author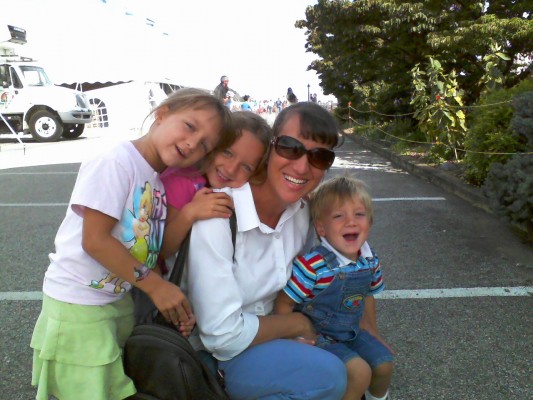 God has given Kelly lots of wonderful opportunities to follow Him. She was a Dominican Sister of St. Cecilia in Nashville, an education coordinator for a Catholic Charities' program for pregnant teens, a middle school teacher, a director of religious education and is now a youth minister. Her most challenging and rewarding calling, though, is wife and mother of ten children. What she has learned, she blogs at CatholicMom.com.