I'm expecting grapes any day now, which means that suddenly, the busy I am will be purple-splattered and delicious. The books I've been reading and the piles taunting me remind me of those grapes...they could make a real mess if I let 'em.
Lucky for me (and them!), I'm not planning to squeeze them and preserve them in jars, so I think we're both safe.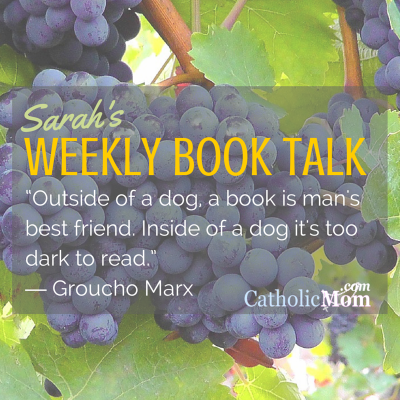 Recent Reads

The Grace of Yes: Eight Virtues for Generous Living, by Lisa Hendey (Ave Maria Press, 2014)
My rating: 5 out of 5 stars
I had to rein myself in and keep myself from just whipping through this book. It's not that it's an easy read; it's that it's compelling and wrenching and it keeps your attention. What Hendey has done is craft a book that taps into everything I love most about her writing. This book took courage to write, and it takes a measure of grit to do more than just read it like it's an enjoyable read (which it is). I've been reading Lisa Hendey for years, and in the body of work she's produced, I rank this as the best of her writing. I found a lot of grace in reading it, and I expect that, upon rereading it, I'll find myself struck again by Hendey's wisdom and insight.
Current Reads

The American Catholic Almanac: A Daily Reader of Patriots, Saints, Rogues, and Ordinary People Who Changed the United States, by Brian Burch and Emily Stimpson (Image Books, 2014)
I'm up to July (I was a bit distracted once I opened The Grace of Yes, it's true). And this book just continues to delight me. I know I keep saying that each week; I'm hoping to have it done this week, but when you see the book at the top of my library pile, you'll understand if I don't quite have it done... :)

The Way of Perfection, by St. Teresa of Avila (for the Catholic Spiritual Direction book club) (also free online)
This book is proving easier to read than it was at first. Either I've gotten the hang of it or it's really easier...which isn't to say that the topics aren't thought-provoking (Teresa is a doctor of the Church, after all). In at least each chapter, I find a nugget that forces me to stop and consider.
Up Next

UnSouled (Book 3 in the Unwind Dystology), by Neal Shusterman (YA fiction, Simon & Schuster, 2013)
I have it from the library, and I shall read it, and this week too! Then I can write about the series and hey, maybe I'll even muster up the gumption and courage to contact the author. Because I think we could have ourselves quite a conversation.
What have YOU been reading lately?
*Are you on Goodreads? I'll see you there!
Curious about what my ratings mean? Here's an explanation of what the stars mean to me.
Be sure to check out our Book Notes archive.
Copyright 2014, Sarah Reinhard
About the Author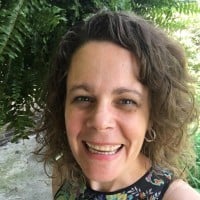 When she's not chasing kids, chugging coffee, or juggling work, Sarah Reinhard's usually trying to stay up read just one … more … chapter. She writes and works in the midst of rural farm life with little ones underfoot. She is part of the team for the award-winning Catholic Mom's Prayer Companion, as well as the author of a number of books. Follow her writing at Snoring Scholar.