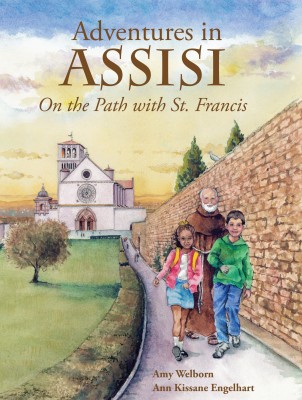 Have you ever had the experience of holding a storybook in your hands, falling in love with it, and thinking that perhaps it was so beautiful that you couldn't possibly bear to place it into the grimy fingers (or even the impeccably clean ones) of your little child? While my own boys are now grown and reading to themselves, I had a flashback of this sensation recently when I held the charming new book Adventures in Assisi: On the Path with St. Francis for the first time. This fantastic resource, with prose by Amy Welborn and art by Ann Kissane Engelhart, is truly a treasure. In my review of the book for Amazon I shared:
With Amy Welborn's vibrant and engaging storytelling and Ann Kissane Englehart's stunning illustrations, the awesome new book Adventures in Assisi: On the Path with St. Francis brings the story of a beloved saint to life. Your family will love journeying the streets of Assisi with Giana, Lorenzo and Brother Antonio as they play a guessing game that brings all of the true details of Francis' life into great clarity. The book ends with a brief biography of the saint to fill in all of the historical details of his life.
As tempted as you may be to hoard this book to yourself or to somehow fashion its illustrations into artwork to line your walls, I urge you to go ahead and place it lovingly into the hands of your favorite little ones. Better yet, snuggle together and read it over and over. Relish the story as it unfolds. Marvel in the tiny details that Ann has included in her illustrations. Let it get good and loved, even if that means that a page is bent or a corner is dinged. Because books like this one are too tremendous to sit on a shelf. They are meant to be lapped up, devoured, poured over and shared!
Today, I'm happy to share my conversation with Amy Welborn and Ann Kissane Engelhart. I hope you'll check out not only this book, but their other resources as well. We need more books like these for our families!
Q: Please briefly introduce yourself to our readers.
Amy Welborn: I'm Amy Welborn, a freelance writer. I started writing columns for the Catholic press years ago and those columns were published regularly by the Florida Catholic, Catholic News Service and Our Sunday Visitor. I've written over twenty books for children, young people and adults. Some of my books include the Prove It series of apologetics for teens (Our Sunday Visitor), the Loyola Kids Book of Saints and the Loyola Kids Books of Heroes, both published by Loyola Press, A Catholic Woman's Book of Days and The Words We Pray, books of adult spirituality also published by Loyola and a memoir, Wish You Were Here, published by Random House. I also write various devotionals, including regular contributions to the Living Faith quarterly and booklets like the new family Advent devotional from Creative Communications for the Parish, Prepare Him Room. I've been blogging off and on since 2001, now at Charlotte was Both (http://amywelborn.wordpress.com). I have five children, ages 32 to 9.
Ann Kissane Engelhart: I am an artist and illustrator from New York and have focused primarily on watercolor painting for most of my professional career. I teach art classes, and I am commissioned to paint portraits, landscapes and still-lifes, however in recent years I have dedicated much of my time to illustrating Catholic children's books. I live on Long Island with my husband and children.
Q: What prompted you to write/illustrate "Adventures in Assisi" and what will our readers discover in this book?
Amy: I love history and I love to travel and the saints are central to my Catholic spirituality. In my teaching and writing, I've always particularly enjoyed bringing Catholic tradition and history to readers and listeners and many of my books reflect that interest.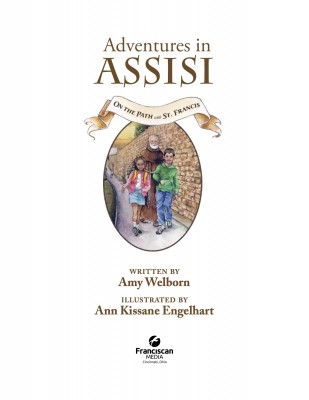 St. Francis of Assisi has always interested me not only because his is a truly compelling, radical figure, but also because he is rather mysterious. The radical nature of his conversion and the singularity of his journey is unique, but the legends and stories that have grown around him over the past eight hundred years have only added to the mystique and have always piqued my curiosity. My earliest encounters with Francis were both quite memorable, although both were rooted, I now understand, in more fiction that fact - reading NIkos Kazantzakis' St. Francis as a teenager and seeing Brother Sun, Sister Moon with my friends from the Catholic campus ministry in college. Despite the serious limitations of both, what moved me in these works was my vivid and thought-provoking encounter with the possibility that radical sacrifice was, paradoxically, the path to fullness of life.
In the subsequent years, I encountered St. Francis here and there. I taught his story when I taught high school theology. I wrote about him in the Loyola books. I wrote about his prayers in The Words We Pray. Over the years, I probably read every existing children's picture book about Francis to my own children, most of which were about either the wolf of Gubbio or the Christmas creche.
And then, a few years ago, I read the new biography of Francis by Fr. Augustine Thompson OP - Francis of Assisi: A New Biography. It's a tight, compact, rich work, and Fr.Thompson's insights struck me to the core, so once again, St. Francis moved me. Fr. Thompson gently but firmly redirects the reader back to what St. Francis actually wrote, beyond myths and contemporary ideologies. As a person interested in history and the writing of history, it was fascinating to me on that level, but the insights offered about Francis struck me as profound and important. Yes, Francis was all about poverty. But what did poverty mean to St. Francis? That's the question. I thought the answer to that was worth sharing with children, especially after I went to Assisi with my own children two years ago this fall. I thought - how wonderful would it be to take children on a journey in St. Francis footsteps - both spiritually and through Assisi. It would be different than any other children's book on St. Francis out there.
Ann: The original idea was Amy's. As you know she loves to travel with her children and she discovered that although there are countless books about St. Francis for kids, there was nothing like this book that helped families discover the beloved saint via his hometown of Assisi. We wanted to show the actual places that formed him and to present him in his own words.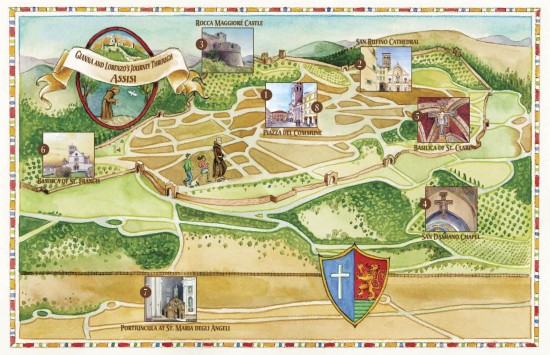 Q: As a fan of ALL of your beautiful picture books, I would love your thoughts on how you are able to reach and minister to families through children's books in a way that is unique and special.
Amy: As Ann has said, we have both been inspired by Pope Emeritus Benedict XVI. The clarity and depth of the way in which he communicated with children and young people showed us that it could be done: that the truths of the Faith could be communicated to young audiences in a way that was accessible but not watered down.
Ann: We have taken rather serious and complicated topics, such as the Eucharist, the saints, and the celebration of Christ's birth and tried to present them in a way that children will understand, without diminishing their depth and richness. I have tried to create images that will encourage the children to ask questions and stimulate discussion that will deepen the faith of both children and those who read with them. I have had the opportunity to present the books and the original art at parishes, schools and even adult Catholic groups. Parents and grandparents really appreciate the opportunity to encourage their children by sharing these stories.
Q: Ann, please say a few words on the artwork in this new book. How did you conceive of the characters "look"? What type of research do you have to undertake to artfully depict a venue like Assisi?
Ann: I was able to visit Assisi on two occasions, once with my teenage children and another time alone with my husband. I was able to walk the same paths as the characters in this book as they followed St. Francis' footsteps.
I took countless photos because the style of my work is quite detailed, and I wanted the reader to authentically experience the exquisite Umbrian landscapes, the extraordinary architecture that is both grand and humble, and the simple beauty of the country roads and olive groves that surround St. Francis' hilltop hometown.
The children are supposed to be cousins and we wanted to reflect the diverse ethnicities that make up families throughout the Catholic world. The boy was modeled by my adorable nephew Lawrence who has Chinese, Cuban and Irish ancestry and his friend Giana whose parents roots are African American and Italian. It is important for children to see that the message of St. Francis is for everyone. This diversity is truly catholic.
Q: How does your service to your own children inspire the work you do as a children's author/artist?
Amy: I've spent over 30 years reading books to children, and, let's just say I know what I like. I know the type of art I enjoy looking at with my children and I know what I like to read. Ann's art is so rich and complex, it's like the best of my experiences reading to my own children, moments in which we can spend a great deal of time exploring the details in a picture, looking for inside jokes or threads that continue through the books.
Ann: My children are all grown up. But praying and reading together was very important to my family, and I think it has greatly contributed to the persons they have become. Favorite books stay with children forever, and all books, but especially books about faith deserve to be beautiful! It is the work that I did with my children at home and in their parish school that inspired my desire to create high quality books with Catholic themes for families.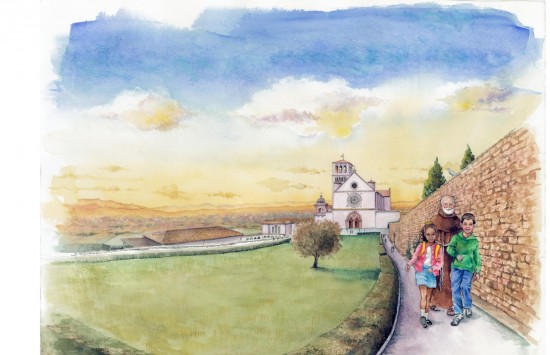 Q: I hope there will be more of these precious books -- can you recap the series and let us know of plans for any future books?
Ann: Our first book, "Friendship with Jesus" was inspired by Pope Benedict XVI's catechesis with young children who had recently received their First Holy Communion. After reading the transcript of this extraordinary encounter, I immediately knew that it needed to be made into a book. I wanted to capture the grandfatherly way in which Benedict XVI offered his gentle wisdom to the inquisitive children. I contacted Amy to see if she would be willing to collaborate on such a book and she said "yes"!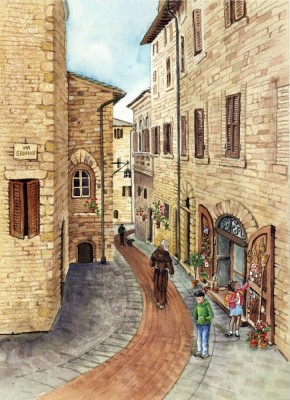 "Be Saints!" was based on a similar event during which Pope Benedict met with students on his pastoral trip to the United Kingdom; he invited them to find true happiness by growing in holiness. He encouraged the children to become what the world needs most - future saints. The book includes quotes from Blessed Mother Teresa, St. John Paul II, Pier Giorgio Frassati and others.
"Bambinelli Sunday" is a Christmas story that also has a papal connection since it is about a popular celebration held each year on Gaudete Sunday in St. Peter's Square. It tells the story of a young boy from Naples who travels to Rome with his grandfather to have the Baby Jesus figurine, which he has made, blessed by the pope.
Amy and I have countless ideas for books drawing on the richness of our Catholic traditions. We are currently working simultaneously on two new books.
Q: Are there any additional comments you would like to share with our readers?
Amy: All of our books - like the Catholic faith itself - emphasize the Incarnational aspect of Catholicism - of Christianity. God has entered our world and we encounter Him through the saints, through the sacraments, through art, through the beauty of the world. In our work, we seek to bring this truth to Catholic families - to help them remember that God is not distant, but is Love, Truth and Beauty, very near to us, always.
Ann: I would encourage your readers to seek inspiration wherever they can, and to generously share their gifts in ways that will encourage people to grow in their faith. I was blessed to have been listening when the Pope Emeritus was answering the questions of young children a few years ago. By responding to his message, I have been richly rewarded with creative opportunities, new friendships, and a deepening of my own faith.
Copyright 2014 Lisa M. Hendey
About the Author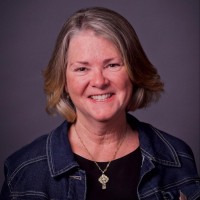 Lisa M. Hendey is the founder of CatholicMom.com, a bestselling author and an international speaker. A frequent radio and television guest, Hendey travels internationally giving workshops on faith, family, and communications. Visit Lisa at LisaHendey.com or on social media @LisaHendey for information on her speaking schedule or to invite her to visit your group, parish, school or organization. Visit Lisa's author page on Amazon.com.