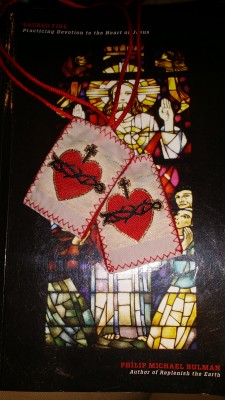 As a mother, I can think of no stronger devotion than a devotion to the Sacred Heart of Jesus. As a working Catholic momma, the devotion to the Sacred Heart of Jesus is a necessity.
Sacred Fire: Practicing Devotion to the Heart of Jesus by Philip Michael Bulman presents a plethora of historical background on this beautiful and efficacious devotion. Though the devotion itself is credited to St. Margaret Mary Alacoque, Bulman shares incredible instances where saints who practiced a devotion to the sacred Heart grew in leaps and bounds in their holiness.
Take for instance my new favorite saint, St. Gertrude. What a woman! Through openness to Our Lord's Most Sacred Heart, Jesus reveals Himself over and over to St. Gertrude. St. Gertrude reminds us the fruits of practicing this devotion include knowing Jesus – At. His. Core. The Scripture comes alive for us, revealing Him more and more…
"St. Gertrude tells of the effect this vision had on her in a passage of her writing she addressed to Jesus. "From that hour, in a new spirit of joyful serenity, I began to follow the way of the sweet odor of your perfumes, and I found your yoke sweet and your burden light which a short time before I had thought to be unbearable."" (p. 23, Sacred Fire)
Bulman presents several examples of how the Sacred Heart devotion has manifested, including accounts by St. Margaret Mary, St. Teresa of the Andes, and modern day, St. Faustina. In every account, the author gives us a wealth of information about the devotion through the examples of sanctification.
Along with Fr. John Croiset's book, "The Devotion to the Sacred Heart of Jesus: How to Practice the Sacred Heart Devotion," "Sacred Fire" is the perfect companion as one develops a deeper love and devotion to the Sacred Heart of Jesus. While one serves as a rigorous study in the practical procedures of the devotion, "Sacred Fire" serves as the showcase of the saints who have developed the devotion. "Sacred Fire" brings the devotion to life, especially for those who are just beginning the practice of the devotion.
It is evident Bulman has the lay faithful in mind, as throughout "Sacred Fire" nuggets of wisdom and practical suggestions help the reader understand how to incorporate the devotion into daily life. As a working Catholic momma, relatively new to this devotion, Mr. Bulman helps me to identify myself within the heart of my amazing Savior. As I read "Sacred Fire," my heart rested on the chest of Jesus- with my ear pressed closely to His Heart. It is there I learned to love, to forgive, and to rest. What working Catholic momma (or momma in general!) doesn't need rest? "Sacred Fire" is a must read for everyone developing a devotion to the Sacred Heart of Jesus.
Here are a few strategies I used to develop the devotion to the Sacred Heart of Jesus. Many of these strategies are found in "Sacred Fire."
1. Place yourself before the Tabernacle as often as possible, or sign up for an hour in front of the Blessed Sacrament. To love the Sacred Heart of Jesus is to recognize His Eucharistic offering for us. It is in the Tabernacles across the world that the Lord resides, most of the time alone. Sometimes, on my way home from work, especially when I feel so hectic and chaotic, I stop at the Church and visit the Tabernacle for a few moments to let the Lord know I love Him.
2. To develop a stronger devotion to the Sacred Heart, develop a strong devotion to Our Lady. Our Lady carried the Lord for 9 months. His Sacred Heart beat in time to her own heart. She was part of every major milestone in His life, including His first miracle, His death, His Resurrection and His Ascension. Our devotion becomes that much more efficacious when we ask her to pray for us, directly to her Son. As Our Mother, she also knows exactly what her children need. She knows we need rest, particularly on the chest of her most strong and courageous Son. On your way to work, offer Our Blessed Mother her prayer of the Rosary for the intentions of stronger devotion to her Son.
3. Learn more about the Sacred Heart, and the saints who grew in holiness through this devotion. The ones mentioned in Sacred Fire are a great place to start. St. John Paul the Great also had an incredible devotion to the Sacred Heart. Our Church history is filled with beautiful saints who practiced this devotion, in ways that led them to holiness.
4. Pray for the desire to develop the devotion. I prayed this prayer quite a bit. I wanted to desire to develop the devotion, but I judged I didn't have enough time. Through my spiritual director, I was able to understand that God was calling me to this devotion - in my own station in life: as a working Catholic momma and wife. That advice and understanding has made all the difference in my devotion.
5. Obtain a Sacred Heart medal or wear a Sacred Heart Scapular. These are physical reminders that I am developing this devotion. I am able to pause throughout the day as these sacramentals draw me closer to the devotion.
However you are able to develop this devotion, rest assured that the Lord does not expect perfection. He just wants to spend time with you. Lay your head on His Most Sacred Heart, and there, learn the most powerful lessons of love, forgiveness, mercy, and sacrifice.
Peace and blessings of Christ...
Mary
Copyright 2014 Mary Wallace
About the Author

Mary Wallace, PhD, is a devout Catholic wife, mother of 4 daughters, and college administrator. She is co-host of a Catholic radio show: Faith and Good Counsel, on Baton Rouge Catholic Community Radio. Mary is also a contributing writer at the Integrated Catholic Life. Follow Mary on Facebook.