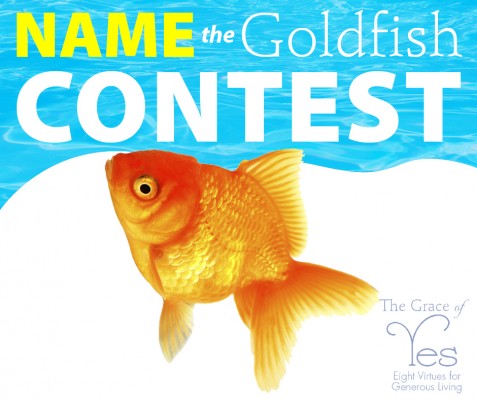 Yesterday, I shared with you my initial impressions about that perky little goldfish who "graces" the cover of my soon-to-be released book The Grace of Yes. It seems that from the moment the cover was unveiled, people couldn't stop asking about him. He's taken on a life of his own, as has the "Y"/MartiniGlassishContainer he appears to spring from on the book cover. When you see the "real" cover, you will be amazed at how my golden buddy appears to literally jump from the page.
Since so many of you have been asking, I've been pondering the cover goldfish's relationship to what lies within the pages of The Grace of Yes. It seems to me that this is his/her story:
The Grace of Yes is all about giving our full, beautiful and worthy "YES!" to God with our lives. Living generously seems to me to be a tangible sign of this "Yes, Lord!" When we realize that we are loved beyond measure by a God who created us to share that love with the world around us, we can't help but want to share the Good News. But talking isn't enough... Loving God with all of our being enables us to live up to all that God has created us to be. With God, all things are possible. In God's love, the limits of our lives know no bounds.
You may think this sounds like exaggeration. I'm here to tell you that I believe it is true, because I have witnessed the bounty of God's generous love in my own life and in our family. God's limitless love showered upon us doesn't mean that we will never know trials or hardship. But the older I become, the more I experience in this life, the more I firmly believe in God's capacity to work wonders in our world, with and through us.
So if we are little goldfish, and we believe in the true power (and GRACE) of our "Yes", no vessel can contain our deep desire to share God's love and mercy bountifully with the world around us. We must leap beyond our limits, ready to take on the world around us and love it as God does. With God's love, with his endless generosity towards us, our own love can also be shared limitlessly with those most in need -- whether they are half a world away or sitting on the couch next to us.
That's it. That's the story of my goldfish. And that's why a name for this boundlessly beautiful creature is needed.
And in seeking your nominations, we ask you more importantly to share a non-profit organization which truly embodies this spirit of The Grace of Yes. Over the next several weeks, I will be profiling and sharing about your charitable organizations to spread they word about how they lovingly and generously serve the world around them.
So as my friends have heard me repeat for the last few days, "Go to the form, people."
Name the fish.
Name your favorite charity.
And let's rock our world.
Submit the name YOU think the goldfish should have, and your favorite charity could win a donation of $250 if your name is selected! Be sure to tune in tomorrow to learn more about my goldfish.
How it works:
Round 1: October 20, 21, and 22 - Submit your name and nominate your favorite charity.
Round 2: October 23, 24, and 25 - Vote on the final 3, as selected at midnight, PST, by Lisa Hendey
Prizes:
First Prize: $250 to your favorite charity and a signed copy of The Grace of Yes
Second Prize: $50 to your favorite charity and a signed copy of The Grace of Yes
Third Prize: A signed copy of The Grace of Yes
Promo code for entering:
To thank you for entering, you'll receive a special promo code for 20% off your purchase from Ave Maria Press.
How to enter:
Use the form below. Limit of one submission per person.
About the Author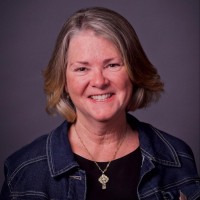 Lisa M. Hendey is the founder of CatholicMom.com, a bestselling author and an international speaker. A frequent radio and television guest, Hendey travels internationally giving workshops on faith, family, and communications. Visit Lisa at LisaHendey.com or on social media @LisaHendey for information on her speaking schedule or to invite her to visit your group, parish, school or organization. Visit Lisa's author page on Amazon.com.