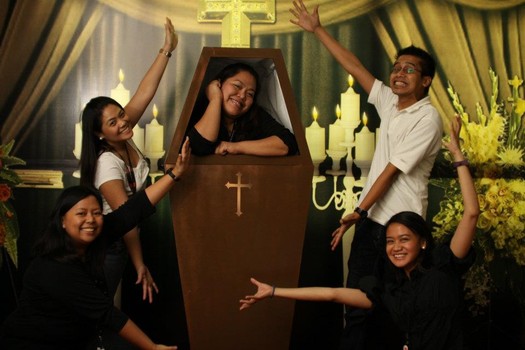 Preparations
These are the in-between times. Even the local seasonal aisles in our area markets are going through identity confusion. Lawn chairs and patio equipment have slimmed down to handle the expanding Halloween aisle, but preparation items for turkey celebrations are in the wings, as are Christmas lights and decorations (not to mention the Hindu celebration of Diwali, and the recent Jewish High Holy Days).
The Indian summer weather over recent weekends only helps to mix and match time, place, and expectation. Like it or not, we've shifted into the last quarter of our calendar year. As Catholics, this means embracing the coming of Advent with changes in our Mass Settings. More generally, it means entering into a series of celebrations that bring us through secular and religious holidays as we face the New Year.
Dressing the Part
Although Halloween in suburbia bears little resemblance to my own childhood memories, I often use the Halloween lore as an introduction to the adult group that meets with me weekly. This group is made up of unbaptized adults preparing to join the catholic church through the Rite of Christian Initiation for Adults (or RCIA), those baptized in a different Christian denomination wishing to be welcomed into full communion, and even adult Catholics wishing to celebrate Confirmation or Confirmation and First Holy Communion.
I ask these adults, who usually are between their early 20s to their 60s, if they went trick-or-treating when they were kids. Believe it or not, some of them tell me they still dress up and throw Halloween parties. Then I ask them if they could explain how they started this practice, why they continued to do so, and if they could explain some of the noticeable themes and symbols of Halloween. If they have kids, I ask them if their children celebrate Halloween and what they had to do as parents to pass on that practice to their children. And we compare how Scripture and Tradition are passed on in the Catholic faith.
Slowly, as we dig deeper into our ritualized, often unconscious behavior, we realize how easily we put into practice and even pass on to others something that seems simple (i.e. wanting candy, or having fun), but brings with it a whole host of other issues (i.e. why do you have to wear a costume? why do you visit the home of strangers?) Usually the adult reaction to this reflection becomes a somewhat nervous question as to whether trick-or-treating is "catholic" or not and thus, as people interested in becoming good Catholics, should they renounce this old practice? As is typical of "good Catholic practice" the answer is yes...and no.
Trick or Treat
The same impulse that attracts us to step out of our typical everyday lives and put on a costume seeking to "trick" evil/death or garner "treats" is not far from our Christian identity confident in Jesus Christ who has conquered sin and death and offers us forgiveness and eternal life. St. Paul uses the imagery that "we have put on Christ" and we are "baptized into Christ's death" so that just as Christ died and was raised, so too might we share that same hope.
Unfortunately, embedded in that same belief is the way that we get dressed to come to church or get dressed up to celebrate First Communions, Confirmations, or Weddings, where the focus may be less on the sacramental importance of what is going on and a more pragmatic exuberance over how great the meal, reception, or financial goodie bag afterwards will be.
Celebrations to Come
Just a few weeks from now, a group of Confirmation Candidates from our own parish families will dress up and come to celebrate Confirmation Mass with the Bishop. They will rehearse their lines much like trick-or-treaters approaching the front door. But so much more than a big treat: They will receive the outpouring Gifts of the Holy Spirit, be anointed with Holy Oil, and receive the sign of Christ's peace at the foot of the altar, surrounded by family and friends, and supported by the priests, ministers and parishioners of our catholic community. And like the adults that meet with me, they may wonder how did we come to celebrate like this or "what is a good catholic supposed to be doing?"
The door that opens in this Halloween metaphor is the invitation to seek out God and the awesome mystery of how God comes to be present with us. That is indeed what our sacramental celebrations are. In Halloween we parade around festooned in costumes unafraid of death. But as Catholics, we put on Christ and the Cross of that conviction and the confidence that comes with it. God invites us to meet face to face with no need for the masks, tricks, or tempting treats.
As we move forward through autumn's season toward the new Church year, follow this invitation. Come celebrate Sunday masses with new life. Come be reminded of the conquering of sin and death as we celebrate All Saints Day and All Souls Day. Come and celebrate with your parish events like the Confirmation Mass. There, we face the dying and rising of Christ, through it we become who we claim to be. God welcomes us and we see each other face to face.
Copyright 2014, Jay Cuasay
(This article was first published on examiner.com on October 28, 2011).
About the Author

Jay Cuasay is a freelance writer on religion, interfaith relations, and culture. A post-Vatican II Catholic father with a Jewish spouse, he is deeply influenced by Christian mysticism and Zen Buddhism. He was a regular columnist on Catholicism for examiner.com and a moderator and contributor to several groups on LinkedIn. His LTEs on film and Jewish Catholic relations have been published in America and Commonweal. Jay ministered to English and Spanish families at a Franciscan parish for 13 years. He can be reached at TribePlatypus.com.