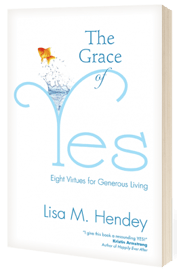 So, today's THE DAY when Lisa's brand-new book, The Grace of Yes: Eight Virtues for Generous Living goes on sale.
It is official. It is LAUNCHED into the world.
And maybe, probably, okay YES, I am very excited about this book, in the way that only someone who has watched this thing go through the whole process can be. I feel like I'm admiring a friend's baby (which isn't the best comparison, since I'm not such a baby person).
I know the work that goes into writing a book. I know the nail-biting, the heart-rending, the tooth-clenching that happens in the middle of the day, in the moments when you're alone, after you've sent the manuscript and can't bring yourself to imagine that the pile of dung you sent is acceptable to the editor.
Of course, I'm only speaking from my experience here. But I suspect Lisa would say her experience has been close to that (says her right-hand editorial assistant who watched from afar while she cranked out chapters and tried not to have breakdowns).
I was blessed to read The Grace of Yes early. And I'm still reeling from it.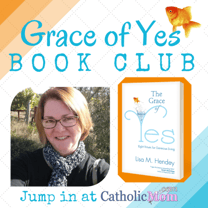 I'm even MORE excited that we were able to convince Lisa that doing a book club here at CatholicMom.com is JUST what she (and the book) needed. Though it's not a book that's aimed specifically at moms or at women, it is a book that deserves discussion. Attention. Pondering.
Which is what we do here, isn't it?
So go on and order your copy of the book from one of the many places it's now available. You should get your copy in plenty of time to read chapter 1 and join us on Saturday, when we will be talking about "The Grace of Belief.
Trust me, you won't be sorry.
Want a reminder?
You'll get an email with a link to the newest post. Sign up by filling out the form below with your name and email:

Email Marketing You Can Trust
Don't worry, we won't share your email address.
About the Author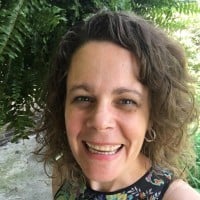 When she's not chasing kids, chugging coffee, or juggling work, Sarah Reinhard's usually trying to stay up read just one … more … chapter. She writes and works in the midst of rural farm life with little ones underfoot. She is part of the team for the award-winning Catholic Mom's Prayer Companion, as well as the author of a number of books. Follow her writing at Snoring Scholar.