Our thanks to Chris Ebberwein and Ignatius Press for sponsoring this week's giveaway.
This week's giveaway: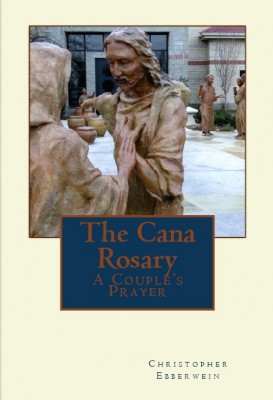 We have 5 copies to give away!
By Christopher Ebberwein (CreateSpace, 2014)
About the book:
Have you ever wondered just how to pray with your spouse or fiancé? The Cana Rosarypromotes a devotion to the Rosary, prayer together, prayer for one another, and a renewed admiration for marriage itself. The meditations consider how each mystery of the Rosary illuminates aspects of marriage and family life, and it fosters an encounter with Jesus, Mary, and the disciples as models for the couple in their lives together. The Cana Rosary allows the couple to be one in prayer, to meditate on scripture and church teaching, and to consider virtuous responses to all of life's moments together.

By T.M. Doran (Ignatius Press, 2014)
About the book:
Jan Skala has been arrested and imprisoned by the Russian liberators of Prague, but he does not know why. Or does he?

During the Nazi occupation of the city, the journalist stayed above ground and continued to work for his father's newspaper, which had fallen into the hands of the Gestapo. What must the Russians think of Jan? But more importantly, what does Jan think of himself?

The intriguing characters sharing his detention facility all have a backstory, but Jan cannot be sure if any of them is telling the truth. And what about Jan? Is he who he claims to be? Although the business of daily survival begins to trump every other concern, the men nevertheless struggle to understand their fate.

Iota is a poignant drama about what men believe and how they might act accordingly. The story takes place during a two-month period immediately following World War II, in a temporary Soviet detention facility near a devastated Berlin. It is a mystery-suspense story about what it means to be human and whether it is possible to retain one's humanity in the face of evil.

By Roger B. Thomas (Ignatius Press, 2014)
About the book:
What does heroism look like? When does friendship become too costly? Do we ever truly touch one another, or are we doomed to walk alone forever? Can love survive trials, or does it inevitably wither and die?

The Accidental Marriage is a contemporary story that explores these questions through vibrant, sympathetic characters whose struggles and triumphs illustrate that love doesn't always look like you would expect.

Scott and Megan are friends who live and work in the vibrant San Francisco Bay Area. Mostly contented with their jobs and same-sex relationships, they meet for lunch and sympathetic conversation from time to time.

When Megan's partner wants a baby, Scott offers to help. The ensuing complications force Scott and Megan to grapple with how much they're willing to sacrifice for friendship and for the child they've conceived. When Megan's situation unravels, Scott must step up to responsibilities he's never assumed before. Then his circumstances start to crumble, and a series of misfortunes strip them of everything but each other.

By Paul Glynn (Ignatius Press, 2014)
About the book:
Following his acclaimed work, A Song for Nagasaki, in which Fr. Paul Glynn told the powerful story of Dr. Nagai, a Christian convert of remarkable courage and compassion who ministered to victims of the atomic bomb attack on his city, The Smile of a Ragpicker brings us the heroic story of Satoko Kitahara, a young, beautiful woman of wealth who gave up her riches and comfort to be among the ragpickers in the Tokyo slums. Motivated by her newfound faith in Christ, she plunged into the life of the poor, regardless of the consequences.

As Satoko helped the poor with their material and spiritual needs, she also helped them to recover their self-respect and dignity. Satoko's story demonstrates how one person's life can affect so many others.

Every day Satoko encountered Christ in some new and challenging way, calling the Church back to identification with the poor. Like Dr. Nagai, she expressed her faith through the sensitivity and beauty of her own Japanese culture. Satoko died a young woman, in dire poverty. Yet her death, mourned by many thousands, reflected her triumphant life of deep Christian faith and charity.

This is a powerful story of reconciliation and healing, between people of different social, economic and religious backgrounds, inspired by a frail young woman of luminous faith. Illustrated with photos.

By Joseph Pearce (Ignatius Press, 2014)
About the book:
In Catholic Literary Giants, Joseph Pearce takes the reader on a dazzling tour of the creative landscape of Catholic prose and poetry. Covering the vast and impressive terrain from Dante to Tolkien, from Shakespeare to Waugh, this book is an immersion into the spiritual depths of the Catholic literary tradition with one of today's premier literary biographers as our guide.

Focusing especially on the literary revival of the twentieth century, Pearce explores well-known authors such as G.K. Chesterton, Graham Greene and J.R.R. Tolkien, while introducing lesser-known writers Roy Campbell, Maurice Baring, Owen Barfield and others. He even includes the new saint, Pope John Paul II, who wrote many literary and poetic pieces, among them the story that was made into a feature film, The Jeweler's Shop.

By Fr. Florian Racine (Ignatius Press, 2014)
About the book:
Fr. Florian Racine offers us a beautiful formation guide on Eucharistic adoration that will help us to practice it in all its depth, and with a missionary perspective.

God has made himself particularly close to mankind in Jesus his Son. The redemptive Incarnation of his Son is how God reconciles mankind with himself. The memorial of the Passover of Christ is therefore at the heart of our relationship with God. In the Blessed Sacrament, the resurrected Jesus is really present and acting; he draws all mankind into his filial relationship with the Father, through the power of the Holy Spirit.

Thus, following the plan of God, Catholics put the Eucharist at the heart of their lives, and take time to adore Jesus in the Holy Sacrament. The adorer wants to abide within the dynamic life of the Eucharist, just as he desires that the Eucharist transform his whole life. Adoration and Eucharistic life transform believers into the image of Christ.

The author invites us on an itinerary, a journey of faith, in fifty-two stages—as many as the weeks in a year. He starts by showing how the Word of God is made present in the Eucharist, and then he invites us to mature in faith and to be transformed by a greater communion with Christ.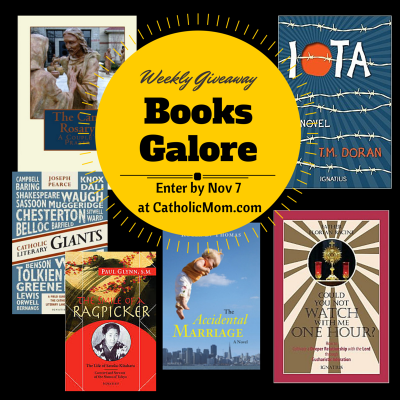 About the Author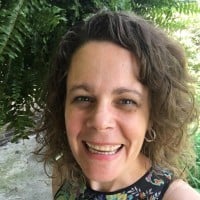 When she's not chasing kids, chugging coffee, or juggling work, Sarah Reinhard's usually trying to stay up read just one…more…chapter. She writes and works in the midst of rural farm life with little ones underfoot. She is part of the team for the award-winning Catholic Mom's Prayer Companion, as well as the author of a number of books. You can join her for a weekday take on Catholic life by subscribing to Three Shots and follow her writing at Snoring Scholar.