The Film
Mary of Nazareth, directed by acclaimed European film director Giacomo Campiotti,
As I watched this film, I felt an outpouring of the Holy Spirit, drawing me into intense love and trust. The thing that strikes at my heart in this film, and inspired me the most, was the utmost trust that Mary had. She had joy and peace despite knowing that turmoil lay ahead.
As I watched her contemplate each step, I desired to follow in that path of peace, and contemplation, that quiet silence in the heart. First she says yes, and then she waits for God to reveal the path. Her trust is so deep that it is a wonder and beauty to behold.
You will desire to have that inner silence and peace, and wonder how God must have calmed her heart. Everyone tends to look towards Mary as a rock and pillar of faith in this film. This film and book is such a great pictorial representation of that motherly mantle of refuge that Mary is for us. She appears unwavering, steady, and you know you will be safe if you stick close to her.
This film feels like the prequel to the Jesus story. We start off with Mary's parents. Charged with raising little luminous Mary, filled with grace, and with no sin. Can you imagine being her parents? We all think our kids are special, but to have a child who does not sin. She was indeed a mystery. They knew they had someone special in the care. God had a special plan for Mary, and protected her at every turn from destruction, but did not preserve her from pain. So if God the Father does not spare his favored daughter from pain and suffering, we know that this is inherent to our lives and must be used to glorify God. To glorify God in the midst of suffering is to accept it as God's perfect will and bring God into the middle of that very experience.
As I watched this film, I thought of what a non-threatening portrayal of love this would be for someone unfamiliar with Mary's real story. To those who view Mary as a threat, because they mistakenly think she is placed in a position of too much honor by Catholics, I offer this film. To witness the gift, and giving of herself as the Servant of the Lord, without knowing the ins and outs of God's plan, showed immense self-sacrifice. She was humiliated and questioned. She gave birth under surreal circumstances. She had to share her most beloved with the World. She and Jesus were so intimately connected, and yet she had to give Him the space to be the Messiah that He was called to be. Her suffering was so connected to Jesus, that one can only have a renewed respect and awe for God's choice in His own Mother.
Alissa Jung played the part of Mary. Those big soft eyes and gentle demeanor gave me that sense of Holy Purity. That Holy Purity was the beauty that radiated and changed hearts as they encountered her. Throughout the film, I noticed that even though Mary should have been aging, her face remained that of a 30-year-old or less. Her hair under her mantle greyed slightly but can't really be seen. At first this bothered me, because I was thinking that more realistic would be to age her appropriately per scene. Then I started to contemplate a deeper meaning. Because Mary was preserved in almost every way, and her beauty radiated from purity, might it be that her beauty really remained almost untouched as well?
This film has a great musical score, lent majesty and emotion. Although this film is not rated, Ignatius press recommends that children 12 and over would be able to handle the more violent scenes. Before I read this, I allowed my children to watch the entire film with me. They are 6, 7, and 9. Although they winced a bit at Jesus's crucifixion, I did not feel it was inappropriate for them to see the truth behind their Savior's suffering. It was not so gruesome as other films. If you want to guard younger children, you can pull them out for the slaughter of the innocents and the scourging/crucifixion scenes.
This movie is now available on DVD.
The Book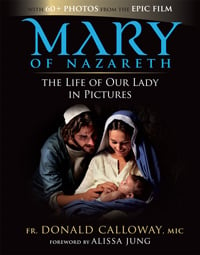 Mary of Nazareth: The Life of Our Lady in Pictures
by Fr. Donald Conoway, MIC
Regular: $21.95
This book is based on the motion picture, and it combines inspiring commentary and meditations by Fr. Calloway, with over 65 lovely photos from the movie. Bring this into your home to tell the moving story of the Blessed Virgin Mary from childhood through the Resurrection of her Son, Jesus Christ.
This book highlights her unique life, her deep relationship with Jesus Christ, her special role in the story of salvation, and her importance to all Christians.
You can see pages from the book here.
Fr. Donald Calloway, MIC, is a member of the Congregation of Marians of the Immaculate Conception. A convert to Catholicism, he has written numerous books on Marian themes, including Under the Mantle, Marian Gems, and The Immaculate Conception in the Life of the Church. His dramatic conversion story is told in his best-selling book No Turning Back: A Witness to Mercy. He is the Vicar Provincial, and the Vocations Director, for the Marians.
Here are ways you can purchase the DVD, the book, or both:
Copyright 2014, Marya Jauregui
About the Author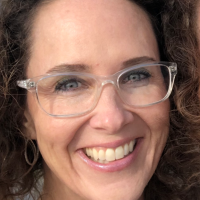 Married to her longtime friend and mommy to 3 high energy children, who demand her constant attention, and direction, Marya serves on the board of directors for a Domestic Violence non-profit. When not working, she is working out, taking the family for nature walks and adventures, or at the movies. She lives in Southern California and feels absolutely blessed to enjoy the beauty of the area every day.