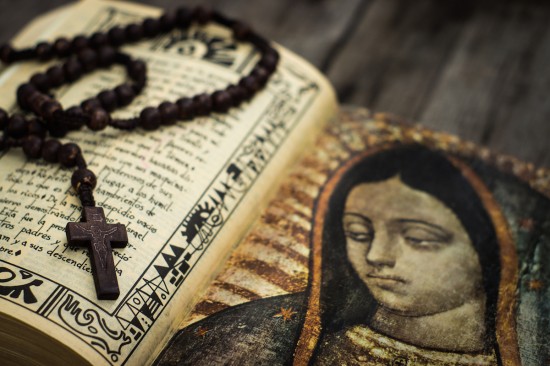 As a cradle Catholic, born and raised in New Jersey where cultural Catholics are abundant, reared in a big, extended Catholic family and in Catholic schools, I haven't always been the best at productively dialoging with Christians of other denominations. It isn't something I generally wanted to do, either. But as I grew through my adult life, my world grew. There I was teaching in a Catholic school with students who were predominantly non-Christian. When active in parish peer and youth ministry, I've been the Catholic representing at Christian worship events filled with anti-Catholic sentiment. Now, however, I find my experiences with my Protestant peers the most productive I've experienced so far.
You may know me as the Making Music Praying Twice lady, or as the mother of 6. Either way, I've spent a good deal of time in the world of early childhood. I'm always amazed how many non-Catholics use and enjoy our Catholic music program for their parish or family. They may make a few tweaks to accommodate faith differences, but for the most part, the content translates beautifully.
Consider that our fellow Christians share the most important and basic tenants of faith with us. Generally, our youngest children begin their understanding of faith with these most basic concepts: God created you and all things. God loves you. God wants you to love Him and your neighbor. So, in the world of early childhood, we see the commonalities a bit more than the divisions, and I find myself discussing this with faithful Protestant families, ministers, and teachers more often than you'd think.
One of our latest projects is an album and teacher guide designed for use across all denominations: Songs for God's Children. We offer several albums specific to the Catholic faith, and while many Protestants used those, I realized that we were missing an opportunity. If Protestant families are hungry for faith-filled music education for their young children, and they tweak a Catholic program, dismissing the Gregorian Chant as the "Catholic part", we haven't accomplished much. In our new product, we do include Christian hymns, songs and Spirituals, but we also include Gregorian Chant and Mass parts, explaining the Scriptural roots of the text, opening a greater understanding for the authenticity of Catholic Christianity.
I'm hoping you see what I've learned in my ecumenical journey, is that the answer to reaching out to our Protestant brothers and sisters isn't always in focusing on our commonalities. It is also essential that we are knowledgeable, so we can explain our Catholic faith.
Consider the words of Archbishop Fulton Sheen: "Not 100 people in the United States hate the Roman Catholic Church, but millions hate what they mistakenly think the Roman Catholic Church is."
We must truly know what our Church is, and be willing to learn more, particularly in the areas of apologetics, Scripture, and the early Church fathers. These are the tools to help others also know the true Church.
To be clear, I'm not talking about arguing or trying to directly convert anyone. By helping others to better "know" the Catholic Church, we have done our job. The Holy Spirit does the converting according to His Wisdom.
But we can't help someone know the Church by only discussing our commonalities, it is the what why and how of our differences that helps someone to know Catholicism. Unfortunately, when non-Catholics are mistaken about elements of Catholicism, it is often because of their personal experience with unknowledgeable Catholics.
Like it or not, you are an ambassador of the Catholic Church to the world. Your charity, your works, your faithfulness, and yes, your knowledge is a window into the Church for all that you meet. It is up to you to do your job well.
Copyright 2014, Kate Daneluk
About the Author

Kate Daneluk is a wife, mother of six, and co-founder of Making Music Praying Twice. With a background in music, theology and education, she contributes articles and resources to various publications.