Save me, O God, for the waters have risen to my neck. Psalm 69:2
How many times in a week do you tell somebody how busy you are? It's report card season and I'll be the first to admit I'm feeling overwhelmed.
I was sitting in prayer Friday morning and I was offering up my to-do list to my Father, the ultimate time manager. I made a promise to him a couple years ago when I started writing and my ministry work began to blossom that I would go wherever he sent me and do whatever he asked me as long as he gave me the words and the energy.
It's become abundantly clear that he's often a little overconfident in my abilities! Nonetheless, I promised, so in my "overwhelmed-ness" I spoke out loud, "God do you know how I feel? I opened my prayer book and the verse above was the opening line in the Psalm for the morning. I think he not only knew how I felt but he was telling me how to solve the problem!
As I pondered that verse all day the word I kept coming up with was grateful! Strange word, I thought at first, but the more I let it wash over me, the more I understood.
I was reminded of the verse from Luke 12 that says to him whom much is given, much will be required. I was reminded that being busy is a great exercise in humility. The world doesn't need to know how busy I am or how much my daily schedule entails.
If I truly am honoring my promise and using my gifts and talents for the Glory of God then my reward will be in heaven, not on earth. If I can make all my tasks a service to the giver of all gifts, then everything becomes a prayerful offering; even report cards and laundry.
I am as guilty as the next person of engaging in the "who is busiest" contest as if trying to gain approval, sympathy, or respect. It stems from our human weakness, Satan's ploy to keep us so stinking busy we forget our focus and simply forgetting that we can make anything into an opportunity to serve God.
As I approach my task list with gratefulness, I will realize how blessed I am to have those tasks. I'm grateful I have a beautiful family to create a mountain of dirty laundry; the world is full of lonely people. I'm grateful I have report cards to do; it means I am surrounded by middle lovelies who are the job I love. I'm grateful for the blogs I have to write at midnight or dawn; it builds my trust that the Holy Spirit will speak exactly the words someone needs to hear and he chooses me to type them.
I'm grateful for speeches to give and classes to teach; it means people are hungry for the fire of Christ and he picks me to help start the blaze. I'm grateful for ball games and concerts and meetings; too many people feel they have no place to belong. I'm grateful for errands and shopping and cleaning; many are confined to a bed or wheel chair unable to move or see and do the things I selfishly view as burdens.
God gives us a hundred situations a day to help us grow in holiness. I may feel like the water is up to my neck but if I call out for help, he will first ask me to spend time loving him and putting my focus in perspective and then he'll ALWAYS keep my head above water!
A Seed To Plant: With a grateful heart, list your tasks for the day and ask God to make you aware of the ways they can help you grow in holiness. Thank him for the expectations he has for you!
Blessings on your day!
Copyright 2014, Sheri Wohlfert
About the Author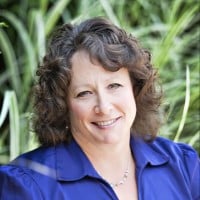 Sheri is a Catholic wife, mom, speaker and teacher. She uses her great sense of humor and her deep faith to help others discover the joy of being a child of God. Her roots are in Kansas but her home is in Michigan. The mission of her ministry is to encourage others to look at the simple ways we can all find God doing amazing things smack dab in the middle of the laundry, ball games, farm chores and the hundred other things we manage to cram into a day. Sheri also writes at JoyfulWords.org.