I love this year's CatholicMom.com intern team. They are diverse, driven and definitively teaching me (their supervisor) much about living out the faith. They are also a patient bunch... and I say that with great love. They've come on board in the midst of my book launch, which has wreaked absolute havoc on whatever constitutes an editorial calendar here at CatholicMom.com. That's why their responses to an All Souls Day query are just now being shared with you. Because their editor (me) is a slacker. But they have shared such pearls of wisdom that now, a month after All Souls Day, they have motivated me to pause and to prayerfully remember the souls of my own loved ones. So today, here are their responses to the following query:
During this month of November, please tell us about a deceased family member or friend who had an impact upon your spiritual life. Please mention them by first name so that we can pray together for the repose of their soul. As we approach Thanksgiving, why are you grateful for this person's impact upon your life?
When I think of a deceased person who has made an impact on my spiritual life, I think of Josh Dickerson. We attended the same elementary and middle school. Josh was two years older than me and we only spoke a couple times, but he always had a smile on his face and was friendly to everybody. In 2012, Josh died of rhabdomyosarcoma, a soft-tissue cancer with no cure that spread from his jaw. He lived his last few months like he did his whole life: by being a joy to everyone he encountered. Josh found meaning in his suffering. I am inspired to follow his example of being a light to others and offering up my pain to God.
Rebecca:
On the night of February 11, 2014, I went to bed early, trying to rest before flying to Rome the next day. In the wee hours, I woke to the news that my friend Charlie had died of heart problems. Charlie was a brilliant, joyful young man in his early twenties, newly graduated from college, and engaged to a good friend of mine. For me, just heading off to spend a semester abroad without family or boyfriend, this brought my life into focus very quickly. Despite or rather through my grieving, Charlie's death impelled me to turn to God in a new way. I had to find consolation in Him. That turning was immediately reinforced by being so close to Him and His saints in Assisi, Siena and Rome. The whole semester brought my spiritual life to another level, helping me develop a relationship with Christ and His Church, and that impact was begun by Charlie. His death helped to open up my heart for God's work. Requiescat in pace, Charlie.
Naomi:
My Aunt Sheilah was one of those people who could light up a room. At every family get together, she was there with a smile for everyone and a camera to record the moment. Her joy and laughter made everyone want to know her, and she loved everyone she met. She passed away suddenly in September 2010, leaving behind a beautiful 5 year old son and many others missing her very much. As Thanksgiving approaches I can say that I am grateful for every way Aunt Sheilah's life impacted me, but one of the biggest is simply the memories of spending time with her. The absence of anyone close is such a reminder of how one life can affect so many, and I am challenged now to get to know each of my family members better. Daily, I pray for my grandparents, aunts, uncles, and cousins that they may live and give their lives with absolute joy. Aunt Sheilah, thank you for your love and we pray for the repose of your soul!
One of the people who impacted me greatly, both spiritually and personally, was my Uncle Kevin. He passed away from ALS (Lou Gehrig's disease) about two years ago and was and still is a great inspiration to me. My Uncle Kevin was a person who brought out the best in others, living his life in joy and happiness. Even though he suffered greatly with the disease, he persevered through his suffering with Christ and always maintained a joyful spirit. He was a great example to me, my family, and the many others who knew and loved him of how people can persevere through the worst and expect the best in the promise of heaven.
Eternal rest grant unto them, O Lord, and let perpetual light shine upon them. May the souls of the faithful departed, through the mercy of God, rest in peace. Amen.
We invite you to share the names of your loved ones in the comments below as we pray together for the repose of the souls of all of the faithful departed.
About the Author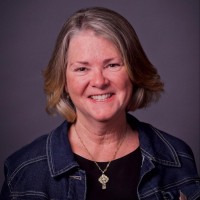 Lisa M. Hendey is the founder of CatholicMom.com, a bestselling author and an international speaker. A frequent radio and television guest, Hendey travels internationally giving workshops on faith, family, and communications. Visit Lisa at LisaHendey.com or on social media @LisaHendey for information on her speaking schedule or to invite her to visit your group, parish, school or organization. Visit Lisa's author page on Amazon.com.