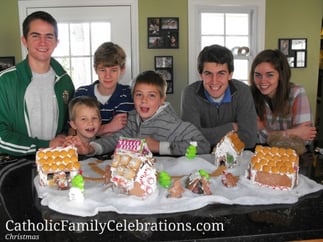 Is everyone familiar with Smart Martha? Let me introduce you. It's my pen/speaker name. It's also a concept that combines the idea of being the Mary who "chose the better part" and the Martha who got the work done. In other words—always being mindful of Christ while working hard at the tasks of our vocation.
Now, on to some really good gift giving advice.
And in keeping with the whole Smart Martha idea, these gift giving ideas should help us to focus our Christmas more on Christ and relationships AND at the same time save us time and money.
Don't . Meaning that there are some gifts that you don't need to buy. It took me a few kids and a few Christmases to realize that I don't really need to buy gifts for so many people, especially for folks that seemed to have everything. Do you have people on your list that you simply buy for because they bought you something last year and will probably buy you something this year? I know it is a terrible feeling having to buy something for someone just because they are getting you something, so please put an end to this for both of you. Depending on the relationship, either be straight forward about it by discussing this with them, or put up with the awkwardness for one year by not buying them a gift, yet still receiving one. (Yikes!—But it will be better next year. One less gift to buy!) If you have an extended family, or workplace, or a friends' situation, or your kids do, where you buy for a number of folks, perhaps you could suggest a simple gift exchange or white elephant or dirty Santa gift exchange. (If you don't know what these are, just google—be careful with the "dirty Santa" one, though.) This immediately cuts the number down to just one.Who else can you cross off the list? If it is any kind of stress to you or financial burden, don't buy for teachers, mailmen, neighbors, or others in this category. If you are able, though, charity could be shown here through simple gifts of cash.
Remember: we all could use less stuff—yes, even the folks you are buying for.
Along those lines, remember that less is more. If we really want a simple, meaningful Advent and Christmas we need to start at home with our own children. Do our children really need more stuff? Our family guideline is usually one "fun" gift, some kind of clothing, one book, and a few stocking stuffers for each child. Sometimes, we will add a family gift, too. Our children do a gift exchange with each other so that they can stay mindful of caring for another. It's a secret Santa kind of thing where they are also supposed to be praying for that sibling and/or doing secret favors. Look for gifts that help build relationships. And fortunately, many of these will not add to the accumulation of stuff. These will be things like movie passes, zoo memberships, putt-putt golf, batting cages, zipline tickets, white water rafting, bowling gift cards, theatre tickets, and even amusement park passes. Other thoughtful family gifts that would also fit in this category would be a tent or Frisbee golf discs—stuff that you can do together.
Think outside the box. This may take more time and perhaps add a little stress to your busy Advent season, but it will be worth it if you can pull it off. It can be better than gold, frankincense or myrrh. It is very personalized, so I can't give you specific ideas, but say to yourself, "What would make this child really, really excited?" (And no, not the newest videogame. Definitely try to think outside the video or computer screen "box".) One year I bought wood, a jigsaw, paint, sandpaper, wood engraver, etc. for my 10, 11, and 12 year old boys to make their own swords, like the ones we saw at a craft fair. And yes, my daughter joined in to also make a very beautiful sword. This was at the height of Lord of the Rings. I don't know what would excite your kids—but probably no one but you could find that unique idea or item. Don't settle for ToysRus top toys of the year. You can come up with something that is better, and one that can be formative to your child.
Make a list And check it twice. I carry a small notebook in my purse with my gift-giving list. Even though I've pared my list down, I still have many folks to buy for (I've got 10 kids! ) I start this list in October. Yes, while deciding Halloween costumes. Keeping a list helps me to remember what I've bought and helps me to keep an eye out for the things I need. No last minute purchases. Having most of it done by Advent, keeps me from the buying surge and away from stores and their advertisements during this Holy season. If you like this idea, go ahead and put this on your calendar for next October. Yes, do it now. You might want to link it to this article, otherwise, you may find yourself thinking next October, "What list?"
Think Perishable. Since we all have so much stuff, giving perishable gifts is a great option. Plus, many of these have the bonus of the opportunity to give of yourself—like when you make something. These are thoughtful and practical---a definite Smart Martha choice. Ideas here can be as extravagant as you like—homemade beer or wine, vanilla extract, bread or something simple that the kids can make like cookies, or those jar mixes. You can also give the gift of experiences. These can be bought, like gift cards for movie theatres, restaurants, etc. or a more creative approach, the homemade gift card or coupons for things like babysitting, snow clearing, yard work, cookies of the month club, dog sitting, etc.
Give a Goat I may sound a little like scrooge when it comes to gifts, but with 10 kids, many married with spouses, grandchildren, and my own extended family to think about, I want to be charitable and help to celebrate the season without having to break the bank or spend every day of Advent at the mall. This does mean taking a step back and reevaluating all of the gifts I am giving. After all, it is in the name of the Christ child that all of these gifts are given. It's not our birthday. It's his. We need that balance of creating the festive time that it is without going into debt or adding all this shopping stress. I think many of the above suggestions are about that balance. This final one, give a goat, is to help us remember that even though we have an abundance of stuff in our own homes, many people throughout the world still live in poverty. In the spirit of the Christ child, we do really need to look beyond our own homes as well. A practical way to do this and to give gifts to those we know is to give to a charitable organization in their name. We do this for our parents every year. They seem to have everything they need, so besides some small personal gifts, the kids and I pick out some farm animals, school books, and tools through a charitable online website that are then donated to Food for the Poor. Many charitable organizations have it set up so you can simply look through their catalogs or website and choose these items to give in someone's name. Look for these opportunities in your community as well. Perhaps buying a brick for your new parish center or books for the library in your Catholic school in someone's name would be the perfect lasting gift. Find that person's favorite charity, and I am sure there will be a way for you to donate to it in their honor.
I hope this gives you some ideas for those gifts that you may still need (or not) to get for the folks on your list. And maybe some ideas to tuck away for next year! Are there any other ideas that can make gift giving easier, yet still meaningful that I've overlooked?
About the Author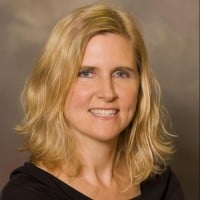 Tami Kiser is a wife, mother, teacher, author, and speaker. She runs a video production studio featuring Catholic speakers. These can be purchased or viewed on Formed. She also is the co-owner and host of a new Catholic Retreat and Cultural Center in the Carolina Mountains called Heart Ridge. She has taught everything from NFP, Zumba, cleaning toilets, Catholic crafting, the hula, bullet journaling, tap dancing, and liturgical living to Saxon Math 54 for the 10th time.