About a year ago, I had the pleasure of meeting Fr. Donald Calloway in person. I remember our meeting because it occurred at a very special occasion: the premier of the beautiful movie Mary of Nazareth. During the day, Fr. Calloway and I each had the opportunity to interview the film's star, Actress Alissa Jung. That night, we sat next to Alissa and watched the film. I was transfixed... I believe that Father was as well!
Now, to continue the movement of this beautiful film into the hearts and homes of viewers, Ignatius Press has launched a lovely new book penned by Fr. Calloway. Mary of Nazareth, The Life of Our Lady in Pictures takes readers to an even deeper level of devotion to Our Lady:
Based on the highly successful theatrical motion picture, this beautiful volume combines inspiring commentary and meditations by the very popular Marian priest, Fr. Donald Calloway, with over 65 lovely photos from the movie. The insightful text and captivating pictures tell the moving story of the life of the Blessed Virgin Mary, from childhood through the Resurrection of her son, Jesus Christ.

Acclaimed for the beauty of its stunning photography, the film Mary of Nazareth won high praise from both attendees and film reviewers. One film reviewer, commenting on the beauty of the photography, stated that "It seemed to me to be a living, moving Caravaggio painting-with its rich color palette and the subtle interplay of light and shadows." This book captures that deep beauty of the film images with its many striking photos.

Fr. Calloway, a Marian scholar well-known for his great love of Our Lady who has written extensively about her, presents in this volume short but profound insights and meditations about Mary, her unique life, her deep relationship with Jesus Christ, her special role in the story of salvation, and her importance to all Christians.

This book is a wonderful companion volume to the DVD of the popular film, as well as a work that will bring inspiration and insight to all readers about the mysterious life of love, faith and sacrifice of the woman God chose to be the Mother of the Savior of mankind, Mary of Nazareth.
Today, I'm happy to share my conversation with Fr. Donald Calloway. I endorse this book as a lovely gift not only for Christmas, but truly for any time of the year!
Q: Please briefly introduce yourself to our readers.
My name is Fr. Donald Calloway and I'm the Vicar Provincial and Vocation Director for the Marians of the Immaculate Conception in the United States and Argentina. I'm also an author and speaker on topics dealing especially with Our Lady and Divine Mercy. My area of specialization in theology is in what is called Mariology, that is, the study of topics dealing with Our Lady. Shortly after my ordination to the priesthood in 2003 I earned a pontifical Licentiate degree (STL) in Mariology at the International Marian Research Institute in Dayton, Ohio. The Marian Library in Dayton has more books on the Virgin Mary than any other library in the world, including Rome. Currently, I live in Steubenville, Ohio where my religious community has a formation house for our seminarians.
Q: Fr. Calloway, forgive me if I have this wrong but I believe our first meeting was at the Mary of Nazareth premier in San Francisco. You and I shared that evening along with Alissa Jung, the beautiful actress who portrays Mary in the film. How did you become involved in this beautiful book and why?
I became involved with the Mary of Nazareth book after having been asked by Ignatius Press to review the Mary of Nazareth movie and offer my thoughts. I was so impressed with the film that I gave it the highest praise and promised Ignatius Press that I would do all I could to make it known at my speaking events and public engagements. Really and truly, the Mary of Nazareth film offers the best presentation of the Virgin Mary in film to date. I have watched it 6 times now and continue to be in awe. As a result of being so behind the promotion of the film, I was quite humbled when Ignatius Press asked me to put together a companion book that would be comprised of beautiful images from the film. I knew I had to do this project for Our Lady so that more people could understand why she is so important.
Q: This book contains not only luminous photography from the film, but also quotes from saints and scripture and your own insights. How did working on this book deepen your already strong passion for our Blessed Mother?
I'm super in love with Our Lady, especially in light of the reality that I'm a convert to the faith and it was primarily Our Lady who brought me to Jesus and the Catholic Church. Thus, in writing meditations to go along with the beautiful images in this book, I also wanted to retrieve from Catholic tradition statements from popes, saints, and blesseds that would offer profound insights into the particular themes covered. Many people might find such a task hard to do and very time consuming, but since my specialization is in Mariology, I have a ton of books on Our Lady and was able to go through them and select amazing quotes that the readers of the book are going to be so inspired by. I prayed to find just the right quotes to go with each picture and I really believe Our Lady and St. Joseph helped me. My meditations are nice, too, but I consider my meditations secondary to the deep insights of the saints.
Q: Please say a few words about how this film and this beautiful book can be effective tools in the New Evangelization.
The New Evangelization is about bringing hearts back to Christ and his Church. Mary most definitely has a major role in this effort. The beauty of the Mary of Nazareth film and book is that it has the potential to make people think afresh about the logic of Our Lady's place in the life of Christ and in our lives. Think about it: Without Mary, we would not have Jesus. Without Mary, we would not have the New Testament. Without Mary, we wouldn't even have the Eucharist, which is the source and summit of everything in the Christian life. Therefore, when lukewarm or fallen-away Catholics see this film or read this book, I believe it is really going to make them realize just how important Mary is and help them to fall in love with her. Also, for those who are not Catholic, this film and book bring out the loveliness and beauty of Our Lady so perfectly that I really believe that for non-Catholic Christians who might have misconceptions about Our Lady, the film and the book is going to make them understand the importance of Mary and even wonder if they have been missing out on one of the greatest gifts that Jesus offers us – his own Mom.
Q: What's next for you with your writing and speaking?
My main work right now is my Vocation work for my religious community. We currently have 26 men in formation and we are experiencing major growth! I love doing this work and hope to be allowed to continue to do it for many more years. My secondary work is what I do with writing books and speaking. I already have 9 books out and almost all of them are on Our Lady. Currently, I am working on three books: two of them are on the rosary, and the other is on St. Joseph. Also, I've been allowed to lead pilgrimages to amazing places all throughout the world, and it is definitely one of the most amazing things that I do. People can check out all the awesome places I go to and find out how to come with me by going to my website: www.fathercalloway.com
Q: Are there any additional thoughts or comments you would like to share with our readers?
I think one important thing for people to know about the Mary of Nazareth film is that there is a longer version and a shorter version. The important thing to know is that I only endorse the shorter version which is the version put out by Ignatius Press. The longer version contains some immodesty and confusing theological issues regarding Mary Magdalen. At one point Netflix was offering the longer version and people saw that one and got upset wondering why I would endorse it since it had inappropriate scenes. But that is not the one that I endorse. I only endorse and promote the edited version put out by Ignatius Press. In their wisdom, Ignatius Press obtained the North American copyrights and edited out all the inappropriate stuff. And, of course, none of the immodesty or other confusing scenes appears in my book Mary of Nazareth: The Life of Our Lady in Pictures.
For more information:
About the Author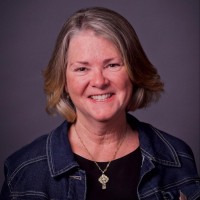 Lisa M. Hendey is the founder of CatholicMom.com, a bestselling author and an international speaker. A frequent radio and television guest, Hendey travels internationally giving workshops on faith, family, and communications. Visit Lisa at LisaHendey.com or on social media @LisaHendey for information on her speaking schedule or to invite her to visit your group, parish, school or organization. Visit Lisa's author page on Amazon.com.