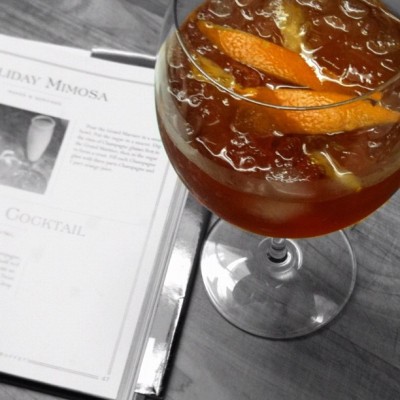 POINSETTIA COCKTAILS & FAMILY CHRISTMAS TRADITIONS
I recently wrote that there's nothing like tradition to bind a family together. And I meant it. Tradition and faith go hand-in-hand. So do tradition and family.
One of my all-time favorite cookbooks was written by Chef Emeril Lagasse and Marcelle Bienvenu. It's called Louisiana Real & Rustic, and the pages of my copy are tattered and splattered from all the hard-core kitchen use I've put it through over the years. It's autographed by both authors, but I don't keep it on a shelf to preserve it. Oh no. I use it like crazy, taking those autographs to be some kind of culinary blessing from master chefs!
Emeril and Marcelle wrote a holiday cookbook together too… a Christmas cookbook. And the title? Well it's Emeril's Creole Christmas. My wife and I have tried a few recipes out of that cookbook, but there is one in particular that we tried for the first time about 6 years ago…and it stuck. It became a Christmas tradition. One that we look forward to every Advent: Poinsettia Cocktails.
CHRISTMAS IS A SEASON, FOLKS!
As Catholics we live by seasons. Advent. Christmas. Mardi Gras (if you live down here in South Louisiana!

). Lent. And Ordinary Time.
Christmas is a season! It is not just one day!
It is proceeded by the Advent season. But starting on Christmas Eve, the season of Christmas takes over… until the feast of the Epiphany, January 6. So, for 12 days we celebrate Christmas. Each day is like Christmas day for 12 days in a row!
I can't think of a better cocktail to celebrate such a wonderful season. The Poinsettia Cocktail is reddish in color, just like the beautiful Poinsettia. It's also light, not too sweet, and it is very refreshing. The twist of orange adds an extra hint of spice to this smooth cocktail. Highly recommended!
Just one VERY important note. Like with most dishes that you really want to savor, the ingredients can make it or break it. Do yourself a favor. Use good vodka. Use good (or at least decent) Champagne. And use real cranberry juice! You will certainly taste the difference. And this delicious cocktail deserves to be be poured correctly.

Cheers!
INGREDIENTS
1/4 cup vodka
1/4 cup Champagne
1/4 cup cranberry juice
Crushed ice
2 strips orange zest, each about 1/4 inch wide and 2 inches long
DIRECTIONS
Combine the vodka, Champagne, and cranberry juice in a large-stemmed red wineglass.
Add crushed ice and stir until the mixture is well chilled.
Twist the orange strips over the glass, drop them in, and serve.
Makes 1 cocktail.
Do you have a favorite Christmas cocktail? Tell me about it in the comments below!
Copyright 2014 Jeff Young
Photo copyright 2014 Jeff Young. All rights reserved.
Find more of Jeff's recipes at CatholicFoodie.com!
About the Author