Welcome to the My Sisters the Saints Book Club! We're reading My Sisters the Saints: A Spiritual Memoir, by Colleen Carroll Campbell.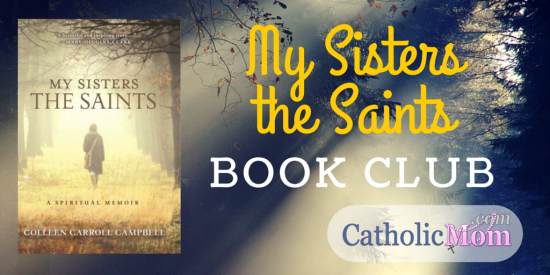 Today, as a preliminary welcome to this virtual book club, I'm thrilled to share my recent email interview with the author of My Sisters the Saints: A Spiritual Memoir, Colleen Carroll Campbell. I first read this beautiful book a few years ago. Since then, it had been a true joy to watch Colleen's work blossom. I think you'll agree in reading her words below that Colleen truly understands the struggles moms face and the support that regular prayer and the Communion of Saints can offer us. I believe that you'll enjoy spending serious time with this amazing book and this talented woman over the next several weeks as we read it together in our community of friends. Lisa
Q: Please briefly introduce yourself and your family to our readers.
Sure. I'm a Catholic wife, mother, author and journalist. My first book was The New Faithful: Why Young Adults Are Embracing Christian Orthodoxy. My newest one is My Sisters the Saints: A Spiritual Memoir.
Q: Congratulations on the recent release of My Sisters the Saints in paperback! Reflecting back on the original launch of the book, what motivated this project?
I have been interested in the themes explored in this book – of love and loss, and what it means to be a woman who is both faithful and free – for decades. I didn't originally intend to explore those themes in a memoir. My Sisters the Saints actually started as a rather didactic, argument-driven book, one that unpacked a series of insights from our Catholic faith on these topics. But writing in that dry, detached style left me frustrated. I wasn't getting at the heart of what I wanted to say. I finally realized that I was trying to share the truths that had changed my life without sharing how I had discovered those truths for myself – that is, in the course of my own messy and sometimes meandering personal journey, and in conversation with the women saints. So I changed tack and began to tell my story – mine, and the stories of the six women saints who guided me on my way.
Q: With newfound attention for the book, which has remained so popular since its original release, how has your own personal journey evolved and been shaped in the past few years?
Well, the most profound changes in my life resulted from the growth of my family. Motherhood is a transformative experience in every way, as your readers well know, and I'm constantly amazed at how much I learn and grow and meet God in the midst of days that often look quite ordinary, even mundane, on the surface. Of course, I've been blessed to do some amazing things in the past two years – speak to audiences all over the U.S. and beyond about this book, anchor live TV coverage of the papal conclave in Rome – but in terms of my personal journey, I see God most at work in the lessons He is teaching me through my family life. I think Pope St. John Paul II had it exactly right when said, "The future of the world and of the Church … passes through the family." We tend to think that renewal of the Church and transformation of the culture must be accomplished "out there," by Important People with Big Titles who are doing Big Things. But the older I get, and the more I reflect on my experiences in newspapers and television, in academia and the White House, the more I think that such large-scale renewal must be an inside job. It must begin in the family.
Q: You have such beautiful family Colleen! Given your own struggles with infertility, how has your friendship with the saints nourished and encouraged you now that your family has grown in such a blessed fashion?
The saints have been with me throughout my journey, and that continues today. My prayer life has changed from pre-kid days. Long stretches of reading time and prayer time are scarcer now, and periodic check-ins with God throughout the day are more crucial. I find myself still discovering new saints every year – my husband and I have been in a Francis and Clare of Assisi phase for several years now, since well before the election of Pope Francis – and I'm also coming back around to appreciate some of my original favorites, such as St. Therese of Lisieux and St. Teresa of Avila, in new ways.
Mary, the Mother of God, is a constant companion. She reminds me of all that I'm striving to be as a woman and a mother. And her example of selfless motherly love is a comfort to me, a reminder that despite all my weaknesses and flaws, my children at least will always have one sinless mother. I remind them of that sometimes: I'm not perfect, but you have a heavenly mother who is. She's my maternal backstop, I guess you could say. Takes the pressure off.
Q: I have to ask from one busy mom to another, how do you manage to balance your busy schedule? What prioritization and time management skills have you learned from embracing the saints as spiritual companions?
You know, I have my tricks and quirks like everyone else, but the best lesson I ever learned from the saints about time management is the one nearly all of them cribbed from Jesus Himself in Luke 10:42. Busy bee Martha is complaining about her sister Mary leaving her to do the grunt work while Mary sits listening at the Lord's feet. Jesus gently but firmly sets Martha straight. He says, "Mary has chosen the one thing necessary" – that is, to give her first and best attention to Jesus – "and it shall not be taken from her." Prayer is where it all begins. Mother Teresa used to tell her sisters that if they didn't have time to pray each day, they had no business going out to serve the poor in Jesus' name. They'd do more harm than good. It's true for all of us.
I forget it sometimes – almost always to my regret, when I see how fruitless all my rushing around without prayer has been. Most days I manage to remember it, though, and I'm amazed at how God blesses my time as long as I reserve some just for Him each day. It's a loaves-and-fishes effect – He multiplies even my humblest offerings.
Q: What words of wisdom can you share with readers who may not truly understand a faith-filled Catholic's devotion to the saints?
Think of it this way: We ask friends and family, even total strangers, to pray for us. We conduct countless informal polls, chatting up everyone from store clerks and coworkers to hairdressers and neighbors for their take on our various problems. And we all look up to people, whether for noble reasons ("I wish I had her patience") or silly ones ("I wish I had her waist").
So why, when it comes to the spiritual life, do we think it's so bizarre to seek out the prayers, advice and friendship of the saints? To try to imitate those who are enjoying the eternal bliss with God that we hope to someday share? God created each of us as individuals, yes, and we must each travel our own road toward Him. But He doesn't demand that we reinvent the wheel. We've had two millennia of men and women striving to follow Jesus in this fallen world. Why should we ignore their wisdom? Why refuse to learn from those who already ran this race and finished well? Sure, we can lean only on Jesus. But Jesus didn't save us alone. He saved us as part of a family. And the family of God – the communion of saints – is our family, too.
Q: Just for today (knowing that your answer likely changes daily, as mine does) who is your favorite saint?
Mary. For reasons already mentioned, she's my "go-to" for just about everything. I learn something from each saint I encounter; I love aspects of all of them. But Mary is my mother. I feel her hand in my life in just that way – the loving, protecting and guiding hand of a mother. She always leads me to Jesus.
Q: What's next for you personally and professionally?
I'm speaking quite a bit this year, about my book and other topics, at conferences from right here in Washington, D.C., to Avila, Spain, and many points in between. If your readers want to catch up with me, they can check out my website, www.colleen-campbell.com, to see where I'll be in 2015.
I'm also continuing to write. I'm very interested in topics related to family life which were raised by the recent Extraordinary Synod in Rome. They are some of the same topics that I've focused on throughout my print and broadcast journalism career, especially in recent years, as they have become so personally relevant to me. John Paul II said, "As the family goes, so goes the nation, and so goes the whole world in which we live." Those words are truer today than ever. So we have a lot of work to do to renew the culture, the Church and the family. I hope I can play a role in that – in public life, as a writer and speaker, and in my own domestic church, as a Catholic wife and mom.
Next week, we'll cover Chapter 1: "Party Girl." For the complete reading schedule and information about our Book Club, visit the My Sisters the Saints Book Club page.
Copyright 2014 Lisa M. Hendey
About the Author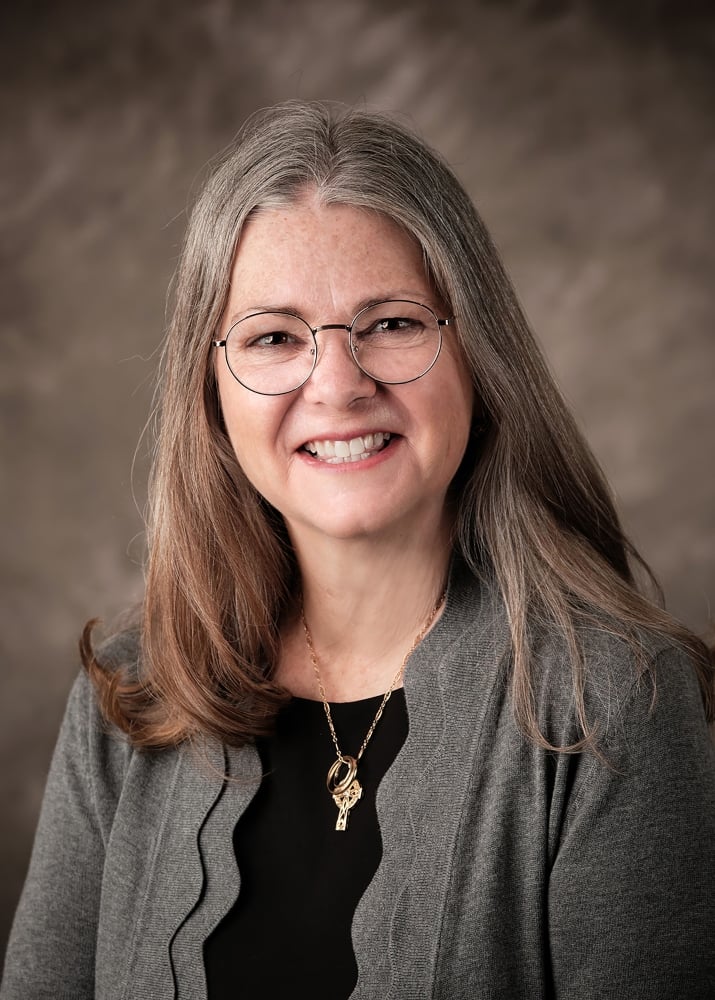 Lisa M. Hendey is the founder of CatholicMom.com, a bestselling author and an international speaker. A frequent radio and television guest, Hendey travels internationally giving workshops on faith, family, and communications. Visit Lisa at LisaHendey.com or on social media @LisaHendey for information on her speaking schedule or to invite her to visit your group, parish, school or organization. Visit Lisa's author page on Amazon.com.