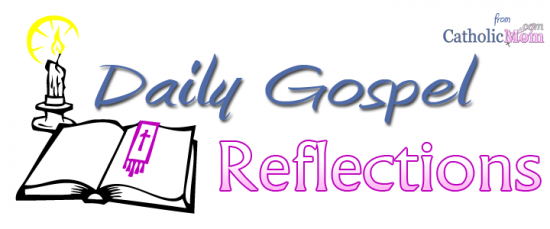 Today's Gospel: Mark 1:21-28
Optional Memorial of Saint Hilary, Bishop and Doctor of the Church
Have you ever witnessed Jesus do something amazing, either in your life or the life of another? What is your response to being allowed this awesome privilege? Do you share what you have seen, or do you keep it to yourself? The most powerful evangelization is rarely even the most eloquent teaching; it is the personal testimony of what Jesus has done in our life.
When I first felt the stirring in my heart that my family was being called to adopt, I instantly knew that this little girl would be deaf. I never challenged this movement of the Spirit; I just knew. So much was I convinced it was truth, I immediately signed up for American Sign Language (ASL) classes. I told everyone who asked why I was learning, "I am convinced that God is sending us a little girl who will be deaf, and I want to be prepared."
I recognized I was taking a big risk speaking so boldly about this strange possibility in our lives. If we were not matched with a deaf child, I could look incredibly foolish, but I also knew that my courage to speak what I felt was truth could glorify God in a way nothing before in my life had provided an opportunity to. Although I, like most people, fear embarrassment, the reward of sharing how God moves in our everyday life always outweighed any risk. For three years, I continued to learn ASL and share my conviction that the little girl we were waiting for would absolutely be deaf.
We didn't fill out any special paperwork to increase the odds of being matched with a child who was deaf, although we did make that known along with other special needs we felt prepared for (which was honestly just about anything.) As biological parents we understood that God doesn't make mistakes, and the child He says was the child we were meant to have; we entered adoption with this same mindset.
On April 30, 2009, we received the call that we had been matched with a beautiful 3-year-old girl who was indeed profoundly deaf. If people thought I was astonished by Jesus' movement in my life before that phone call, there was no shutting me up now! That day the Lord cast the demon of doubt from my heart and showed me his authority over my life, and honestly, sharing that never gets old.
Ponder:
Where have you seen Jesus move with authority in your life or the life of another? What was your response? In light of today's Gospel, what will your response be in the future?
Pray:
Jesus, how privileged we are to see your miraculous movement in our everyday lives. Open our eyes to never miss a single moment, and furthermore fill our hearts with fire and courage we need to share those moments whenever we can.
We thank our friends at The Word Among Us for providing our gospel reflection team with copies of Abide In My Word 2015: Mass Readings at Your Fingertips. To pray the daily gospels with this wonderful resource, visit The Word Among Us.
Copyright 2015 Allison Gingras
About the Author