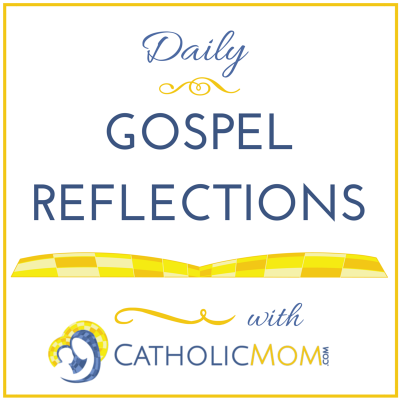 Today's Gospel: Matthew 10:34--11:1
Optional Memorial of Saint Henry
It is easy to see the many struggles families currently face as the world presents opposing views and ideas to those taught by Jesus. These various situations, often very close to the hearts and homes of the faithful, are indeed causing division. Jesus speaks of the very real challenge people can encounter when they choose to be His disciple: this choice that calls for us to pick up our cross and follow Him. While each person's cross is unique to their life, some we encounter may present difficult choices.
While I know what my faith teaches, and do not question the Church, the heart tugs and pulls. I must work every day to not allow division, remembering, ultimately, it is Jesus I long to never be separated from. It is indeed a cross I choose to pick up daily and carry to follow Christ, not the world. It would be so easy some days to say it doesn't matter, that the Church is just out of tune or out of step with the culture. Yet, I never want to be out of step with what Jesus has called me to do and know. I want to love as He loves and to believe what He calls me to believe. This cross some days can feel heavy, but Jesus' words in today's gospel show He is very aware of this. Whatever we are called to endure, we can be assured of one thing: God is even more faithful than we. If we stay true to what He puts on our hearts, He will never abandon us in this time of great discernment.
Ponder:
Look upon your own life. How are you being called to follow Jesus in spite of the possibility of an earthly division? How can you stay true to what Jesus calls us to do, while also being Christ in the world to those who may disagree, persecute, or separate from you because of that call?
Pray:
Jesus, I want to pick up my cross, daily, and follow you. Some days that can be so difficult; my love and allegiance can become stretched and tugged. I never want to disappoint you, nor do I want to hurt those I love. Please, Lord, give me the wisdom, strength, and courage to live, speak, and act always right and just in your eyes. Let all I do be life-giving. Let me never choose on earth what risks my reward in Heaven.
We thank our friends at The Word Among Us for providing our gospel reflection team with copies of Abide In My Word 2015: Mass Readings at Your Fingertips. To pray the daily gospels with this wonderful resource, visit The Word Among Us.
Copyright 2015 Allison Gingras
About the Author