Somehow we are already done with the "new year" and are getting ready for the next celebration. I, however, am not ready for the next thing at all. I have not gotten my word, my marching orders, my next move as of yet from God. I think I was a bit presumptuous when I decided I would pray in January very specifically for what the "plan" is for the year. So far, as best as I can discern I need to be still, keep praying and stop worrying about tomorrow. That's like asking me to not talk with my hands!
The other day I was studying the Gospel of John, chapter 6. The first part of that chapter is the miracle of the loaves and fishes, (6:5-15) and the commentary I was reading spoke about the disciples' response to Jesus' question of how to buy bread to feed the people. The disciples have been with Jesus by now for some time and have seen many signs, yet they remain limited in their understanding of who Jesus is, where he came from and his ability to care for people.
The commentary says this, "Andrew and Philip have been with Jesus from the first days of the Gospel, but they have not learned from their master's attempt to draw them beyond the limitations of their expectations (Sacra Pagina, 197). I am in the same boat as Andrew and Philip. Many times in my life I have witnessed and been taken beyond the limit of expectations. I also know that usually I am prepared in some way before it occurs. After reading and praying and pondering this sentence for close to a week, I'm going to rest in it and know that eventually, the Master will draw me beyond what my finite self can imagine. My challenge will be to stop asking, to wait patiently and to not have expectations.
This is a lesson to learn that will help me rise above my-self and learn to trust more fully on God. Is God calling you to learn something new or more deeply as we move into Lent?
Copyright 2015 Deanna Bartalini
About the Author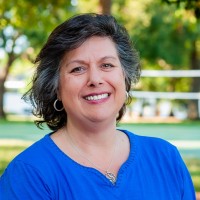 Deanna G. Bartalini, MEd, MPS, is a Catholic writer, speaker, and educator. Her Bible study, invite the Holy Spirit into Your Life, is published by Our Sunday Visitor. Her website, DeannaBartalini.com, is for the Every Day Catholic. There you can find Deanna's writing, free webinars on Catholicism, her podcast and social media services, and invite her to speak to your group, in person or virtually.