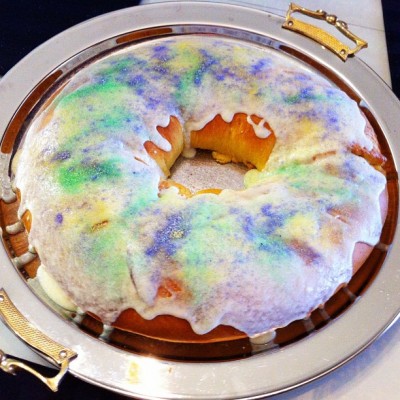 Liturgically speaking, we are in Ordinary Time.
But here in New Orleans, January 6th to the the day before Lent (Mardi Gras or Fat Tuesday) is anything but ordinary.
Tuesday, January 6, 2015 (the traditional date of the Solemnity of the Epiphany of the Lord) marked the official beginning of the Carnival season (or Mardi Gras season, as we say down here). A hallmark of carnival season in New Orleans is the King Cake.
You might be wondering what exactly a King Cake is. And if you are not from Louisiana, that is totally understandable. But don't worry, I'm here to tell you all about it.
First of all, a King Cake is a brioche. Brioche is a simple yeast dough that is enriched with eggs and lots of butter. According the Joy of Cooking, "the high butter content gives the impression that the dough is wetter than it actually is, leading to the temptation – which you must resist – to add more flour."
Brioche is also very easy to braid, which is why some King Cakes you find are braided.
King Cakes are always round or oval, which is a sign of a crown. It is a symbol of royalty.
Some King Cakes are the basic cinnamon brioche, others are filled with anything from cream cheese, raspberry or strawberry filling, or even a praline type of filling. Some King Cakes are topped with colored icing, others are topped with a white icing and different colored sugar sprinkles. The colors are always the colors of Mardi Gras: purple, green and gold.
But what does all of this mean? Why the reference to royalty? Why the specific colors? And for crying out loud, what's up with the plastic baby inside the cake?
Excellent questions!
If you go back to the origins of the cake (and there are similar traditions in Mexico, Spain and France… and other places too), the basic symbolism comes from the Catholic celebration of Epiphany, also known as King's Day. Epiphany, the culmination of the twelve days of Christmas, is traditionally celebrated January 6th. The celebration commemorates the scene in Luke's Gospel of the Magi from the East (also thought to be wise men or kings) coming to pay homage to the new King… the King of Kings. The celebration of Epiphany officially closes the 12 Days of Christmas.
But for those of us who live in south Louisiana, the celebration of Epiphany also opens something up… it kicks off for us Mardi Gras season, or Carnival season.
"Carnival" comes from the Latin "carne vale," which literally means "good-bye meat." For centuries, Catholics did not eat any meat or meat products during the entire season of Lent. So, on Carnival day, they celebrated by eating up any meat that they could find. In French (including Creole French down here in Louisiana), Carnival is called Mardi Gras, or Fat Tuesday. It's always on a Tuesday because Lent always begins on Ash Wednesday.
Down here in south Louisiana, New Orleans in particular, we can come up with just about any reason to throw a party. We like to celebrate. So, we stretch out Carnival. For us, it is not just a day. It's a season. Between January 6th and midnight Mardi Gras day we celebrate so that we can enter Lent "properly."
Our modern celebration of the carnival season includes the baking of an estimated 750,000 King Cakes in the New Orleans metro area alone. During Carnival Season, King Cakes are bought or made and brought to offices to share with co-workers, to schools and shared with classmates, and to parties and family gatherings. According to the modern tradition whoever "gets the baby" has to provide the next King Cake. But where did that tradition start?
Well, in New Orleans at least, it began in 1871. The local newspaper, the Times-Picayune, ran this story back in September 2012 as it recalled the beginnings of some of our Mardi Gras traditions.
The first Carnival krewe in New Orleans was founded in 1857 by former members of the Cowbellian de Rakin Society out of Mobile. [I can't help but think that we need some cowbell sound effects right about now.] Anyway, the Cowbellian de Rakin Society was founded in Mobile in 1830… 27 years before New Orleans' first krewe. However, Mobile's parades were held on New Year's Eve, not Fat Tuesday. Mobile did not switch to Fat Tuesday until 1866, 9 years after Mardi Gras was rolling in New Orleans.
So what about the colors? Why the purple, green and gold?
Well, purple represents justice, green stands for faith, and gold stands for power. These colors were chosen by Rex (which means King) for his first parade in 1872. People must have liked the look of those colors together, because they stuck. They are now known as the Mardi Gras colors.
According to Manny Randazzo, one of largest purveyors of King Cakes in the world,
The King Cake tradition is thought to have been brought to New Orleans from France in 1870. A King Cake is an oval-shaped bakery delicacy, crossed between a coffee cake and a French pastry that is as rich in history as it is in flavor. It's decorated in royal colors of PURPLE which signifies "Justice," GREEN for "Faith," and GOLD for "Power." These colors were chosen to resemble a jeweled crown honoring the Wise Men who visited the Christ Child on Epiphany. In the past such things as coins, beans, pecans, or peas were also hidden in each King Cake.

Today, a tiny plastic baby is the common prize. At a party, the King Cake is sliced and served. Each person looks to see if their piece contains the "baby." If so, then that person is named "King" for a day and bound by custom to host the next party and provide the King Cake.
Every year during Mardi Gras season, not only do I make lots of King Cakes, but I also talk about them a lot on the Catholic Foodie podcast. I tweet pictures of the Kings Cakes that I make, and I post those pictures on Facebook too. Every year folks write to me to ask for my King Cake recipe, and I'm happy to share it with you right now.
The Catholic Foodie's recipe for King Cake
INGREDIENTS
2 packets of active dry yeast (4 1/2 teaspoons)
1/2 cup granulated sugar
1-1/2 sticks of butter, melted (Kerrygold)
1 cup warm milk (about 110 F)
5 large egg yolks, room temperature
4 1/2 cups of all-purpose flour (King Arthur)
2 teaspoons kosher salt
1 teaspoon freshly grated nutmeg
1 teaspoon grated lemon zest
1 teaspoon oil (regular olive oil)
1 lb. cream cheese, room temperature
3 1/2 cups confectioner's sugar
1 plastic king cake baby or pecan half
5 tablespoons milk, room temperature
3 tablespoons fresh lemon juice
Purple, green, and yellow food coloring
FOR THE DOUGH
Combine the yeast and the granulated sugar in the bowl of a stand mixer fitted with a dough hook. If you don't have a stand mixer, don't worry, you can do the same thing by hand in a large mixing bowl.
Add melted butter and warm milk and beat for one minute at medium-low speed.
With the mixer still running, add the egg yolks and beat for another minute.
Add the flour, salt, nutmeg, and lemon zest and beat until everything is incorporated. Increase the speed to high and beat until the dough pulls away from the sides of the bowl and forms a ball (or starts to climb up the dough hook). As with any dough, you may have to add water (a tablespoon at a time) or more flour to get the right results.
Remove the dough from the bowl and, using your hands, form it into a smooth ball. Using regular olive oil (not extra virgin), lightly oil a large mixing bowl. Place the dough in the bowl, rolling it around to coat it on all sides with oil. Cover the bowl with plastic wrap and set aside in a warm, draft-free place for about 2 hours. You want the dough to double in size.
FOR THE FILLING
In a large mixing bowl, combine the cream cheese and 1/2 cup of confectioner's sugar. Blend using a fork or an electric mixer on low speed. Set aside.
AFTER THE DOUGH HAS DOUBLED IN SIZE
Turn the dough out onto a lightly floured surface. Using your hands or a rolling pin, roll it out into a rectangle about 30 inches long and 6 inches wide.
Take the cream cheese filling and spread it out lengthwise over the bottom half of the dough.
Flip the top half of the dough over the filling and seal the edges with your fingers, pinching the dough together.
Shape the dough into a cylinder and place it on a baking sheet (I use a round pizza stone) seam side down. Shape it into a ring and pinch the ends together, doing your best so that there's no visible seam.
Cover the ring with plastic wrap (or a clean kitchen towel) and set aside in a warm, draft-free place. Let the dough rise until doubled in size (about 45 minutes).
Preheat oven to 350 F.
Once the cake has doubled in size, remove the plastic wrap or towel and brush the surface of the cake with 2 tablespoons of milk.
Place cake in oven and bake 25 to 30 minutes, until it is golden brown.
Remove from the oven and place the cake on a wire rack so that it can cool completely.
When it is completely cooled, insert the plastic baby, or pecan half, from the bottom of the cake.
FOR THE ICING
In a mixing bowl, combine 3 cups of confectioner's sugar, 3 tablespoons of milk and 3 tablespoons of lemon juice. Stir well with a fork. Once it is well-blended, divide the icing into three small bowls. Carefully, one drop at a time, add a different colored food coloring (purple, green and yellow) to each of the bowls, stirring in each drop to achieve the desired colored icing.
Once the cake is completely cooled, the icing can be poured over the cake with a spoon, carefully alternating the colors around the king cake. See photo for an example.
God bless you... and happy King Cake baking!
Recipe and photo copyright 2015 Jeff Young. All rights reserved.
Find more of Jeff's recipes at CatholicFoodie.com!
About the Author