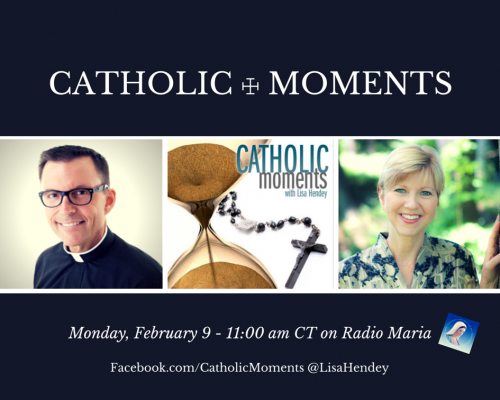 I'm happy to share the recording of this week's episode of the all new "Catholic Moments", which is now airing as a bi-weekly radio program on Radio Maria USA. In our very first show, we were honored to feature the work of two special friends of mine, Fr. Robert Reed and Donna-Marie Cooper O'Boyle.
Listen:
[audio mp3="http://catholicmom.com/wp-content/uploads/2015/02/20150209catholicmoments.mp3"][/audio]
Listen here or visit RadioMariaUSA.com to listen
Fr. Robert Reed
Fr. Robert Reed is president and CEO of CatholicTV and a priest of the Archdiocese of Boston. He is the cohost of CatholicTV's popular show, This is the Day, and often celebrates Mass and prays the Rosary on the network. Reed was educated at St. John's Preparatory School and prepared for the priesthood at St. John Seminary College in Boston and the Pontifical North American College in Rome. Reed also studied broadcast administration at Boston University's School of Communication. Fr. Reed is the author of Renewed: Ten Ways to Rediscover the Saints, Embrace Your Gifts, and Revive Your Catholic Faith.
Links:
Donna-Marie Cooper O'Boyle
Donna-Marie Cooper O'Boyle is a wife and mother, an award-winning and best-selling author and journalist, speaker, catechist, pilgrimage host, and the EWTN television host of Everyday Blessings for Catholic Moms and Catholic Mom's Cafe, which she created. She knew Blessed Mother Teresa for ten years and is a frequent guest on national Catholic radio and television. Donna-Marie joined us to share her newest book Bringing Lent Home with St. John Paul II: Prayers, Reflections, and Activities for Families.
Links:
To share feedback for our program, call 866-333-6279 (MARY) during show hours, send a message through the Radio Maria website (click "send a message" in the upper right hand corner) or leave a comment here on the blog. Your feedback will help in planning future episodes.
About the Author