If I think hard enough, I can remember the first time I saw the movie The Wizard of Oz. I was still a young child and, though I didn't grow up on black-and-white television, when the movie switched from black-and-white to Technicolor, it was a bit of a breathtaking moment. We were no longer in dull, gray Kansas, but instead were now transported to the magical and colorful land of Oz.
It wasn't until I was in college or out of college that I took the time to read the Oz books. Ashamedly, it was that late in life that I realized there was more than one book. However, I had just received a Kindle and was loading up on free books from Amazon, so I put those on there and read them. They were good, quick reads but it felt like something was missing.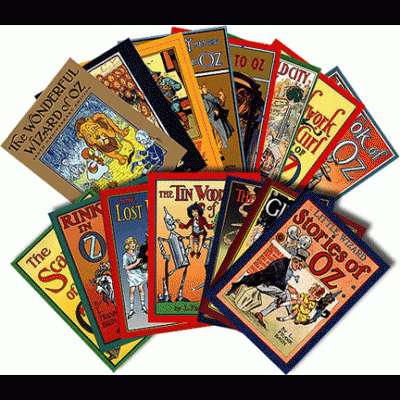 It was only in the past year that I realized these books were originally illustrated, and naturally I had to own them. I am a firm believer that if children's books were originally illustrated, then that is how they should be read. Opening those books and seeing pictures on every page, it took me back to the first time I saw the movie.
Pages of black text on white background now came alive with color and illustrations. Surely, I wasn't in Kansas anymore!
I bought these 15 Oz books from Books of Wonder. This is honestly the first time I have purchased books in a while, but as I said before, I had to own them.
You can buy them individually at this site or at Amazon (with some careful searching), but buying all at once (if you can afford it), is the cost-effective way to go. Just call it a family Christmas gift like I did!
For those who are Oz-ignorant like me, there are apparently many Oz books. Only 15 of them are written by L. Frank Baum, but there are other authors that wrote Oz books that are considered canon by the Baum Trust.
The 15 titles by Baum are:
The Wonderful Wizard of Oz
The Marvelous Land of Oz
Ozma of Oz
Dorothy and the Wizard in Oz
The Road to Oz
The Emerald City of Oz
The Patchwork Girl of Oz
Tik-Tok of Oz
The Scarecrow of Oz
Rinkitink in Oz
The Lost Princess In Oz
The Tin Woodman of Oz
The Magic of Oz
Glinda of Oz Little
Wizard Stories of Oz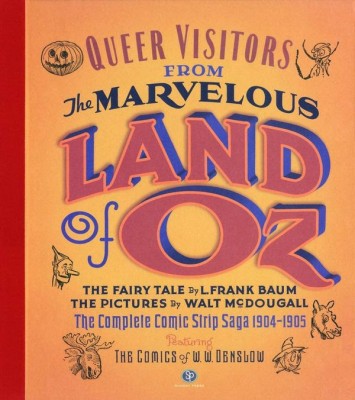 There is also a lesser known work of Baum's, because it was not written in his traditional format. After Baum had written The Wonderful Wizard of Oz, he teamed up with cartoonist Walt McDougall to create a comic strip called Queer Visitors from the Marvelous Land of Oz.
Why didn't he use W.W. Denslow (the illustrator for The Wonderful Wizard of Oz) for this comic strip? It turns out that Baum and Denslow had a falling out over royalties, and they went their separate ways. Denslow in fact went on to create a less-successful competing comic strip called Scarecrow and Tinman.
Looking at the illustrator for the remaining Oz books (John R. Neill), it is clear to see that Baum and Denslow never patched things up, which is a shame because the first book definitely had a magical feel to it (not to take anything away from Mr. Neill).
When one looks at Sunday Press Books, it is a small publisher with a limited number of titles. However, what they lack in terms of quantity, they more than make up for in terms of quality! Their book Queer Visitors from the Marvelous Land of Oz is a whopping 16" x 18" so unless you have huge bookshelves, it won't fit on them.
That's not a bad thing, though, as the comic strips are printed in full color and original size. People my age and younger might not realize how big comic strips actually used to be, but compared to the strips you find in modern newspapers, they are ginormous.
As for the comics content themselves, Baum's comic strip focuses on Scarecrow, Tin Woodman, Jack Pumpkinhead, the Woggle-Bug, the Flying Gump, and the Animated Saw-Horse's trip through the United States. The adventures are more misadventures, as they stumble upon a beauty doctor, a pawn shop (where Saw-Horse is pawned), celebrate Thanksgiving, and even run into Dorothy and Toto.
The strip is humorous, but definitely has a promotional feel to it, as it is like they are touring the United States to plug the second book in the Oz series.
Denslow's comic strip features Scarecrow, Tin Woodman, and the Cowardly Lion. Their journeys are both domestic (Fifth Avenue) and international (Bermuda and the Yucatan Peninsula).
Queer Visitors from the Marvelous Land of Oz is a true treasure of a book. It not only contains Oz comic strips, but also another Denslow comic called Billy Bounce, another McDougal comic called Hank the Hermit, and a comic strip by John R. Neill (the 2nd Oz illustrator). There is also biographical information on Baum and McDougal.
This book combines history and art. It's like opening a time capsule as you turn through the pages and look at what comics and newspapers were like over 100 years ago. It is surely a treat for the true Oz lover and the comic book lover as well.
I close this post with what may seem obvious, but a plea to buy your children physical books. It may seem obvious, but children respond better to turning physical pages and reading books with lots of pictures! It may seem obvious, and it may be a little bit more expensive, but it is completely worth it and will help your children develop a lifelong love of learning.
This book was provided to me for free by Sunday Press Books in exchange for an honest review. If you found this review helpful, please click here and hit Yes!
Purchase your copy of Queer Visitors from the Marvelous Land of Oz from our affiliate link and support our work here at CatholicMom.com.
Be sure to check out our Book Notes archive.
Copyright 2015, Stuart Dunn
About the Author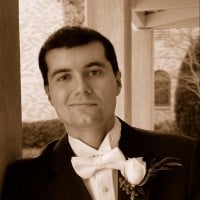 Stuart Dunn was born and raised in Mobile, AL and received a Bachelor of Arts in Psychology and a Master of Business Administration from the University of South Alabama. Stuart reviews all things Catholic including adult books, children's books, Bible Study series, Catholic Courses, CDs, and DVDs in addition to board games at his blog Stuart's Study at StuartsStudy.blogspot.com.