Copyright 2019 Elena LaVictoire. All rights reserved.[/caption] When I was a very little girl, I had to accompany my grandmother to her monthly doctor's visits. It felt like I spent an eternity in that dingy waiting room. But what stands out in my mind were the numerous storybooks they kept stock there. Of course, there were many Golden Books, but what I remember the most fondly were the Bible stories in the Uncle Arthur's Bible Stories series. I remember poring over the beautiful illustrations and pondering things like Eve's beauty and David's bravery against Goliath, and wondering if Jesus really had such deep brown eyes. Those children's Bible storybooks were my first introduction to the Scriptures, and they made a deep impression with me. When I was a little older and could read, my mom bought me my own Catholic Bible Storybook, written by Father Lovasik. This is the book I remember going to when I didn't quite understand something on my own or if I wanted to re-read the Gospel reading from church. I drifted away from the church in my early adult years. But when I reverted to my Catholic faith, I couldn't wait to learn everything I could about it. My husband and I started studying the Bible. But when I found something that I didn't quite understand, or if I just wanted to get the gist of a story, I dug into my children's Bible storybooks again. This is how I taught my own children as well. We would read the storybooks and then look at all of the pictures and maps. Now I have the pleasure of sharing those Bible storybooks with my granddaughter. It's great watching her turn the pages and studying each picture. All of these old stories are new to her, and her curiosity renews them for me too! In fact, I have quite a collection of Bible storybooks for her to choose from now. I enjoyed sharing these Bible storybook tales with my children so much, I decided to spread the joy. I gave Bible storybooks as gifts to my friends' children too. Recently my best friend told me that her 25-year-old son was unpacking his suitcase on the kitchen table, and out popped a children's Bible storybook that I had given him as a child many years ago. My friend and her son had shared the stories from that book at bedtime for years when he was growing up. But she was surprised to see it coming out of his suitcase. So she asked him what he was going to do with it. Apparently, he had been sharing the stories from that book with his girlfriend. She did not grow up in any church at all, so all of the stories were new to her. Using a children's Bible storybook was the easiest way for him to introduce her to Scripture. She had borrowed it for a while but had recently given it back because he asked her to. He was going to take it with him on his second military tour of duty in Afghanistan! Today we have many tools for learning our faith and teaching it to our children and grandchildren. In my opinion, enjoying a beautifully illustrated Bible storybook is one of the simplest and best!
---
Copyright 2019 Elena LaVictoire This article contains Amazon affiliate links; your purchases through these links benefit the author.
About the Author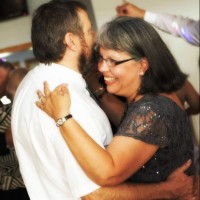 Elena LaVictoire is a graduate of Baker College and a retired medical transcriptionist. She is married and homeschooled six children. Elena is a public speaker on the topics of marriage, homeschooling, and confirmation preparation. She was also a contributing author to The Catholic Mom's Prayer Companion. Elena practices and performs with her flute and records with the Peace Together Choir. She blogs at MyDomesticChurch.com.