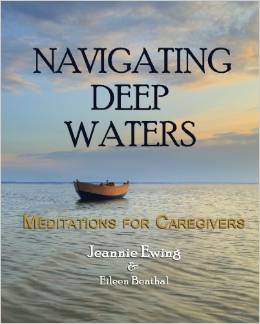 Navigating Deep Waters: Meditations for Caregivers came to fruition from the Holy Spirit's inspiration. I never had a book in mind, and I didn't intend for this one to materialize. Several months preceding the compilation of this book, I intuited a vague calling to provide a much-needed resource for people bereft with loss, sorrow, and the grief associated with full-time, long-term caregiving.
As a caregiver to two daughters with special needs - one with more psychological needs and the other with a clear medical diagnosis - I noticed a paucity of literary resources available to caregivers in terms of self-care. While I was desperately searching for something to make sense of this "new normal" in my life, I found nothing that offered a sense of calm, clarity, and purpose in the midst of crisis and chronic grief.
One evening - an ordinary evening - I was reading in bed while my husband was watching the news downstairs. All at once, I felt the Holy Spirit urge me to pick up my pen and start writing, though I didn't know what at the time. I wrote furiously, and when I put the pen down, I mulled over what I wrote. Astonished, it appeared to be book chapters with the metaphoric theme of water.
I didn't know what to do with this, but I prayed about it and sought spiritual direction. The barely legible list was tucked neatly in my daily journal until one day my life coach and mentor (and eventual co-author), Eileen Benthal, shared with me that she was seeing the need for a meditation journal as a spiritual resource to assist caregivers and those in the throes of grief. Subsequently, I told her about the chapter titles, and we marveled at the Providence in our conversation.
My husband, Ben and I went on a long weekend trip, which was a rare treat for us, and I wrote the meditation journal that weekend. The style is using the metaphor of water - as a calming, rhythmic force, but also as a mighty and unpredictable one - to assist the reader in his or her personal and unique journey through the mystery of long-term suffering. Each chapter concludes with questions to ponder and a prayer, followed by lined pages for recommended journaling.
The goal of the journal is to be a hopeful guide and source of healing when one is undergoing tremendous hurt. Every detail is meant to serve as an invitation for the reader to enter into the story and process his or her emotions and current spiritual state. This intention is based upon my experience of being thrust from one crisis situation to another with barely time to breathe, let alone slow down long enough to permit oneself to feel the very intense emotions that often accompany grief.
As caregivers, we tend to shut the doors to our hearts for a time in order that we may maintain a sense of sanity while in the moment of a crisis. This is most certainly a defense mechanism. Navigating Deep Waters offers the reader permission to take time for necessary reflection and processing. Each chapter is intentionally short so that the caregiver can read it on-the-go and perhaps revisit it at a later time.
Though the subtitle reads, Meditations for Caregivers, don't be turned away if you don't consider yourself a caregiver. Some have reviewed the book who are not caregivers and have said they were able to obtain a deeper self-awareness and spiritual insight from reading the book:
The blurb for this book is helpful, but no way can it fully describe the book's value to someone who finds him or herself hit by sudden grief. It is not only a book for caregivers, it is a book for anyone in crisis. No matter who we are, at one time or another, we will experience crisis in our own lives, whether in be the death or illness of a loved one, the loss of a job, the betrayal of someone we care for, and on and on. But should we wallow in the mud puddles of our lives? This book says, "No!" This book says, "Rise up!" And it shows us how to do that--because we are called not only to care for others, but also, to care for ourselves.

I see "Navigating Deep Waters: Meditations for Caregivers" in the hands of Grief Counselors, Parish Crisis programs, for parents of children with Special Needs, or the parents of teens in drug programs, and even in Prison Ministry. See what I mean? The ways to benefit from it are too numerous to list.

But there is another element key to this book: the authors.

Both mothers of Special Needs children, these Christ-filled ladies not only know what they're talking about, they are genuine examples of the 'walking around grace' that has come through their own suffering. I am so thoroughly impressed with them. Try Jennie Ewing's blog, Love Alone Creates, and you'll see what I mean.

"Navigating Deep Waters" is not only consoling, it's a lovely little gift that can assist each of us in our own struggles, and ultimately in our rise, from the pain each of us human beings will experience in our life on Earth.
You can purchase Navigating Deep Waters: Meditations for Caregivers for a little over $8 on Amazon or on my websites, Love Alone Creates or From Grief To Grace. If you aren't sure if this book is for you, you can receive a download of the introduction and Chapter 1 for free to your inbox before purchasing.
About the Author

Jeannie Ewing believes the world ignores and rejects the value of the Cross. She writes about the hidden value of suffering and even discovering joy in the midst of grief. As a disability advocate, Jeannie shares her heart as a mom of two girls with special needs in Navigating Deep Waters and is the author of From Grief to Grace , A Sea Without A Shore , and Waiting with Purpose. Jeannie is a frequent guest on Catholic radio and contributes to several online and print Catholic magazines. She, her husband, and three daughters live in northern Indiana. For more information, please visit her website lovealonecreates.com.