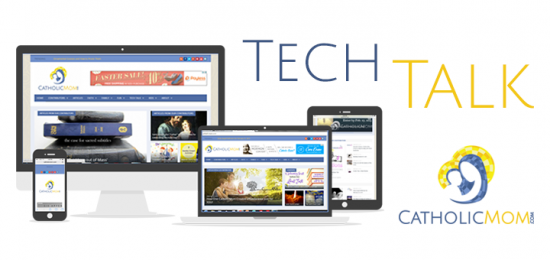 Something completely new is coming to the Catholic web-o-sphere. It is called Saintnook!
Saintnook is the first website that pulls together:

A social-network presentation for basic life details.
In-depth Pinterest galleries packed with graphics and pictures on each saint.
Curated Youtube playlists of biographies, homilies, music and projects for each saint.
Per-saint directories of reference materials, crafts, books, multimedia and more.
Beautiful graphics to celebrate feast days on social media
Saintnook has transformed the experience of learning about the lives of saints from text on a page to a museum that fills the imagination.
If I had to give one word to describe the site: calming. I know weird right but not really if I explain. For me the belief in the presence of the Saints, that great cloud of witness and army of intercessors, has that very effect - calming, so why wouldn't a site showcasing them be as well. It is obvious that creator Dominic de Souza gave great attention to every detail of Saintnook -- including the color scheme and logo!
Fantastic Features:
BLOG:
The Saints are always online (*click on image to visit the Saintnook Blog Archives):
Adopt a Saint:
Who is your favorite saint? [For the record I have a Posse - St. Therese, SoG Fr. Patrick Peyton, St. Faustina and Our Lady of Grace aka Mamma Mary] Is your favorite not yet listed on Saintnook? No problem, simply adopt him or her and share the love. Here's how:
You can adopt your favorite saint (so long as they're not already taken!) and do 3 important things for them:

share their lives and moments online
research and submit resources
update their status with quotes, links or more
SaintNook Pinterest:
Bringing together some of my favorite things … cue Julie Andrews… "Pinning on Pinterest and learning about the Saintly People" … ok so maybe that's a stretch, but seriously I could hear the song! As avid Pinterest "pinner," this board was so appealing – the images are well chosen, engaging and inviting. As a visual person, but not necessarily organized person, I appreciate the Pinterest connection for guiding my study of the saints. Thirty-three boards of vibrant pictures and additional resources. It is…wait for it... PINtastic!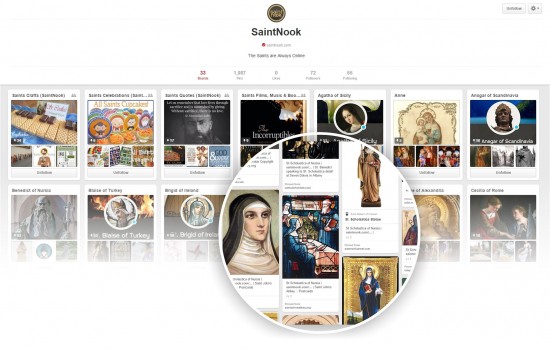 Videos
https://www.youtube.com/watch?list=PLR47SNp7E4rg1A5QrPnq0wMIy3YQdx5Xc&v=WY-pDCyq5GI
and… Saintnook has a secret!
Saintnook Bazaar – you will not find it by merely visiting the site. This secret is free and available to anyone, but has to be unlocked, and doing so is very easy. Visit Saintnook.com, and subscribe to the site email list for free to receive a special code. With this code you are privy to this glorious secret opportunity:
Once a month, we meet for 3 days to bring you exciting tools and products to share our Catholic Faith with children and students! Stay tuned; we'll let you know when the Bazaar is open again. Till then, you can check to see the next opening date.

(*Good NEWS I KNOW the next opening date!! Tuesday, April 28th at 1 a.m. and will close again on Thursday, April 30th at 11:30 p.m.)
It is apparent that Saintnook creator, Dominic de Souza and his team of volunteers, have worked incredibly hard to bring a unique, information-packed, inspirational experience to Saintnook's visitors and subscribers! Go over now and check it out and let me know what you think!
Read more of our Tech Talk columns.
Copyright 2015 Allison Gingras
About the Author