I always thought about adoption. When I was a teenager, I had problems with my ovaries and the doctors said I probably would not be able to conceive. While dating my husband, I told him about this problem and he said if we couldn't have biological children, we would adopt. Fortunately we were blessed with four pregnancies and after my fourth labor, the doctor told me I should wait at least 3 years to get pregnant again, since I had four Caesarians in a row. My husband, by then, especially after our daughter died (you can check her story here), said he didn't want to have any more children.
I was fine with it for a while, but the desire to have another baby started growing again. Then I discovered I had blood cancer, lymphoma (full story here), and after the bone marrow transplant, the doctors told me I couldn't get pregnant anymore.
Now, more than two years after the transplant, my life is finally going back to normal. I still have some problems with my immune system and some collateral damage in my lungs that I will have to deal for the rest of my life, but that is nothing compared with what I've been through.
A few months ago, the desire to have more children came back. Then I heard a mother of both biological and adopted children saying: "There are children that I've conceived and children that were conceived for me." Boom.It hit me like lightning: maybe there are children out there that were conceived for me and I have to look for them!
But how can that happen, since my husband doesn't want to have more children? I guess the Holy Spirit inspired me to look for a saint that was the patron of the orphans, and I found Saint Jerome Emiliani. I've been praying his novena for about two weeks now, asking for the grace that my husband will accept the adoption of our children that I know is out there. I haven't talked to him yet about this issue. I want to get a sign from Heaven that this is really our vocation, so I'm praying that he will bring up this topic himself someday. I hope Saint Jerome will help me with that.
Just yesterday, I heard another sentence that touched me: Saint Joseph wasn't planning to adopt Jesus, but he accepted the mission!
Saint Jerome Emiliani is my newest friend, so I will share with you part of his story. He was a military commander in Italy and while he was in charge of a fortress, Venice's enemies, the League of Cambrai, captured the fortress and he was dragged off and imprisoned.
Jerome dedicated all his time in prison to prayer for his conversion and for the forgiveness of his sins. Then Our Lady of Treviso appeared to him and gave him the keys of his chains and of the front door of the dungeon. Miraculously he got his freedom and could fulfill the promise to put the chains in the altar of the Shrine of our Lady of Treviso.
In front of the altar he made this prayer, that would follow him through his life: "Oh Lord Jesus, don´t be a judge to me, be first, my savior". Little by little he left his life of wealth and when a great famine devastated Italy and Europe, he sold everything he had to give food to the poor.
Because of the war, the plague and the famine, many people died and many orphans were left behind. So, Saint Jerome started a ministry that would lead him to found a house of religious.
He started picking up all the abandoned and took them to his home. There he treated them, fed and taught them. Part of his education was to give them the first-known catechetical teaching by question and answer. He prayed with them, went to Masses, and gave all the support that the orphans needed. After a while, he was ordinated a priest and took his work to other cities in the region of Venice.
He founded, in the city of Somascha, a seminar and a convent, establishing the Clerks Regular of Somascha, the Fellowship of the Servants of the Poor, guiding the teaching of this order to poverty, with a worked faced to the orphans, the dying and the instruction of the youth.
Saint Jerome Emiliani felt that his death was near, so he designated his successor and left everything ready so his work should go on. One day, he called all his orphans to gather around him. Then he took a basin with water, wrapped a towel around his waist, washed and kissed the feet of each one of them. He was already very sick because he was treating the ill due to a great plague that hit Italy.
And on February 8th 1537, he surrendered his soul to God after receiving Holy Communion.
Prayer:

Oh God, Father of Mercy, that made Saint Jerome Emiliani a father and protector to the orphans, by his intercession, help us faithfully keep the spirit of adoption, through which we are called your children and indeed we are. In the name of Jesus Christ, your Son, in the unity of the Holy Spirit. Amen.
Copyright 2016 Flávia Ghelardi
About the Author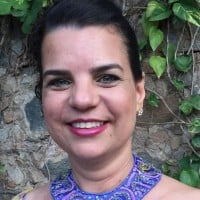 Flávia Ghelardi is the mom of four, a former lawyer already "promoted" to full time mom. Flávia published her first book FORTALECENDO SUA FAMÍLIA and is a member of Schoenstatt´s Apostolic Movement. Flávia loves to speak about motherhood and the important role of women, as desired by God, for our society. She blogs at www.fortalecendosuafamilia.blogspot.com.