Today's Gospel: John 10:1-10
In today's readings, we hear about Peter being questioned for eating at the homes of Gentile Christians. He gives an account of a vision he had in which the Lord tells him that it is no longer necessary to keep a kosher diet. All foods are to be considered clean, and with this information, the Jewish Christians rejoice that the saving Gospel has been extended to the Gentiles, as well. Then, in the Gospel, we hear what foreshadowed this definitive teaching of the Apostles:
So Jesus said again, "Amen, amen, I say to you,
I am the gate for the sheep.
All who came before me are thieves and robbers,
but the sheep did not listen to them.
I am the gate.
Whoever enters through me will be saved,
and will come in and go out and find pasture.
A thief comes only to steal and slaughter and destroy;
I came so that they might have life and have it more abundantly.
Jesus teaches His disciples that everyone who enters the sheepfold through Him will be saved. Jesus is our protection, the Shepherd Who will lay down His life for the sheep. But He is more than that! Jesus is the Shepherd for everyone who wishes to be saved, whether they are practicing Catholics or not. The Church teaches us that all who earnestly seek God can be saved. If someone truly has not heard the Gospel, but does everything he can to grow close to God and seek the Truth, God will not turn him away. Yes, the Church is the way to salvation — but the way the Church looks to God and the way it looks to us are not the same. Of course, when you are already a Christian, you know that you cannot seek God elsewhere; He will not be fully discovered anywhere but the Church! But we must always pray for those who are outside of Holy Mother Church and still seek the God who made them to know, love, and serve Him in this life.
And, like the Jewish Christians, we must rejoice when anyone finds Him! The sheepfold is big enough for everyone.
Ponder:
Do I pray for the conversion of souls, even for those who seem too far from God to make the leap? Do I pray for my enemies to find peace in the Lord? Am I resentful of those who do convert, instead of being happy they are a part of the family of God now?
Pray:
Lord, I love You, and I am grateful to be a part of Your Church. Help me to pray for the conversion of souls — especially those the world might deem out of Your reach — and to love those people as You love them. Teach me to be happy that more sheep enter through Your gate. Teach me to love my brothers and sisters the way You love them.
We thank our friends at The Word Among Us for providing our gospel reflection team with copies of Abide In My Word 2015: Mass Readings at Your Fingertips. To pray the daily gospels with this wonderful resource, visit The Word Among Us.
Copyright 2015 Christine Johnson
About the Author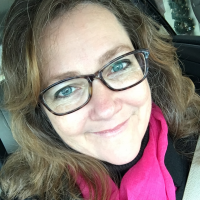 Christine Johnson has been married to Nathan since 1993 and is the mother of two homeschool graduates. She and Nathan live in the Blue Ridge Mountains of Southwest Virginia, where she tries to fit in as a transplanted Yank. She blogs at Domestic Vocation about her life as a wife, mother, and Lay Dominican.