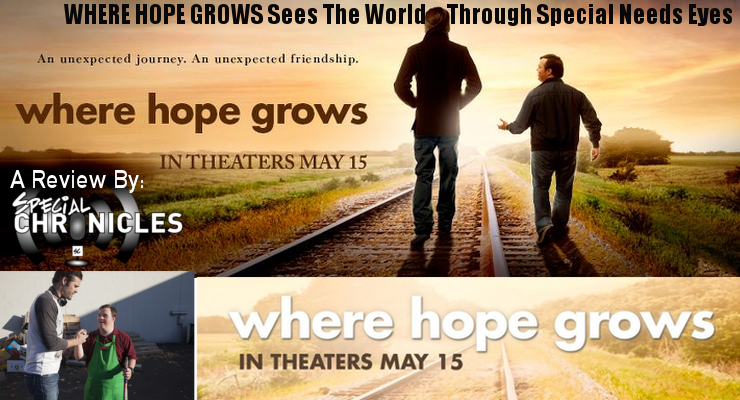 The movie Where Hope Grows tells the story of Calvin Campbell, a former professional baseball player who was sent to an early retirement due to his panic attacks at the plate. His life is in a slow downward spiral when it's suddenly awakened by the most unlikely person — Produce, a young man with Down syndrome, named who works at the local grocery store. Where Hope Grows is a story of finding redemption through faith, hope, and love.
I recently took time this week to watch a private screening of this movie that opens in theaters on May 15, 2015. The movie was written and directed by Chris Dowling and stars David DeSanctis, the first actor with Down syndrome to star in a feature-length film.
In talking with Chris and David last year on the Special Chronicles podcast radio show, Chris shares with us how prior to filming this movie, he didn't have any previous knowledge about Down syndrome or other special needs. This film was a journey for him in learning about the abilities that people with Down syndrome and other special needs are able to accomplish. I believe that with Chris' own journey this will translate to the viewers of this movie going on a similar journey that Chris went on through the filmmaking process.
An important theme of this movie is the power of friendship that someone with Down syndrome, or any special needs, is able to help in giving a lesson of hope and courage to someone in need. Through the character of Produce, we see the joy, fun, and happiness that he brings to the character of Calvin.
A line in which Produce says "even when I'm down, I'm doing good [happy]" is one that I personally question how realistic this line is. I question if since all people with Down syndrome, and special needs, are different in their own unique way, than in reality if a person with special needs is feeling down, they could not be feeling well too. This line is also problematic because some people believe that people with special needs are always happy and never sad.
Take for example, my friend David Raineri, a person with Down syndrome who is currently a freshman in high school. In a 2011 calendar from CelebrateDifferences.org, David was featured for the month of November. David's sister, Marisa, had written a quote that was displayed in this calendar that reads: "another special characteristic about David is his ability to tune into people's emotions. When you're sad, he's sad, but he always tries to make you smile."
Another questionable aspect of this film that I have is how realistic is it for the character of "Produce" to live independently? As for anyone, whether you have Down syndrome, other special needs, or even for those not diagnosed disabilities, living on ones own can be a challenging thing. But as an advocate for people with special needs, how much do I really know when it comes to a person with Down syndrome living on their own. With that being said, the fact that Produce lives on his own, gives hope (no pun intended) for others with Down syndrome, and their parents, that just because you may be diagnosed with special needs you can still live an independent life.
Living independently can mean multiple things. Take for example, the residential housing services at Helping Hand Center in Countryside, Ill. The Helping Hand Center is a nonprofit that serves children and adults with disabilities.
With the right support and family environment, anything is possible. This is something that I believe and also David DeSanctis believes when he said on the "digital airwaves."
David said, "Just go for your dreams. Don't let anyone stand in your way like for teenagers or young adults. tell them [your parents] your dreams and go for it. … The one saying that I live by is the sky is the limit. there's no limit at all except for the sky. So, don't let anyone or anything stand in your way."
This movie, Where Hope Grows, also gives viewers real-world examples of the use of the word "retard(ed)," or the "r-word." During all of the occurrences of the "r-word" in this film, the word was spoken behind Produce's back.
Many times people with Down syndrome, or special needs, may not actually hear the "r-word" used about them when others who are not diagnosed with special needs use the r-word behind their backs.
Take, for example, my friend Georgia Hunter, a person with Down syndrome. In a "Special Voices" column I wrote this month for the Bugle Newspapers, Georgia said: "using the r-word against us athletes the most because most people really don't think before they actually say the words."
In this movie, Where Hope Grows, Calvin's friend really didn't think about how the use of the "r-word" affected Produce.
During Calvin's awakening, he speaks up against the r-word as he stands up for Produce. One incidence is when Calvin's best friend uses the "r-word" on the golf course and Calvin reacts by punching his best friend in the face. This, in my opinion, is not the way an adult should act when an offensive word is said. You should, however, calmly discuss the importance of using respectful, people-first language.
Later on in the film, Calvin approaches Produce's boss, the store manager of the grocery store. The manager uses the "r-word" about Produce in how he believes that Produce is not capable of being named employee of the month.
"We don't use the r-word anymore just like we don't use the n-word…," Calvin said.
As is noted during the end credits, the entire cast and crew of this movie took the pledge to end the r-word at r-word.org.
As Chris (writer & director) got to know David (character of Produce) during the filming ofWhere Hope Grows, he let David's personality shine through the character of "Produce."
Per my interview with Chris and David, we learn about David's incredible dance moves. As the credits roll, we see behind-the-scenes video of David's amazing dance moves.
Chris sprinkled a faith lesson in this movie to draw among audiences of Christian faith to this film as well as the special needs community.
This movie is an honest portrayer of the joy, happiness, and friendship that a person with Down syndrome (and other special needs) brings to humanity.
A listener to the Special Chronicles podcast radio show, had emailed me to suggest the idea of having me help produce a documentary called "seeing the world through our [special needs] eyes." This movie, however in an entertaining way, is a great example of just that.
I love the fact that this movie, Where Hope Grows, allows us to see the world through Produce's eyes. As viewers leave this film, they will hopefully be more empathic towards people with Down syndrome and other special needs.
Join us in seeing this movie when it opens in theaters on May 15, 2015.
Listen to a discussion about this movie on Soundcloud:

Check out this video interview with the writer/director and the star of the movie!
Watch the official trailer for Where Hope Grows:

Copyright 2015 Daniel Daniel Smrokowski.
This article was originally posted on SpecialChronicles.com.
Image courtesy of SpecialChronicles.com. All rights reserved.
About the Author