Editor's note: We tend to talk a lot in Catholic circles about being "pro life", but rarely have I met a more valiant champion for life than Daniel Smrokowski. Daniel labors tirelessly to connect others to the joy he feels for his faith and is a real trailblazer when it comes to using new and social media in evangelization. I'm pleased to share this article he's written and to call Daniel a friend! LMH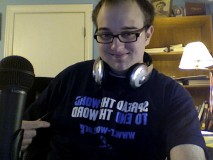 My name is Daniel Smrokowski. I was born in Long Beach, California and was born 3 and 1/3 months premature. Due to being born so early, I was diagnosed with learning disabilities (LD). At the age of 4, we moved to the west suburbs of Chicago, where we continue to reside. I have grown up as a cradle Catholic and for pre-school through 3rd grade, I attended our local Catholic Parish School, Holy Trinity School. During my 3rd grade year, my teacher had talked with my parents about how I may need some extra help and so around this time I was tested and eventually diagnosed with learning disabilities. For about 17 or 18 years of my life, my parents were happily married-- my mom grew up in the Lutheran faith and my dad grew up as a cradle Catholic and then as they brought me, and my two younger sisters into the world, my mom converted to the Catholic faith. About 3 or 4 years ago, a sad event happened in my family: my mom divorced my dad. Now, that some time has passed, it is still sad in our family, but we are trying to get through life as best as we can through prayer and one thing that has remained the same and has helped us is the community of believers within our Catholic faith and some good friends in our parish. I go into greater detail about the community of believers and why I value spirituality, in an article that was published on CatholicMom.com. For about 17 years or so that we have lived in the west suburbs of Chicago, we have been parishioners of Holy Trinity Roman Catholic Parish, and continue to attend Mass and ever since our parish has had an Eucharistic Adoration chapel that is open all day and night, my dad has encouraged us to spend time in the presence of Jesus in the Blessed Sacrament.
I first got involved in advocating for people, like myself, with intellectual disabilities, back in the beginning of March 2009. This is when I attended a two day beginner "Global Messenger" training. The Global Messenger program is a part of the Athlete Leadership Programs of the Special Olympics and provides Special Olympics athletes with the opportunity to lead and particularly in the Global Messenger program that I am a part of, we are asked to give speeches and presentations to various community groups. One of the first groups I have spoken to was a group of about 100 high school students. Another time I spoke to about 800 people which was to the Knights of Columbus Illinois banquet, where many Bishops were also in attendance, including Cardinal Francis George, who was seated to the right of me as I was giving a thank you presentation to the Knights of Columbus in Illinois. Then, there were other smaller and medium sized groups I have spoken to such as the high school students that are a part of our youth ministry at our parish and some school children at our parish school. I have a regular PowerPoint presentation that I use as a backdrop to my speeches that has become well-known within the Special Olympics Illinois staff community. If any of your readers would like to have me speak to your church or school group, I am available to speak via Skype video conference call. If you are not in the west suburbs of Chicago, you can find out how to contact me for speaking engagements by visiting my website.
Since the beginning of January 2010, I have produced the Special Chronicles Podcast, in which I share my Special Olympics message and share with listeners the importance of respecting those of us with intellectual disabilities, along with providing people with information relating to the Special Olympics and about intellectual or physical disabilities in an inspiring and entertaining format. On my blog, "Dan's Journal: Thoughts To Share", I'll post about any topics of interest to me or that I'd like to promote.
Another effort that I am active in on a weekly basis during the academic year, is that I am an on-air personality and Station Director for WRBC: The Blaze, the college student-run radio station at Roosevelt University in Chicago. I have been actively involved with the campus radio station from February 2009 when WRBC The Blaze came back on air via an internet college radio station capacity. From Fall 2009 to Spring 2011, I have hosted and produced a radio show called, "RU Inspired?", where I feature various inspirational, Christian-Catholic music, along with offering brief meditational reflections by St. Josemaria Escriva, and spreading the Good News of our Catholic-Christian faith in an inspiring and entertaining way that even those who may not be Catholic or Christian and happen to tune in may still be inspired and uplifted. Anyone throughout the world can listen to WRBC.FM college radio and in particular the Special Chronicles program, which his syndicated on the WRBC The Blaze. As of the time of this article goes to print, the "RU Inspired?" show is currently on hiatus until further notice. With that being said you can still listen to archived episodes with the podcast edition.
You can find links to everything that I am involved in (the Special Chronicles Podcast, RUInspired Radio Show, my blogs, contact information, media appearances, published writings (including my writings here at CatholicMom.com and on SQPN.com), photos I've taken, videos I've produced, as well as a page of recommended links) by going to http://dan.specialchronicles.com/.
I would sum up my mission by sharing with the world the importance of respecting and accepting those of us with intellectual disabilities. Also, I would say that my mission is to help in the New Evangelization of our Catholic Faith by spreading the Good News through my college radio show.
One of the obstacles in creating a cultural respect for people with disabilities, such as removing the word "retard(ed)", most commonly referred to as the "R-Word," would be that someone may say that this takes away our right of freedom of speech. In response to this I would say that campaigns such as "Spread the Word to End the Word" are not exclusively about ending the r-word, but is to spread a greater awareness of respect and the promote the New R-Word which is respect. I strongly believe that this is important for everyone, and especially as Catholics, that we need to promote and be a fan of respect, acceptance, unity, friendship and inclusion. For more information about Spread the Word to End the Word, everyone is encouraged to visit and the pledge to promote the new r-word by going to http://r-word.org/.
I feel a strong connection with the pro-life movement. One of the main reasons is because I have been told from my mom who told me that her doctors had advised her to have an abortion when I was about to be born. Thankfully, she chose life and I was born. Since I was born so early, I had to deal with a lot of medical and developmental problems and had a lot of scars due to my premature birth. I also was in an incubator where the doctors had to keep a close watch on me. My parents had a local Catholic priest come to the hospital and baptized me in the hospital since I was in the hospital for about 3 months after being born. Since I was given the chance to live and have grown up as a cradle Catholic, I strongly believe in being pro-life and that every human being--this especially includes all of us who may be different and are diagnosed with an intellectual disability--need to be given the chance to live. Everyone needs to respect life. I firmly believe that it is vitally important to respect life and to stand firm in being pro-life.
I am in my 4th year at Roosevelt University in Chicago, IL, which is a private higher education institution that is dedicated to living social justice. The coursework that I am pursuing is journalism. I am currently studying journalism and am almost done with the general education requirements and then will be able to fully concentrate on journalism. So, far I have taken an introduction to journalism course, a media writing course, and am currently taking an essential multimedia skills course and news broadcasting course this fall 2010 semester. My goals are to work in some form of media. I am really enjoying Radio and Podcasting aspects of journalism and in particular I would love to someday work in Catholic Media-- perhaps at a radio station. Some of the joys of handling my schoolwork and online apostolates would be all the encouragement and feedback that I receive from listeners to the podcast and radio show. Many have told me how inspiring, informational and entertaining the Special Chronicles Podcast is, as well as similar comments about the RUInspired college radio show. It is truly a blessing and joy to hear that people find the podcast and radio show inspiring and entertaining--this is the motivation that keeps me to continue the online apostates that I produce. As for some of the joys of handling my schoolwork, the coursework that I am taking helps me to learn more about the journalism field and world issues helps me to discover more about the world and the media field that I am interested in.
Some challenges would be time and how to accomplish everything that I am involved in. It is sometimes how to keep track of everything from schoolwork and the podcast and radio show, but I do my best and try to often pray to Jesus and often will ask St. Josemaria Escriva for guidance and will pray to.
There are many people who inspire me. In Catholic New Media, Fr. Roderick Vonhogen(from SQPN.com) and all the podcasters from the Star Quest Production Network help to inspire me to continue to produce the Special Chronicles Podcast as well as to produce the college radio show. In my family, my parents inspire me to keep living my faith and to do my best in anything that I do. In my prayer life, St. Josemaria Escriva inspires me to find God in daily life.
In closing, I would like to share with your readers to help promote the new r-word, which his respect and to tell people that the word "retard(ed)" hurts all of us with intellectual disabilities, our families and friends. I also would like say that you can do anything that you set your mind to. Also, to spread the Good News of our Catholic faith in any way that you feel called to do and to listen to God's calling for what he is calling you to do in your life. Be a fan of respect, acceptance, unity, friendship, and inclusion.
Take Care and God Bless.
Copyright 2011 Daniel Smrokowski
About the Author