Two weeks from today is my children's last day of school. Summer is right around the corner. While sifting through summer camp brochures and swim lesson schedules, I wonder how to intertwine our Catholic faith into our summer plans. With a break from religion classes and youth group meetings, how can I help my family keep connected to our faith in fun ways?
Here are seven ideas to keep our faith alive and active this summer. Perhaps some of these ideas will inspire your family, too!
Add in Prayer. Summer provides more flexibility, but that does not mean we should take a break from our relationship with God. In fact, summer allows more opportunity for prayer. As a family, why not add at least one daily Mass, if not more, into the summer schedule? Other ideas include adding an additional Rosary to family prayer time, scheduling a weekly family Bible study, or signing up for a summer holy hour with older children.
Attend Vacation Bible School. Every summer, I enroll my children in our parish's VBS, and I often try to find one additional program at a neighboring parish or school. VBS is a fun week of Bible stories, songs, crafts and friendship. Plus, VBS is usually a very affordable option that the entire family can enjoy.
Host a Staycation. If there is not a parish near you that offers VBS, why not host your own? Holy Heroes publishes Summer Faith Adventure, which is an at-home Catholic VBS. They provide affordable materials to teach children about the Church, Bible and sacraments. Add some fun snacks, and you are all set for a fun week of faith-based learning!
Visit a Shrine. Wherever you are traveling this summer, consider adding a visit to a shrine, cathedral or other Catholic site to your itinerary. Two years ago, when my family took a weeklong trip to Northern Minnesota, I searched online for Marian shrines. I was pleasantly surprised to find a replica of the Grotto of Our Lady of Lourdes right in my own state! One day, on our way to the headwaters of the Mississippi River, we took a detour and spent some time at this beautiful shrine. There, I renewed my consecration to Jesus through Mary, and our family prayed a decade of the Rosary on "living" Rosary beads. Search online to find a Catholic shrine or historic church near your home or vacation destination, and add it to your itinerary.
Pack It. On your family's road trip, or even as you run from soccer camp to the library, make sure to have faith-based CDs to listen to in the car. Holy Heroes has produced some outstanding saint dramas that are available for download or on CD. In addition, Cat Chat CDs teach different elements of the faith in a radio-show format. Children will enjoy listening to these, and parents will appreciate the quality of what their children are learning.
Plant a Mary Garden. After I consecrated myself to Jesus through Mary, I wanted nothing more than to place a statue of Our Lady in our yard. I do not have a green thumb, so my mom agreed to help me create a garden around my Mary statue. Now, it is one of my favorite parts of my house—inside and out! Mary gardens have been part of our Catholic tradition for a long time. They can be elaborate or simple, depending on your gardening skills. A Mary garden can even be created in large flowerpots by adding a small statue or holy card of Our Blessed Mother among the flowers.
Don't Forget You. As we focus on making sure our children have a fun summer, it's important not to neglect our own spiritual growth. This summer, make it a priority to read at least one faith-enriching book. Starting June 6, CatholicMom.com will be reading Unleashed: How to Receive Everything the Holy Spirit Wants to Give You by Sonja Corbitt. Perhaps you will join us, as we read just one chapter per week through August 1. This is a very doable way to read and grow in our faith. Stay tuned to the CatholicMom.com Web site for more information!
As we continue planning a fun summer for our families, hopefully these simple ideas will inspire all of us to incorporate our Catholic faith into our plans. How will you intertwine faith-based activities into your summer schedule? Please share your ideas below.
Copyright 2015 Sarah Damm.
Photos copyright Sarah Damm. All rights reserved.
About the Author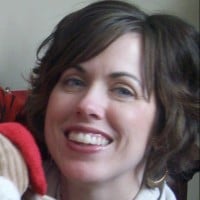 Sarah Damm is a Catholic wife and mother of six children, living in Minnesota. She spends her days running errands, helping with homework, and keeping up with laundry and the family schedule. Sarah loves her faith, coffee, and good books. You can find out more about her at SarahDamm.com.