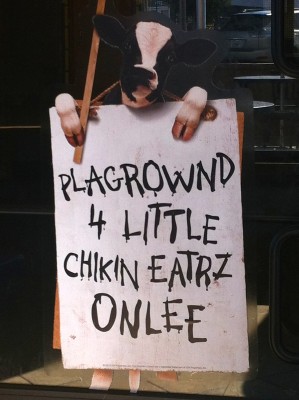 A few weeks ago, my husband had to go out of town for business and so the kids and I joined him. The kids and I ended up at a late lunch at Chick-Fil-A. We don't have one in our town so this was a special treat and the second the kids realized where we were, the first question was if they could go in the play structure. In typical mom fashion, I used this as leverage and told them, "If you eat your lunch, then you can play." Within minutes the food had disappeared and they were ready.
We were sitting at a table by the window; I had planned my spot to sit where I could see them from the outside during their adventure. Suddenly this little boy popped up at the window and started waving to them. When it was time to go inside, he held open the door, as if welcoming them to the play structure. My kids didn't know him, but they were instant friends and ran off to play chase.
I sat there, admittedly a little dumbfounded at the eagerness and lack of reserve with which kids make new friends. I sat there pondering the situation that was occurring and a few thoughts came to mind.
What if I welcomed everyone and assumed we would be friends, even if I'd never met them? Who doesn't like to be acknowledged and welcomed as they enter a room?

I learned that if I find a play structure that only has one entrance and I sit by it, the kids can play while I get a chance to sit and read a book. (Side note: my kids are 6 and 7 so I don't really have to be in there watching them play. This would be trickier with smaller children.) I always try to have a book on me, whether it's a novel or a book with short inspirational thoughts. I make sure I have something to feed me during the moments of waiting in the carpool line or for an appointment.

In my scheduled, busy life there usually isn't time to let the kids play in the play structure without some sort of time limit or next event to be at. I learned that with no looming time limit, they were able to decide how long they wanted to play. It felt great to be able to tell them they could keep playing when they said they weren't ready to go yet.

And finally I learned that when there's no looming time limit, we can all enjoy a relaxing afternoon. Everybody gets to take a real break from life and just play (or read.)
I must admit I was a little worried about what to do to keep the kids occupied during my husband's three hour afternoon meeting. Being the later afternoon, the tired attitudes could have come out and let's be honest, the afternoon could have quickly gone south. But thanks be to God for the Chick-Fil-A play structure. We spent two of the three hours there :) And we all loved every minute.
What are you tricks for keeping your kids happy and entertained during those times of waiting?
Copyright 2015 Courtney Vallejo.
Photo copyright 2015 Courtney Vallejo. All rights reserved.
About the Author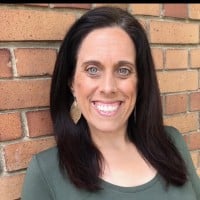 Courtney Vallejo is a convert to the Catholic faith. She and her husband are homeschooling parents of three adopted children. She loves speaking at women's groups and Catholic conferences! Courtney is a Barton tutor for Dyslexic children. She writes for her own blog, CourtneyVallejo.com. She is also the co-founder of AMomRevolution.com and has a master's degree in Film Production.