For years, I have joyfully watched the apostolate work of Johnnette Benkovic grow and flourish. Her books, Full of Grace: Women and the Abundant Life and Living Life Abundantly: Stories of People Who Encountered God hold a permanent spot on my "special" bookshelf and have played a critical role in the building and growth of CatholicMom.com. Johnnette's work on television and radio with EWTN has brought her into our homes and hearts. I'm embarrassed to share that when I had the recent chance to meet her in person, I was literally caught speechless.
Why? Because for me, Johnnette Benkovic has been one of the penultimate "Catholic Mom" role models in my life. I've rejoiced as Women of Grace has grown and prospered. I have cried tears of sadness when Johnnette so poignantly shared her family's personal moments of loss with us. I've marveled as--through so much strife and as the head of a worldwide apostolate--Johnnette has not only led with unfailing grace, but has invited women of all ages and life circumstances to experience that same grace in their own lives and struggles. For me, Johnnette's leadership and example have served as an object lesson of what it means to live the Feminine Genius with spirit, talent, passion and grace.
Today, I am pleased and honored to share my recent email conversation with Johnnette Benkovic. It's my deep prayer that this will be just the first of many. I hope that you will visit her website and consider attending the upcoming Women of Grace Retreat. I believe both will be a blessing to you along your spiritual journey!
Q: Johnnette, welcome to CatholicMom.com. As a longtime admirer of your ministry, thank you on behalf of all women for the way you've so richly supported us. Please briefly introduce yourself and your family to our readers.
Lisa, thank you so much for your kind words and thank you for your gracious invitation to spend time with you and your readers today. I was blessed to be married to my husband, Anthony, for just under 34 years. In 2007, he died from Glioblastoma Multiforme IV, the most aggressive and lethal of brain cancers. He was diagnosed just a year after our son, Simon, died in a vehicular accident shortly after he returned home from Iraq where he had served our country in the US Army. It was a time of profound sorrow but also a time of great grace for which I am eternally grateful.
God has gifted me with two wonderful daughters and I am a happy grandmother of 6 – 3 little guys and 3 precious girls! It is a delight to spend time with my family and to "hug on" those children. I'm not sure life gets much better!

Since 1987 I have been actively engaged in Catholic communications beginning that year in Catholic radio and then in television with EWTN one year later. What a great blessing it is to be part of the EWTN family! And what privilege to experience the way in which God uses the airwaves to bring the healing love of Jesus Christ to His people!
In 1987 I founded Living His Life Abundantly® (LHLA) as an apostolate whose mission is to share the good news of Jesus Christ through all manner of media. It was in 2003 that, in response to much prayer and discernment, I founded Women of Grace® underneath LHLA to encourage women in their gift of authentic femininity and their vocation as daughters of the Most High God. It has been an amazing 12 years!
Q: You are preparing to host the 9th Annual Women of Grace Retreat. What inspired you to begin in these retreats? What do participants experience during the retreat?
When I sensed the Holy Spirit prompting me to begin Women of Grace, the first inspiration I received was a conference for women. The first Women of Grace event took place in October, 2003, at the Shrine of Our Lady of Czestochowa in Doylestown, Pennsylvania. It was a grace-filled weekend! This was the beginning of our events which have continued since then.
We pray that women experience the overwhelming love of God, the power of the Holy Spirit, the redemptive mercy that comes from the heart of Jesus, and the maternal beatitude of the Blessed Mother. These graces come to them by way of the liturgies we celebrate, the sacraments made available to them, a healing service that is part of every event, the powerful presentations given by excellent speakers, and through the "sacred sisterhood" of the women themselves.
This year we are pleased to have as our speakers Fr. Philip Scott, F.J. and Dr. Monica Miller. Fr. Philip and I have been working closely together for many years now and I have been privileged to witness the deep transformation and healing that God manifests through his special gifts and charisms. His devotion to the Holy Eucharist and the hours he spends in the confessional with our retreatants is a reflection of God the Father's deep and abiding love for His daughters.
Dr. Monica Miller has been a past Women of Grace guest and I have been profoundly impacted by her orthodox teaching on the authentic role of women in the Church, especially with regard to leadership. I look forward to being one among the students at our Benedicta Leadership Institute for Women. I believe God has a special message and unique plan for women in this our day in time, especially with regard to all that we see happening in the world right now. Our retreat team, myself included, is praying that this will powerfully unfold and be made manifest during our event.
This year we have chosen the Orchard Lake Schools and Sts. Cyril and Methodius seminary as our retreat location. It has a rich Polish heritage and had a very special place in the heart of St. John Paul II, so much so that he visited on more than one occasion. We will be blessed to have the opportunity to venerate his first class relic during the weekend.
Q: An important component of the retreat is the Benedicta Leadership Institute for Women. Say a few words about this component of the event. Why is it so critical that women leaders come together for prayerful support and formation?
Lisa, I like to say that everyone who is a baptized Christian has been called into mission by God. As members of the mystical body of Jesus Christ, our call is to make His presence known to the ends of the earth.
God has a magnanimous mission in mind for His daughters today and the Closing Message to women from the Second Vatican Council gives us indication as to what it is. In this message, Pope Paul VI reminds us that we as women have an influence, effect, and power. A power so great it can "aid humanity in not falling." An influence so great it can "reconcile men with life." An effect so great it can "save the peace of the world." These are amazing words! Exhilarating words! Affirming words! Encouraging words! But how can they be accomplished? It is the goal of the Benedicta Leadership Institute for Women to provide an answer to that question.
In my estimation the Catholic woman leader is a daughter of the Church who seeks to use her gifts, talents and feminine genius to bring Jesus Christ to the world and the world to Jesus Christ as exemplified by the Blessed Virgin Mary's magnanimity of soul, servant's heart, and conformity to the will of God (Luke 1:38)."
The mission of the Benedicta Leadership Institute for Women® is to train Catholic women to be active leaders and mentors of the day in accord with their state in life and in conjunction with the special grace of their feminine genius.
Whether it's in the home, workplace, or marketplace, the world today hungers for the influence, effect, and power of authentic femininity. It's my contention that by infusing family life, communities, institutions, organizations and governmental agencies with Catholic moral and social teachings, we can indeed aid humanity in not falling, reconcile men with life, and save the peace of the world.
I find the words of St. Madeleine Sophie Barat so very inspirational. She said,
"How rare it is to find a valiant woman! It is perhaps necessarily so, since Scripture says that they are more precious than pearls and diamonds. Let us however work to train a few.… But for this she must be valiant. Strong to uphold purity of life. Strong to keep inviolate the treasure of faith. Strong in every battle of life. Great-souled in the face of calamity, persecution, and death."
This is exactly what the Benedicta Leadership Institute seeks to do – to train up valiant women, modeled after and in union with the Blessed Virgin Mary. We do this in an intimate, hands-on setting with a lot of interaction, table discussions, group sharing and of course, joy and fun.
Q: What have you heard from some past participants of the retreats?
In the nine years we've been holding the event, we've been blessed with an overwhelmingly positive response from the participants. Some of the testimonies we have heard from women who have attended past Women of Grace retreats are simply amazing. But you know, Lisa, God cannot be outdone in generosity. There is so much He wants to give to us, so many blessings He wants to bestow, so much joy and hope He wants to impart, so much healing He wants to effect.
Each year we do a survey to evaluate what is working well and what we can improve upon. Here are just a few of the positive comments we've recently received:
"The Women of Grace Retreat always awakens what has been hiding inside of me. I leave with renewed courage and joy – grateful to know I am a daughter of the Most High God and that much closer to who God needs me to be!"

"I love the enthusiasm and camaraderie of the team that spills over to the participants. If you don't arrive 'on fire for The Lord', you can't help but be so by the end of the weekend. Loved meeting other WOG's from all over the country, committed Christians all!"

"Everything was pertinent to my spiritual walk."

"Very inspiring talks and the speakers gave practical ways to get closer to God! I'm trying to implement them in my daily life. Also, I am very grateful for their clear teaching and adherence to Catholic Truth."

"I loved the Leadership Institute. It was an amazing gift. The small group was intimate and conducive to really learning and sharing with each other. It was especially great to have that special time and attention from Johnnette herself. She was a great teacher. She was honest and candid and I could really relate to her. I could really see a real woman who works and struggles to be a woman of grace. Thank you Johnnette!"

"As women in the workplace hungering for a model of integrating spirituality and an ethical standard for decision-making, the Leadership Institute provides a premier 'gold standard' for those of us wanting to stand as authentic leaders. Leadership is discipleship; we, as working women need to "own" our role as visionary partners in creating new models of leadership for future generations. This is a challenge for all of us and, incredibly, the Leadership Institute is calling us forth to 'take a stand.'"
Q: You are an amazingly busy woman! I'm curious about your own personal "retreat" experiences. How do you make time to nurture yourself spiritually in the midst of the schedule you keep? Why is rest and spiritual replenishment critical to your mission?
As women, I think we all struggle with the pull of being both Mary and Martha. With the responsibilities and gifts that I have been given, it is a constant challenge to balance both aspects of my life. I feel a deep sense of urgency to forward the mission of Women of Grace because I truly believe that if women fully understood their authentic feminine vocation, the world could indeed be transformed in one generation. And yet, I am a mother, a daughter, a sister, a spiritual mother, and friend. There is that tug between my individual vocation and the corporate apostolate and mission that God has entrusted to me.
We all need time to renew, refresh and regenerate ourselves. Whether it's on retreat, personal prayer, time with family, coffee with a friend, exercise, or time in nature, I have to be very intentional about trying to keep balance. When I don't, God has His way of letting me know. Sometimes it's with a two-by-four.
Daily prayer is also a must for me and I cherish every opportunity that I can to spend time at the feet of Jesus, Our Lord, and receive all that He desires to give. The press of the spiritual battle wages heavy on my soul. My weapons are daily mass (as often as possible), the rosary, spiritual reading, and Lectio Divina. Outside of Sacred Scripture and the Divine Office, three of my favorite sources of inspiration are Divine Intimacy by Fr. Gabriel of St. Mary Magdalen O.C.D. , In Conversation with God by Francis Fernandez-Carvajal and of course, True Devotion to Mary by St. Louis de Montfort.
Q: How do these retreats support Women of Grace and the work you are doing around the world? May someone attend if they haven't previously been a part of Women of Grace?
The retreats are one of several outreaches of our apostolate. They give us the opportunity to connect with friends of our mission such as our donors, Regional Coordinators, facilitators, participants, and those connected with us through the media. It also allows us to make new friends who may be coming through the loving invitation of a friend or family member or through wonderful partners like EWTN, National Catholic Register, CatholicMom.com and others.
It also gives us the opportunity to introduce the participants to our Women of Grace study program which has transformed the lives of tens of thousands of women around the world. The study takes the women through a spiritual formation process that makes the authentic Catholic feminine vocation practical and attainable, no matter their state in life.
All women are welcome to attend both events. We would love for anyone in your CatholicMom.com community to attend and I can promise that our event team will do all that we can to make their experience a life-changing one.
Q: Johnnette, I'd love to have you back for a second interview to discuss your radio and television work and your writing - I hope you'll revisit with us soon! But until then, please provide a brief update on any exciting developments in the work you're doing.
It would be a great honor and blessing for me to visit with you again Lisa. We have many projects that are in the developmental stages. We are currently working on several new studies, two of which are very close to completion. Women of Grace television and radio production are always at the forefront as we continue to strive to bring our audience the most relevant topics and guests. I am also excited about a number of new collaborative projects that are coming to fruition, one of which is the work that you and I have recently begun together.
Q: Thank you again for your time and for all that you do to uplift women! Are there any closing thoughts you would like to share with our readers?
I just want to thank you again for your graciousness and for giving me this opportunity. I believe that women must be encouraged and supported to live out their vocation as daughters of God and in their gift of authentic femininity. I am truly grateful to join with you in this effort and commend you for all of the tremendous work that you are doing through CatholicMom.com. Know that I will be praying for you and your community and I ask that you please do the same for me.
May God be praised for all that He is doing in us and through us.
For information about the upcoming Women of Grace® Retreat and Benedicta Leadership Institute for Women, please visit www.womenofgrace.com or call 1-800-558-5452.
Copyright 2015 Lisa M. Hendey
About the Author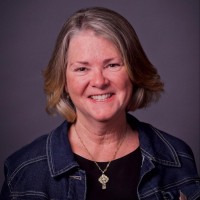 Lisa M. Hendey is the founder of CatholicMom.com, a bestselling author and an international speaker. A frequent radio and television guest, Hendey travels internationally giving workshops on faith, family, and communications. Visit Lisa at LisaHendey.com or on social media @LisaHendey for information on her speaking schedule or to invite her to visit your group, parish, school or organization. Visit Lisa's author page on Amazon.com.