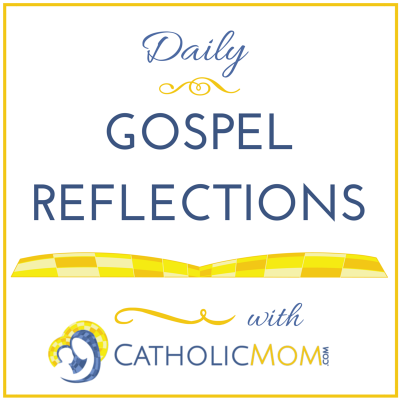 Today's Gospel: Matthew 18:21--19:1
Optional Memorial of Saints Pontian, Pope, and Hippolytus, Priest, Martyrs
The other side of forgiveness is being the person who needs to be forgiven. When I first decided to offer a "forgiveness" themed retreat, it was to speak about all the bitterness and hurt I had been able to forgive in others. It never occurred to me that the wit and wisdom I would be sharing would also include being the one who needed to be forgiven. Until, just a month before the first one launched, this happened:
We had joined a new parish and were just in time to attend that summer's Vacation Bible School (VBS). I had been an active participant of VBS in my last parishes: one as co-director for nearly 10 years and the other as preschool director, but this time I was coming as a parent and Sign Language interpreter for my daughter, Faith. My teenage sons had been volunteered (by me) to help out, which neither minded, until it was time to be dragged out of bed to go! The first day, per our usual, we were running very late. I was tired, stressed, and just not feeling well that day—all things I could have easily used as an excuse for what was about to happen. We arrived late, were greeted by some not-so-friendly parents in line, and there was a lot of noise and confusion, which only added to my preexisting crabby condition. I finally got to the check in, and the hard-working volunteer (who was also the director), hands me Faith's t-shirt and tells me she is "in the preschool group," and I LOST IT!
This was my daughter's first opportunity to travel with the kindergartners or even the first-graders (given her age), and I was dumbfounded as to how she got put with the "little kids." I was not patient, charitable, or kind with my words. The woman's eyes welled with tears, and she offered to move her to another group. Feeling overwhelmed and just wanting this experience over, I grabbed the t-shirt, mumbled, "No, it is fine," and off I went. We were escorted into the preschool room where we would meet a room full of absolutely amazing kids, including two girls who, like Faith, had a special need. She instantly fell in love with them, her fellow campers, and the absolutely remarkable teacher running the preschool program. The class was self-contained, making interpreting easier than moving from place to place, and I instantly knew God's plan for Faith was WAY better than mine.
At that moment I knew I had two choices to make. I could put my tail between my legs and apologize to that poor volunteer, who had completely given of her time and talent for the spiritual well-being of the children of our parish. Or, I could hope she'd not gotten a good look at me in the somewhat dark hall that morning and go upon my day like nothing happened. Praying for the strength and then, with God's grace, I found her and apologized. It is never easy to admit when we've been a complete nincompoop, but I knew it was exactly what I needed to do. Difficult, yes. Embarrassing, absolutely, but no more than my behavior that morning! Her response was again a welling of tears in her eyes; she explained she had been doing this for a long time, and while many other parents had acted as I did that morning, none had chosen to seek her out to apologize. She graciously accepted my apology.
I am so glad she did, because this wonderful lady became one of my most cherished friends at my new parish—a blessing I would have closed myself to if I had not been willing to swallow my pride, ask for God's divine assistance, embrace the gift of courage, and apologize.
Ponder:
Sometimes we need to forgive; other times, we need to be forgiven. Recognizing the mercy bestowed by another when we are forgiven truly helps us to offer that same mercy to another. Even more importantly, as we learned in today's parable, when we are able to forgive, we are then open to fully accept the forgiveness, truly the Divine Mercy, God has for us. Today we will ask God to clearly show us if there is anyone whose forgiveness we need to ask or apology we need to accept.
Pray:
Father, Divine Master, you are so willing to forgive my great and many debts. My heart overflows with gratitude for that gift, but then I turn around and hold accountable others for much smaller debts. May your grace convert my heart to resemble your merciful heart. Help me to overcome the pain, bitterness, and pride that binds me in unforgiving and keeps me from receiving all the mercy you have for me.
We thank our friends at The Word Among Us for providing our gospel reflection team with copies of Abide In My Word 2015: Mass Readings at Your Fingertips. To pray the daily gospels with this wonderful resource, visit The Word Among Us.
Copyright 2015 Allison Gingras
About the Author