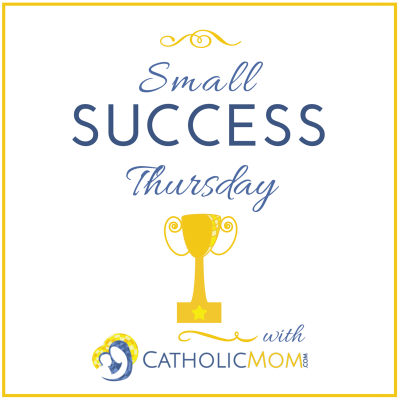 People who have followed Small Success Thursday in recent weeks know I have struggled with the rosary, on again, off. Last week, after starting promisingly, I fell off the wagon again. In frustration, I called out to my own dad (deceased). "Daddy." He'd taught me the rosary. "I need help. I'm having trouble praying." I knew there was no end of needs to pray, no end of the list of people for whom to pray, and still, my own will felt lodged, stuck against it. "Please help me." I told him.
The next day, women from the Legion of Mary called. The person they'd scheduled to have host the statue of Our Lady of Fatima could not do it justice owing to personal circumstances. (No one would be home). They decided to see if I'd like them to come visit and let Mary stay for two weeks. I'd never hosted Mary. I'd always thought that sort of thing to be a bit "too much" for me. But I knew Dad had called in the Marines as two women from the Legion came into my house and gave me custody of the statue. That day, the three of us prayed the rosary. The next day, I did some of it with my husband, and the rest on my own. Friday, I prayed part of it with my daughter, and part on my own. It wasn't magic, but it was presence. Welcoming Mary back into the home made it possible to pray with her.
It still is not habit as it once was, any more than going to the gym has become an easy habit; it is movement toward returning to a regular committed practice of prayer, and it is an answer to a prayer. Help. Our Blessed Mother always helps. I didn't expect such a literal experience, but that's the nature of our God, incarnational, breaking in to our lives in an outrageous and seemingly over the top method to get our attention. So my small success was asking for help, and receiving it. I was reminded of my favorite passage in the gospel, the one I hold to all the time. "Ask and you shall receive. Knock and you shall receive."
So ask, and have a great week of small successes.
[inlinkz_linkup id=543592 mode=1]
Copyright 2015 Sherry Antonetti.
About the Author

Sherry Antonetti is a mother of ten children, published author of The Book of Helen and a freelance writer of humor and family life columns. You can read additional pieces from her blog, http://sherryantonettiwrites.blogspot.com.