My Dearest Daughter,
I realized the other day that I hadn't brushed your hair in a few days. You are six years young, but old enough to be brushing your own hair and choosing your own clothes. And so, it is time. It is time I told you how beautiful you are. It is time I told you what a gift your body is, and how, when God created it, He saw all of the babies it would bear and all of the good deeds it would do. He created your body to be a home for more of His heavenly souls, but also to be a home for His Spirit.
"Do you not know that your body is a temple of the Holy Spirit within you, whom you have from God, and that you are not your own? For you have been purchased at a price. Therefore glorify God in your body." 1 Cor 6:19-20
Your body is a temple! Did you know that, in Jesus' time, a very important temple was built? This was a very special building with a huge space around it where people could come to worship God. But the holiest room inside the temple could only be entered by the High Priest. Only one, holy person was allowed to enter so deeply into God's house. Even though most people never saw the inside of the temple, "Everybody realized that this was the one most sacred place on earth, the one place on earth where somehow heaven and earth meet." (from http://www.pbs.org/wgbh/pages/frontline/shows/religion/portrait/temple.html)
Your body is like that inner room of the temple. It's because you keep it covered that others realize how sacred it is. And I hope that some day, you will meet a man who is holy enough to respect that. Your body deserves to be reserved for the one worthy of entering the place where "somehow heaven and earth meet." A worthy man will honor you and will look forward to your wedding day to hold you, kiss you, and love you.
When I suggest you wear a skirt that covers your knees or put a sweater over your bare shoulders, it's not because I want to tell you how to dress. And it's not because I am ashamed of how you look. I ask you to cover yourself because that is a sign to the world of how special you are. When I look at you, I see God, and that is what I want others to see, too.
You are beautiful, you are worthy, and you are sacred! Your beauty shines brightest through the veil of modest clothes, and your soul has room to grow under the protection of a body that demands respect. I love going shopping with you as we have fun being girls and finding pretty things to wear that make us look and feel our best. After all, it is a little easier to be kind and loving when our bodies reflect what our hearts want to do.
You make me feel so proud when you help your little sister choose pretty, modest clothes to wear. I hope you will always encourage other girls to respect the sacredness of their bodies in this way.
Most of all, I love watching the beauty of your heart grow and change with the beauty of your body. You are truly stunning, both inside and out!
I love you, dear daughter. May you always glorify God with your body and inspire others to do the same.

Copyright 2015 Charisse Tierney
Photo by jill111 (2015) on Pixabay, CC0 PD.
About the Author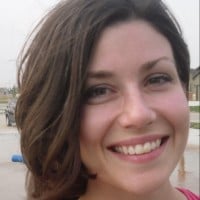 Charisse Tierney lives in Wichita, Kansas, with her husband Rob and seven children. Charisse is a stay-at-home mom, musician, NFP teacher, and a Catechesis of the Good Shepherd catechist. She is also a contributing author to The Catholic Mom's Prayer Companion and Family Foundations magazine. Charisse blogs at Paving the Path to Purity and can be found on Facebook.